Proctor Rockets to the Lead in Clovis
by Justin Shaw | Apr 23, 2016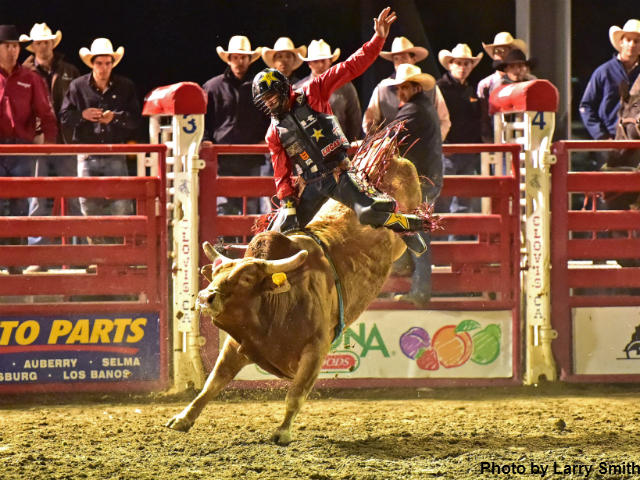 CLOVIS, Calif. – The last time Shane Proctor posted a big score at the Clovis Rodeo, he won it and went on to win the world title in 2011. He's hoping for a repeat of that five years later.
The 31-year-old bull rider posted an 88-point effort on Burch Rodeo's Alabama Highest to set the bar high during the first night of the April 22-24 Wrangler Million Dollar Tour gold rodeo.
"I've been struggling lately, so it was good to get one rode, and the judges liked it a lot," Proctor said. "I won this rodeo in 2011 with an 89, so I'm hoping it happens again."
Each event in Clovis pays a total of $20,000 this year, thanks to the committee adding an additional $5,000 to what the rodeo paid in the past.
Each of the three roughstock events are a one-header, which means Proctor is sitting in good position for a large check.
"We really appreciate the amount of money Clovis has put up for us," Proctor said. "To be competing for $20,000 per event and have it be a one-header is great. Normally if we're competing for that amount of money we have to get on two or three bulls. To get a good score here means a lot because it can be a big payday."
Proctor, who has been to the Wrangler National Finals Rodeo presented by Polaris RANGER four times – including finishing third in the world in 2015 – is still one of the top riders in the world.
He entered the weekend seventh in the WEATHER GUARD® PRCA World Standings, and says the $30,038 he's earned in 2016 has come with less travel than normal.
"I just turned 31 last month, and I feel like I'm riding pretty good," he said. "It's funny, because I've been to less rodeos this year than usual, but I've won more money. I've been drawing right, and I hope it keeps going."
Proctor was one of the last riders out Friday night, and had watched 2012 World Champion Cody Teel take the lead with an 84.
He used a simple approach to conquer a bull he wasn't familiar with.
"I had never seen that bull before, but I just relaxed and had fun," Proctor said. "I reacted to what the bull did instead of thinking about what I was going to do. I've been on thousands of bulls, so it's pretty simple – just react and don't think about it."
So now that his work is done, will Proctor be watching the results the next two days to see if he stays at the top?
"There's nothing I can do to affect it, so I hope the guys put up some big numbers the next two days, but none of them are higher than 88," Proctor said with a smile.
The second performance of the Clovis Rodeo begins at 2 p.m. Saturday, where the timed-event finals will be solidified and the roughstock events will continue the one-head format with a batch of new riders.
For complete coverage of the Clovis Rodeo, check out the May 6 issue of the ProRodeo Sports News.
Courtesy of PRCA