Pruitt Continues Big Year in Kennewick
by Justin Shaw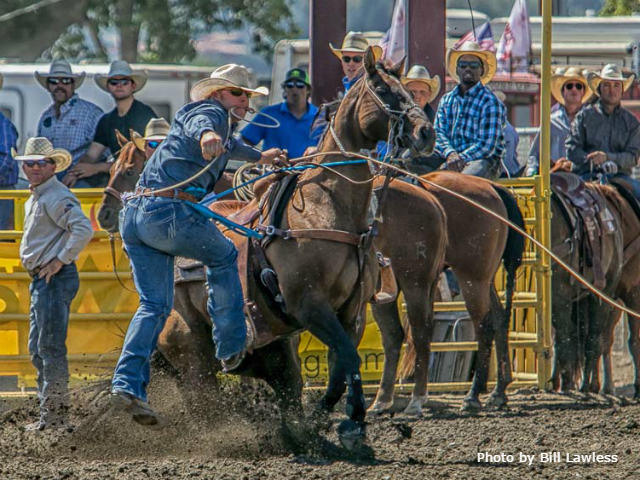 KENNEWICK, Wash. – Riley Pruitt is having the best year of his tie-down roping career, and things are about to get even better.
The 24-year-old from Gering, Neb., looks to be a lock for his first trip to the Wrangler National Finals Rodeo presented by Polaris RANGER, and is also getting married in October to barrel racer Jenna Wagner.
"Everything is so much nicer this year – it was a big year for me, and not just rodeo," Pruitt said. "I'm marrying a beautiful woman, and we just recently bought a house, so rodeo hasn't always been the top thing on my mind, which has helped this season."
Pruitt's season got off to a fast start when he won the National Western Stock Show and Rodeo in Denver, which capped a $23,000 winter run.
He had been in a bit of a rut lately, but winning the Horse Heaven Roundup in Kennewick with a time of 15.2 seconds on two head, has him right back on track.
"I've been struggling a lot lately with my tie," Pruitt said. "I went home for a few days last weekend, and went back to the practice pen and roped and tied a bunch of calves. It was really good for me, and when I got to Kennewick I drew two really good calves."
Pruitt's best finishes of his six-year PRCA career have come the last two seasons, when he's finished 26th in the world.
However, he entered the weekend eighth in the WEATHER GUARD® PRCA World Standings, and will only rise with the $4,899 he earned in Kennewick.
"I'm learning how to win, which is more important than anything," Pruitt said. "I knew I needed about $10,000 in the Northwest this last month and a half, and Kennewick is a really good start to that run, and it's going to be easier to breathe."
Tie-down roping success runs in the Pruitt family. Riley's father, Troy, was the 1990 tie-down roping world champion, won the average at the National Finals Rodeo in 1993 and was an eight-time WNFR qualifier.
Riley needs to look no further than his dad for guidance as he approaches his first WNFR appearance.
"He's giving me a ton of advice," Riley said. "I've been dreaming about being there since I was 10, and every run on the dummy when I was little was the first one at the NFR, and now that time is almost here. I can't wait to get there. Troy can help me in so many ways, and I'm taking any advice he's willing to give me."
But before Pruitt – aboard his trusted 15-year-old horse, Chip – can tie down a calf for the first time in Las Vegas, he and Jenna will be tying a different knot.
"This year has been an amazing ride," Pruitt said. "I'm not sure which one I'm more nervous for between the NFR and getting married. You only get married once, so that's very special, and I'm hoping I'll be to the NFR a lot more than once."
Other winners at the $161,940 rodeo were all-around cowboy Shay Carroll ($5,086 in team roping and tie-down roping) bareback rider Joel Schlegel (83 points on Big Bend Rodeo's Cajun Queen), steer wrestler Tom Lewis (7.2 seconds on two head), team ropers Kolton Schmidt and Shay Carroll (9.1 seconds on two head), saddle bronc riders Jesse Wright (88 points on Flying 5 Rodeo's Spring Planting), and Jake Wright (88 points on Big Bend Rodeo's Kool Toddy), barrel racer Ivy Conrado (17.18 seconds) and bull rider Lon Danley (79.5 points on Big Bend Rodeo's Pudge).
For more coverage of the Horse Heaven Roundup, check out the Sept. 9 issue of the ProRodeo Sports News.
Courtesy of PRCA