Ramona Remembers: Iwo Jima Flag Raising Reenactment Held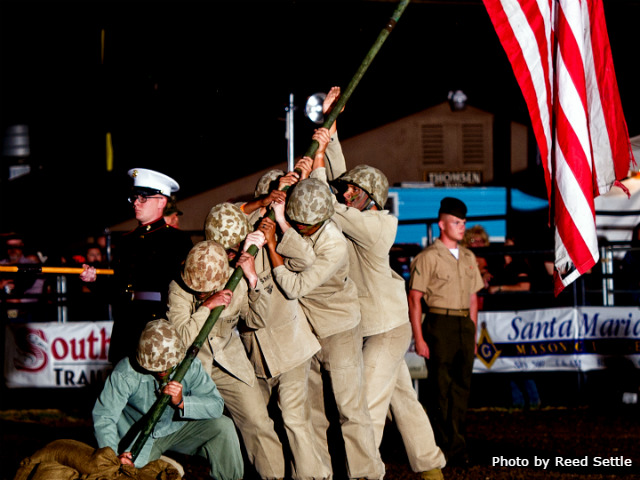 Cowboys and spectators alike paid their respects to fallen U.S. veterans with a reenactment of the Iwo Jima flag raising during the Ramona (Calif.) Rodeo on May 20.
Retired Marine Sgt. Major and Vietnam War veteran Bill Paxton recited a patriotic poem titled, "It's Our Flag," written by Marine Lance Cpl. Bud Hannings. The reenactment fit perfectly with the rodeo's theme this year, "Home of the Free, Because of the Brave."
Rodeo chairman Chris Anderson met with Paxton to come up with the concept of the reenactment of the flag raising on Iwo Jima, Mount Suribachi, during World War II on Feb. 23, 1945.
A parade was held in conjunction with the rodeo with retired and active duty members of the military leading the procession in a 72-passenger double-decker bus. Among the grand marshals was Ret. U.S. Navy Lt. David G. Rehmann, a prisoner of war in North Vietnam for 75 months, from December 1966 through Feb. 12, 1973.
Courtesy of PRCA