Ready for the Big Time #18 Bayle Worden and Collom and Washburn
Ready for the Big Time
#18 Bayle Worden and C & M Bull Team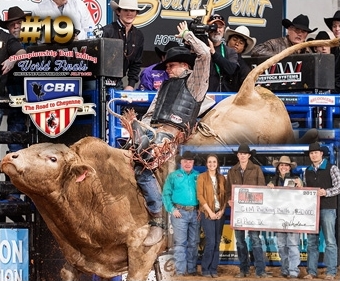 Bayle Worden
In July professional cowboy Bayle Worden will be heading to Cheyenne Frontier Days again this year, but with a busier schedule than usual.
Worden, 24, has been to Cheyenne three times as a rodeo bull rider, but never as part of the CBR World Finals night show and he has qualified in the #18 position on the CBR World qualifiers roster.
"It's a bull rider's paradise to get to compete against great bull riders on great bucking bulls and win lots of money," said Worden.
Born in Charleston, Texas, Worden followed in his father's footsteps and bgan competing when he was ten years old. He was the Texas High School Rodeo Association Region 4 champion in 2011 and then turned professional in 2012.
Bayle (pronounced Bay-lee) began his CBR journey at the CBR season opener in Huron, South Dakota last August. He had an impressive first event making the final four Shoot Out Round in his first Road to Cheyenne event. He was 90.5 points on Painkiller to advance to the Semifinal round and that score was enough to get him to the Shoot Out Round. He bucked off of 3663 Mr. Hobbs, but finished fourth overall and more importantly put up points in the World Standings race.
He missed Window Rock and Laughlin but had a strong showing in Conroe where he rode two and again found himself in the final four man round. Struggling to ride three in a row, he bucked off 1102 Tatonka in 4.41 seconds.
He competed in a total of nine Road to Cheyenne tour events struggling in the last half of the season, earning a qualified ride score on five of the seventeen bulls he attempted. He advanced to the Semifinal round three times and the final four twice.
2016 was Worden's best year as a professional winning ten rodeo championships and earning in excess of $70,000 at PRCA rodeos. He narrowly missed qualifying for the National Finals Rodeo, finishing number 17 in a 15 man field. He ranked fifth in the Texas Circuit standings for bull riding, sixth in the All American Tour standings.
The 5-6, 130 pound bull rider carries the nickname Bale, because his name often gets mispronounced to sound like a hay bale. He describes his riding style as old-school, sit straight with my toes out. Cheyenne Frontier Days is his favorite rodeo because of its prestige. When not riding bulls Worden enjoys fishing and hunting and says his dad is his rodeo idol.
"I'm pretty pumped about making the CBR World Final sand it being in Cheyenne at the Daddy of em all makes it that much better," Bayle Worden.
#18 CBR Bull Team Challenge – Collom and Washburn Bull Team
Winning $32,000 during the regular season, Dawn Collom's team heads to Cheyenne for the first time in its seven year franchise history.
"I am thrilled beyond words, it is an honor to stand up on the chutes and flank bulls with so many great riders and stock contractors, its just a thrill to be a part of such an iconic event," said Collom who is still working on the bull roster for her first trip to Cheyenne.
With a first place win in El Paso and a second in Rio Rancho, Dawn Collom of Waterflow, New Mexico, and company made a strong comeback from the last place finish she suffered in Window Rock early in the season.
After seven years of being part of the CBR Bull Team Challenge, Dawn Collom good barely breathe as she stood in front of the out gate for the first time in El Paso to accept the CBR prize package of $20,000, the Hy O silver buckle, a pair of custom Fenoglio boots, and an American Hat Co., cowboy hat.
"I am really excited, we had to win first tonight to have a shot at competing in Cheyenne," said Collom who owns the team franchise and has enlisted the 1996 PBR World Champion bull rider Owen Washburn and son Braiden as partners for the Cheyenne Bull Team Challenge World Finals competition. Washburn is no stranger to Cheyenne, he won the first CBR World Finals team competition in 2011.
Collom cleared the field by four points with 284 total and earned the win with three qualified rides from three seasoned bulls, one from her ranch and two from fellow New Mexico stock contractor and former World Champion bull rider Owen Washburn. Flanking Washburn two bulls was Washburn's son Braiden who is in college in nearby Los Cruces.
Collom's team finished second earlier in January in Rio Rancho where they also won the Bull of the Event honors, the rankest marked bull, with 191 Big Jake who bucked off Demond Haynes to receive a 90.5 bull score. 121 Bloodshot was the only bull that was on all three team outs and he was ridden all three times he was out and in Rio Rancho he was the round one draw for Cody Jesus's average win as well.
Dawn who never flanked a bull before was used to feeding and helping with the cattle and 123 bulls on their ranch in New Mexico, but when her husband Greg had to go to work in Texas a few years back, the options were limited.
"You either sell, ship or learn to flank 'em," said Collom who now hauls, flanks and takes care of the herd both on and off the road.
Courtesy of CBR