Records Set and Matched in Elizabeth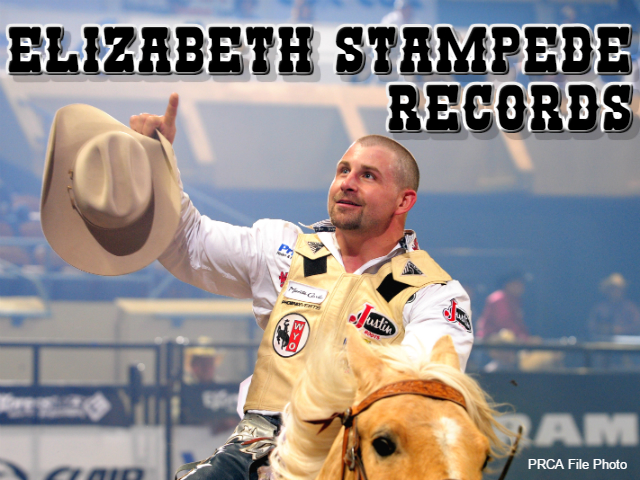 One record was broken and another was matched at the Elizabeth (Colo.) Stampede Rodeo last weekend. Kelly Timberman's 87.5-point ride on Summit Pro Rodeo's Revolving Door set the new Elizabeth bareback riding record and tie-down roper Darnell Johnson matched Troy Pruitt's 8.0-second time that's gone unmatched since it was set in 2000.
Timberman's 87.5 beat out the previous Elizabeth best score, an 86, which was set by Tom McFarland in 2009 and then matched by Steven Dent in 2014 and Jake Brown in 2015.
Timberman, 41, is a seven-time qualifier for the Wrangler National Finals Rodeo presented by Polaris RANGER (2004-10). This Wyoming cowboy is currently in second place in the RAM Mountain States Circuit Standings for bareback riding and is sitting at No. 48 in the WEATHER GUARD® PRCA World Standings.
Johnson, 35, is currently fourth in the Mountain States standings for tie-down roping. This Colorado cowboy placed second in the average at the 2016 RAM Mountain State Circuit Finals.
The other Elizabeth arena records remain intact. The oldest still-standing record is for steer wrestling, which was set by Jake Simmons in 1999 when he landed a 3.5-second time.
Team ropers Colby Siddoway and Matt Zancanella's 2009 4.2-second run remains at the top for Elizabeth.
Saddle bronc rider Dalton Davis' record-setting 88-point ride from 2016 remains the best ride in Elizabeth.
Barrel racer Meghan Johnson's 15.87-second run from 2015 has to yet to be beat.
Bull rider Spud Jones' 90-point ride from 2011 also remains the Elizabeth arena record.
Courtesy of PRCA