Red Bluff Round-Up Continues
Canadian takes the lead in the steer wrestling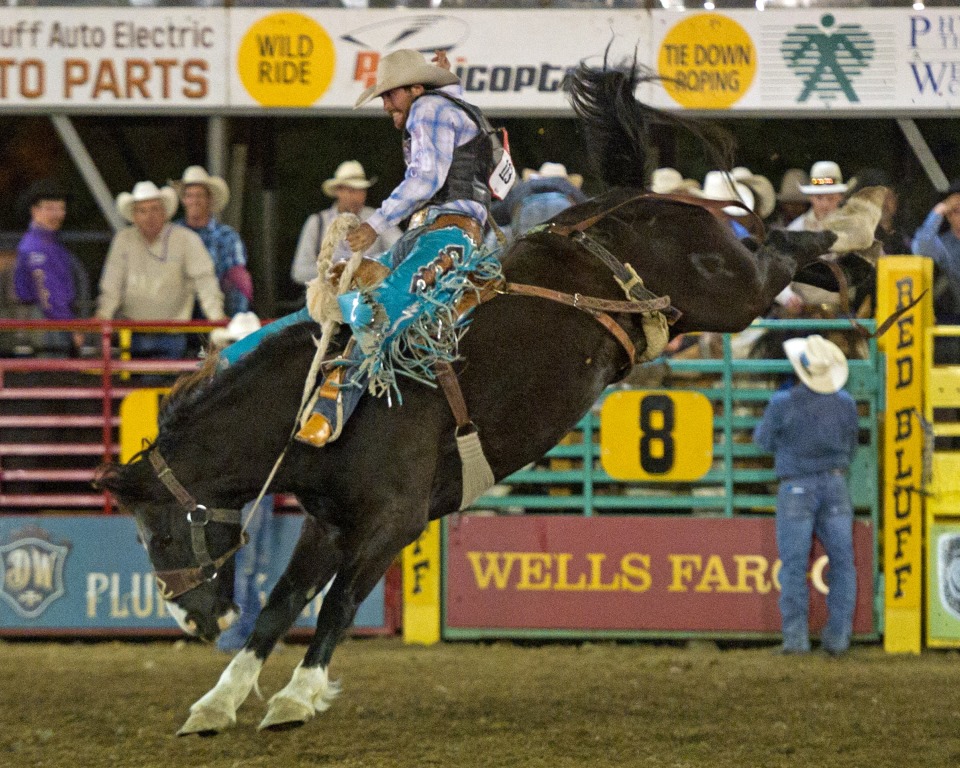 Red Bluff, Calif. (April 18, 2015) – Tanner Milan won the third round of steer wrestling and took the lead in the average at the Red Bluff Round-Up with his run on Saturday afternoon.
He made a 4.5 second run, crediting the steer, his horse and his brother with his fortune. His horse, a fourteen year old gelding, is a new purchase this winter, "and he's been great," Tanner said. Smoke was purchased from a steer wrestling friend in Oklahoma and is "as honest as the day is long, and he doesn't cheat you at all. He's a great little horse. I'm loving him right now." And the steer? "I had a pretty good steer there. (Another cowboy) was 5.4 on him in the first run, and 4.9 and broke the barrier on the second run."
His younger brother, Straws, worked as the hazer for him, keeping the steer running straight so that Tanner had a chance to catch and throw him. The brothers are three years difference in age and travel together, along with fellow Canadian steer wrestler Curtis Cassidy, who did not compete in Red Bluff because of an injured ankle.
There's a third Milan brother, Bailey, who is 33 and a former Rookie of the Year in the Pro Rodeo Cowboys Association. Bailey, who also used to wrestle steers, stays closer to home and helps on the family's farm, ranch, and with the family's construction company. When Tanner and Straws aren't on the rodeo trail, they help out at home as well.
A win at Red Bluff would help the "slow winter" he's had. "I've had better, but I'm not complaining. I've had a lot worse, too."
He leads the average with a combined time of 14.8 seconds on his three runs.
The saddle bronc riding got a little more crowded at the number one spot.
Cort Scheer, Elsmere, Neb., and Chuck Schmidt, Keldron, S.D. both scored 83 points to join Troy Crowser, who had an 83 point ride last night.
Scheer rode the Rosser Rodeo horse Blackhawk Blaze, while Schmidt covered the Growney Rodeo horse Holy Hoppin Hell. Both men have qualified for the Wrangler National Finals Rodeo, the ten day rodeo in Las Vegas that determines pro rodeo's world championship. Schmidt competed there in 2011; Scheer has been there four times (2010, 2012-2014).
No bull rider made the eight second buzzer at today's performance.
In other events, high scores and fast times for the day included bareback riders Anthony Thomas and Joe Gunderson (both with 81 point scores), tie-down roper Blair Burk (9.7), team ropers Russell Cardoza and Dylan Gordon (4.4) and barrel racer Cindy Woods (17.30).
The third and final performance of the Red Bluff Round-Up takes place tomorrow at 1:30 pm. Tomorrow's performance is the annual Tough Enough to Wear Pink day, with funds raised for the St. Elizabeth Imaging Center. A bonanza package will be auctioned off during the rodeo. The package includes a custom-made Judd Miller Saddlery Chaps autographed by pro rodeo cowboys and cowgirls, a silver buckle and spurs designed by Skyline Silversmith, Justin Boots, Wrangler Jeans, a Resistol cowboy hat, a case of Purple Cowboy Wine, and a $200 gift certificate to the Boot Barn. For more information, visit the website at RedBluffRoundup.com.
The Wrangler Network webcast today's performance live, and it will be archived for future viewings at wranglerwestern.com. Tomorrow's performance will also be webcast live.
Results after second performance, Red Bluff Round-Up, April 18, 2015
Bareback Riding
1 tie Anthony Thomas, Kimberley, Australia 81 points on Flying U Rodeo's Luigi and Joe Gunderson, Gettysburg, SD 81 points on Rosser Rodeo's Instagram; 3 Seth Hardwick, Laramie, WY 79; 4 tie Orin Larsen, Inglis, MB and RC Landingham, Pendleton, OR 78 each; 6 Richmond Champion, The Woodlands, TX 77.
Steer Wrestling
1 Tanner Milan, Cochrane, AB 4.5 seconds; 2 Tyler Waguespack, Gonzales, LA 4.8; 3 Olin Hannum, Malad, ID 5.4; 4 Gary Gilbert, New Underwood, SD 5.9; 5 Stan Blanco, Chowchilla, CA 6.2; 6 Dakota Eldridge, Elko, NV 6.9.
Saddle bronc riding
1 tie Chuck Schmidt, Keldron, SD 83 points on Growney Rodeo Co.'s Holy Hoppin Hell and Cort Scheer, Elsmere, NE 83 points on Rosser Rodeo's Blackhawk Haze; 3 Spencer Wright, Milford, UT 80; 4 tie Ryan Mackenzie, Homedale, ID and Chet Johnson, Sheridan, WY 78 each; 6 tie Jesse James Kirby, Dodge City, KS and Sam Spreadborough, Snyder, TX 77 each.
Tie Down Roping
1 Blair Burk, Durant, OK 9.7 seconds; 2 Clayton Hass, Terrell, TX 10.7; 3 Russell Cardoza, Terrebonne, OR 11.3; 4 JD Kibbe, Portales, NM 12.4; 5 Cimarron Boardman, Stephenville, TX 13.1; 6 Caleb Smidt, Bellville, TX 13.2.
Team Roping
1 Russell Cardoza, Terrebonne, OR/Dylan Gordon, Comanche, OK 4.4 seconds; 2 Clay Tryan, Billings, MT/Jade Corkill, Fallon, NV 5.1; 3 Erich Rogers, Round Rock, AZ/Cory Petska, Marana, AZ 5.2; 4 Levi Simpson, Ponoka, AB/Jeremy Buhler, Abbotsford, BC 5.4; 5 tie Joel Bach, Mt Vernon, TX/BJ Campbell, Aguila, TX and Tyler McKnight, Wells, TX/Clay Smith, Broken Bow, OK 5.7 each.
Barrel racing
1 Cindy Woods, Newburg, OR 17.30 seconds; 2 Rachel Dice, Livermore, CA 17.32; 3 Christina Richman, Glendora, CA 17.35; 4 Brenda Mays, Terrebonne, OR 17.39; 5 Fallon Taylor, Whitesboro, TX 17.56; 6 Carmel Wright, Roy, MT 17.64.
Bull Riding
No qualified rides.
Courtesy of PRCA