Reno Rodeo Foundation Hosts Denim Drive Fundraiser at Bundox Bocce
Fundraising event features live music, raffle prizes, bocce ball and more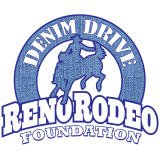 RENO, Nev. (December 5, 2017) — The Reno Rodeo Foundation will be hosting a Denim Drive fundraiser at Bundox Bocce inside the Renaissance Reno Downtown Hotel on Tuesday, Dec. 12 from 4 to 8 p.m. Guests are invited to come down and cowboy up for an evening of drinks, food, live music, raffle prizes and bocce play. All proceeds will go towards supporting abused, abandoned and neglected kids in 14 Northern Nevada counties.
"With the season of giving upon us, we believe this is a great opportunity to come together and have fun for a great cause," said Clara Andriola, executive director of the Reno Rodeo Foundation. "Every donation makes a huge difference in the lives of these children, who often arrive in the foster care system without basic clothing."
There will be a live performance by country singer Andi Kilgore and a live remote with K-Bull. Raffle prize tickets can be purchased for $10 or in exchange of a donation of new jeans, shirts, socks or underwear for an infant, child or teen. Prizes include a 2017 Reno Rodeo Commemorative Poster, 2018 Reno Rodeo tickets for two, 2018 Reno Rodeo tickets in the president's box, with dinner for two and a parking pass and other prizes. Food and drink will be available for purchase at the event.
Advance registration is $15 per person and registration at the door is $20 per person, and includes one free raffle ticket and bocce play.
For more information, email info@renorodeofoundation.org or call Clara Andriola at 775.322.9875.
About the Reno Rodeo
The Reno Rodeo is a Professional Rodeo Cowboys Association (PRCA) sanctioned sporting event, and one of the top five rodeos in North America. Reno Rodeo is a non-profit organization made up of over 1000 volunteers. This year's Reno Rodeo is scheduled for June 15-24, 2017. Competition includes bareback, team roping, saddle bronc, tie-down roping, steer wrestling, women's barrel racing and bull riding. Like Reno Rodeo on Facebook, follow us on Twitter, or for more information on the Reno Rodeo, visit www.renorodeo.com.
Reno Rodeo Foundation
The Reno Rodeo Foundation was incorporated in 1986 and is a non-profit 501(c)3. In addition to the annual Denim Drive that helps clothe neglected and abused foster children 365 days a year, the organization provides scholarships to eligible Nevada high school graduates, they support community grants, underwrites the Reno Rodeo Reading Roundup literacy program helping thousands of at-risk first graders, builds community partnerships and serves as the anchor for large capital projects to improve the lives of children. Like Reno Rodeo Foundation on Facebook, follow us on Twitter or for more information, please visit RenoRodeoFoundation.org.