Reno Rodeo Foundation Thanks to Reno Rodeo Association and Volunteers for $245,361 Check to Help Community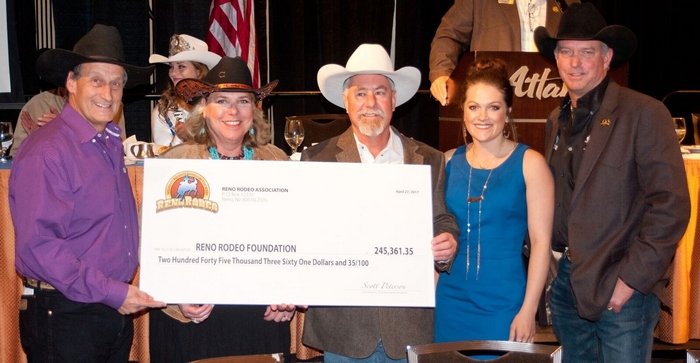 RENO, NV (April 21, 2017) — The Reno Rodeo Association presented a check for $245,361 to the Reno Rodeo Foundation on Thursday, April 18. The Reno Rodeo Foundation accepted the gift with a heart-felt thank you.
"None of this would be possible without the dedication of the Reno Rodeo Association volunteers who work tirelessly during the rodeo," said Reno Rodeo Foundation President Dr. Larry Frugoli. "We are proud to be part of the Reno Rodeo family and honored to be able to provide so much support to so many."
The generosity of the Reno Rodeo Association has helped the Foundation to achieve a record-setting year of contributions.
Sixty-two Northern Nevada high school students were awarded scholarships totaling $103,500, enabling them to pursue a college education in Nevada, while $84,716 was funded to 37 non-profit organizations, supporting 44,894 kids throughout Northern Nevada. A record $271,000 in new clothing and financial donations was collected during the 2016 Denim Drive and will be used to help abandoned, neglected and abused children across 14 Northern Nevada counties. Contributions were also used to fund the Reading Roundup literacy program and to select a Reno Rodeo Wish child.
The Reno Rodeo Foundation would like to thank the 119 members of Team 355 who put in 2,400 volunteer hours to help the Reno Rodeo Foundation, as well as recognize Scott Peterson, the 2016 Reno Rodeo Association President, the Reno Rodeo Association Executive Committee and the Board of Trustees of the Reno Rodeo Foundation for their leadership and support.
Reno Rodeo Foundation
The Reno Rodeo Foundation was incorporated in 1986 and is a non-profit 501(c)3. In addition to the annual Denim Drive that helps clothe neglected and abused foster children 365 days a year, the organization provides scholarships to eligible Nevada high school graduates, they support community grants, underwrites the Reno Rodeo Reading Roundup literacy program helping thousands of at-risk first graders, builds community partnerships and serves as the anchor for large capital projects to improve the lives of children. Like Reno Rodeo Foundation on Facebook, follow us on Twitter or for more information, please visit RenoRodeoFoundation.org.