Resistol Sophomore Saturday: Roscoe Jarboe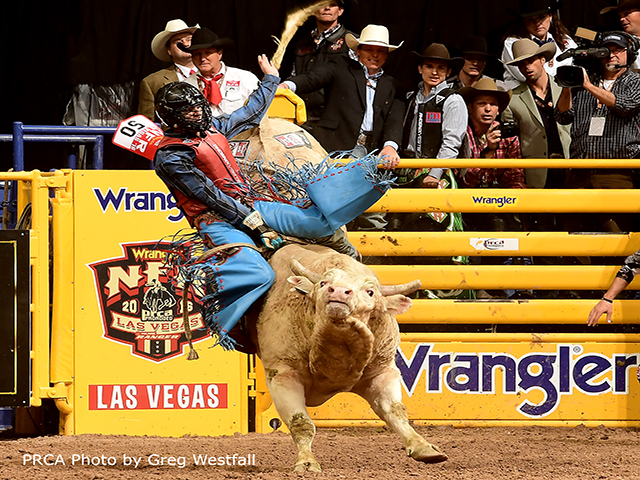 Teaming up with Resistol, the hat maker linked to the rodeo cowboy since 1927, ProRodeo.com is introducing a new series called "Sophomore Saturday." For the next 10 weeks, we will speak with the 2016 Resistol Rookies of the Year in each event, with all 10 second-year athletes shedding light on their sophomore seasons.
Indicative of the rigors of competing on the PRCA circuit, stacking wins and top-finishes in a tight schedule is a feat worth commending. So far in his second full season, bull rider Roscoe Jarboe has managed to buck any set of expectations he or anyone may have had. Not only has Jarboe announced his presence with authority, his riding has demanded his acknowledgment.
Resistol's Bull Riding Rookie of the Year in 2016, Jarboe is currently ranked third in the WEATHER GUARD® PRCA World Standings as of May 1. Having accrued $57,109 this early in the year, Jarboe trails only Garrett Smith ($75,493) and Ty Wallace ($60,275). With his rookie season behind him, Jarboe believes his maturation within ProRodeo can attest to his springtime success.
"I have the same mental game, but as far as inside the arena, I learned that I can't take every bull the same," Jarboe said. "But that's just part of growing up and learning the sport and taking your hits and going with it."
Jarboe's debut season in the PRCA ended with a Wrangler National Finals Rodeo qualification, where he finished ninth in the world standings, including a win in Round 2. The WNFR did more than just fuel his cravings to return to Vegas. It taught him how to approach the magnitude of the sport's most prestigious rodeo.
"I had to prepare my mind for that event," Jarboe explained. "But I mean, it is just another rodeo, but it's also a lot bigger than all the other rodeos. It's the Finals, it's where everyone wants to be.
"I just gotta prepare myself this next year if I make it there, and I'll just have to tell myself that this is what you've been doing all year, these are the same bulls. You have to ride each bull the way that they're supposed to be ridden."
Jarboe's standing at third in the world in his respective event was aided by his $27,033 win at the San Antonio Rodeo (Texas), as well as high finishes at the San Angelo (Texas) Rodeo and the Red Bluff (Calif.) Round-Up. Such a consistent stretch has Jarboe centered for the rest of the summer.
"I feel pretty good," the Idaho cowboy said. "I didn't have this much money won last year, and I definitely went to a lot more rodeos last year by this time, but if I can just keep riding my bulls and getting to where I want to go it should work out just fine and hopefully move up a couple more spots."
Every 2016 Resistol PRCA Rookie of the Year received a customized cowboy hat from the industry's premier hat maker. Even though the warm weather hasn't allowed Jarboe to wear his Resistol cowboy hat as often as he'd like, he didn't hesitate to say it's "the best Resistol hat I've ever had."
Being named a Resistol Rookie of the Year certainly has its perks.
Courtesy of PRCA