Richard back to Winning Ways in Wainwright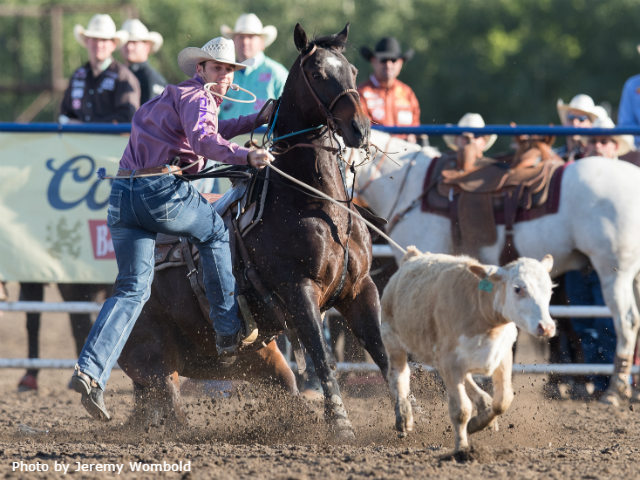 WAINWRIGHT, Alberta – The 2017 rodeo season has been one of adaptation for Rhen Richard. The 28-year-old roper has had to adjust to the aftermath of a severe injury, while also preparing a green horse for the big stage of rodeo.
None of that mattered for Richard at the Wainwright Stampede, June 21-25. The Roosevelt, Utah, native split the win in the short round with a 9.1-second run to emerge as the tie-down roping champion with an average time of 28.8 seconds on three head.
"I came into the short round second in the average, and when I went, I just had to tie him down to take the lead," Richard said of his run Sunday night. "The way the calves were up here, it was nice to not have to spit out a fast run.
"I've placed at Wainwright before, but I never won the average. It always feels good to win one like this. I'm up in Canada trying to make the Canadian Finals, so this is an appealing rodeo to try to get to. Plus, it's a three-header, and there aren't many rodeos around that have two rounds and a short round."
Richard, who also team ropes with Rich Skelton, is well out of the top 50 in both of his events after not rodeoing at all in the spring.
He cut his thumb off of his roping hand in the winter, and was out of action four months. He's just now starting to compete, and adjusting to life with the reattached thumb.
"It's numb, but at least it's there to hold the rope and helps so that I can grip," Richard said. "My plan is to take it easy rodeoing this year, and then go hard again next season. I haven't really practiced much, I've just showed up and roped."
That strategy worked fine for Richard as he captured the title and a total of $4,690 in Wainwright.
He's entered up for the big rodeos during the Cowboy Christmas run over the Fourth of July, but admits that it will take some more victories to stay out on the road.
"I'm entered everywhere until about Cheyenne, so if I get a couple of hits I will keep going, and if not, I'll go home," he said.
Along with the new feel on his thumb, Richard is trying to get his 6-year-old horse, Patron, ready for the rodeo road. He's used the horse in Canada, but was riding 18-year-old Lil Joe for the Wainwright win.
"I've had Patron since he was a yearling," Richard said. "He's been working good at the house, and he's been ready to crack out for a year or so, and I figured this would be a good time to do it. Lil Joe is 18, and doesn't really like the rodeos where it's loud, and Patron seems to not be bothered, so they complement each other well.
"I'm hoping to click along up here and win some money in tie-down roping and make the Canadian Finals."
Other winners at Wainwright were bareback riders J.R. Vezain, Ky Marshall and Richmond Champion (169.5 points on two head each), steer wrestler Coleman Kohorst (13.3 seconds on three head), team ropers Kolton Schmidt and Dugan Kelly (16.4 seconds on three head), saddle bronc rider Layton Green (164 points on two head), barrel racer Tillar Murray (35.206 seconds on two runs) and bull rider Zane Lambert (172.5 points on two head).
For more coverage of the Wainwright Stampede, check out the July 7 issue of the ProRodeo Sports News.
Courtesy of PRCA