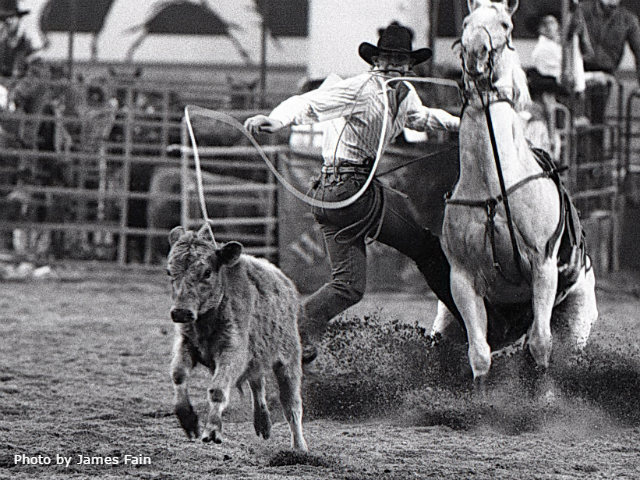 Thursday is the start of the 30th annual National Circuit Finals Rodeo. The inaugural Dodge National Circuit Finals Rodeo was held in March of 1987 in Pocatello, Idaho, but the story began more than a decade before then.
In 1974, saddle bronc riding representative Larry Jordan hatched the idea to create a circuit system to benefit the Professional Rodeo Cowboys Association and all of its weekend cowboys – those dedicated rodeo contestants who also had a job and maybe a family, but not the desire or capability to travel year-round in an effort to reach the National Finals Rodeo.
The first year the circuit system was in place there were 14 different circuits. The map was shuffled into 12 circuits the following year.
All of Oklahoma was the Oil Circuit. Now it's part of the Prairie Circuit, along with Kansas and Nebraska. Three of the circuits – California, Montana and Texas – are comprised of one state, while the First Frontier Circuit in the Northeast includes 13 states.
In 1987, Dodge came in as a sponsor for each of the 12 Circuit Finals Rodeos, as well as the Dodge National Circuit Finals, which was renamed the RAM National Circuit Finals Rodeo in 2012.
As for the location, Pocatello was the original home of the rodeo largely thanks to stock contractor Reg Kessler suggesting the location. The rodeo was held in Pocatello for 24 years before moving to Oklahoma City, Okla., for 2011-13 and then a single year at the Lazy E Arena in Guthrie, Okla., before moving to its home through 2024 – Kissimmee, Fla.
The following cowboys won the first National Circuit Finals Rodeo:
• Saddle bronc riding average – Bud Monroe, 159 points on two head, $1,171
• Saddle bronc riding Wrangler round – (tie) Clay Jawers and Bud Monroe, 80, $2,049 each
• Bareback riding average – Todd Little, 160 points on two, $1,206
• Bareback riding Wrangler round – (tie) Steve Carter and Todd Little, 87, $2,111 each
• Bull riding average – Johnny Shea, 157 points on two, $1,234
• Bull riding Wrangler round – (tie) Brett Todd and Tuff Hedeman, 80, $2,159 each
• Calf roping average – D.R. Daniel, 21.8 seconds on two, $1,119
• Calf roping Wrangler round – D.R. Daniel, 9.7, $2,238
• Steer wrestling average – Darrell Sewell, 10.7 seconds on two, $1,114
• Steer wrestling Wrangler round – John Thompson, 4.0, $2,228
• Team roping average – Barry Johnson/Dee Pickett, 14.4 seconds on two, $636
• Team roping Wrangler round – Jake Barnes/Clay O'Brien Cooper, 6.2, $1,272
• Barrel racing average – Suzanne Fausett, 31.12 seconds on two, $974
• Barrel racing Wrangler round – Charmayne James, 15.30, $1,948
Courtesy of PRCA