Roche Captures First-Round Win at Rodeo Austin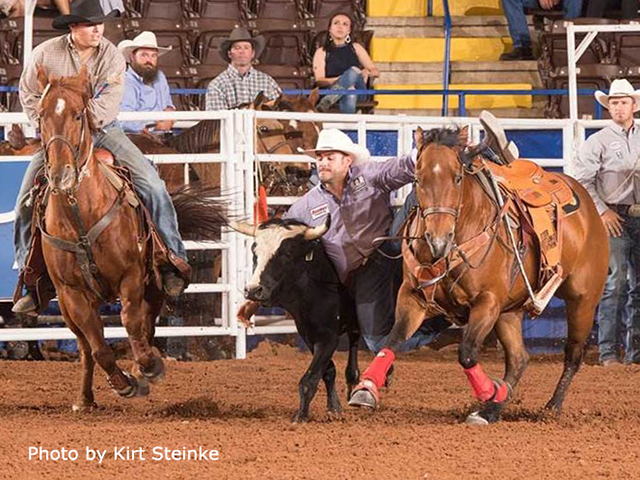 AUSTIN, Texas – Things keep rolling along smoothly for steer wrestler Baylor Roche.
Just over a month after Roche won the San Angelo (Texas) Stock Show and Rodeo, the Tremonton, Utah, cowboy is earning more money at Rodeo Austin.
Roche clocked a 3.5-second run to win the first round at Rodeo Austin at the Travis County Expo Center.
"That was a good run," said Roche, who clocked his time on March 21. "I actually had run that steer at San Antonio and won the third round (in Bracket 2) with him. I knew exactly what to do and caught him in a good spot and made a good run on him in Austin. That steer has made me some money."
For his performance in Austin – so far – Roche has earned $5,090. The same steer he won the round on in Austin helped Roche earn $9,742 in San Angelo.
"I was riding Josh Peek's horse, Ace, when I made that run," said Roche, who also rode Ace to win San Angelo with a 3.0-second run. "I've used that horse at various places throughout the year, and we are getting along great."
Roche is scheduled to compete in the semifinals tonight (March 23) at Rodeo Austin. The semis consist of 16 cowboys and then the Top 8 finishers in the semifinals advance to Saturday's finals.
"Now, Austin is like three one-headers for us, and you just need to stay in the top few guys and hopefully in the end, you win first," Roche said.
Prior to winning the first round in Austin, Roche was seventh in the March 20 WEATHER GUARD® PRCA World Standings with $22,957.
"This year has been good, and a little bit crazy," Roche said. "I've been trying to get on horses that are up at the same time as me, and luckily Josh (Peek) has been up with me at a lot different places – so has Jacob Shofner with his horse, Two Guns (2013 AQHA/PRCA Steer Wrestling Horse of the Year). I rode Two Guns at San Antonio."
Roche qualified for the Wrangler National Finals Rodeo presented by Polaris RANGER the last two years in a row. He placed ninth and 15th in the world standings, respectively.
This past December, Roche arrived at the WNFR in 10th place and left in 15th after placing in just two rounds and winning $25,231 in Las Vegas.
"Coming off not having a very good Finals, that fueled me to try and really step it up this year and get something going fast," Roche said.
Courtesy of PRCA