Roche Receives Early Birthday Present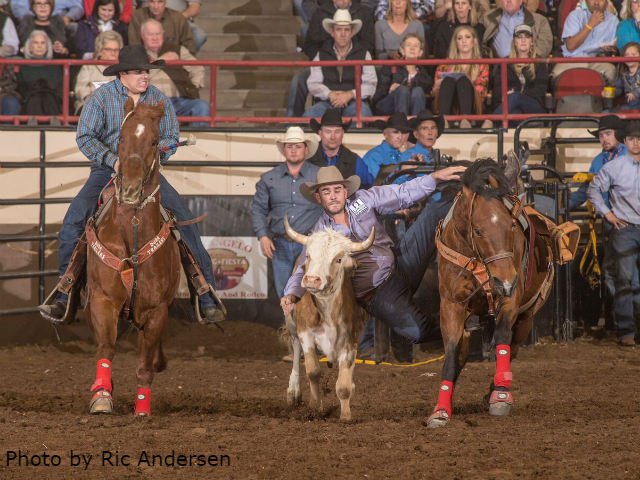 SAN ANGELO, Texas – This was a great early birthday present for steer wrestler Baylor Roche.
On Friday, just three days before his 28th birthday, Roche was celebrating his first career victory at the San Angelo (Texas) Stock Show and Rodeo.
"This was a great birthday present, the best one yet," Roche said.
Roche stopped the clock in 3.0 seconds – just a tenth of a second off the rodeo record – in the short round to capture the win at the Foster Communications Coliseum.
That run allowed him to win the average with a 10.2-second time on three head and set the rodeo record on three head. The three-head record was 11.9 seconds set by Beau Clark in 2015.
"You have to have the right steer to have that kind of run and I drew really well," Roche said. "I rode Josh Peek's horse, Ace, and that really helped. I have ridden that horse quite a bit. I won San Juan (Capistrano, Calif.) on him two years ago, and I've had quite a bit of luck on him."
Roy Duvall holds the San Angelo (Texas) Stock Show and Rodeo steer wrestling record at 2.9 seconds. He recorded that time in 1986. Roche did tie Joshua Clark for the fastest bulldogging run so far in the 2017 season.
"The short round was fast all the way through and I knew I needed to run at," Roche said. "I knew what my steer was and what I had to do to be fast on him, but I was pretty surprised to be 3 seconds. That felt really good."
Thanks to his performance in the finals, with Dirk Tavenner as his hazer, Roche was able to leave San Angelo with $9,742. He qualified for the 12-man finals with a two-head time of 7.2 seconds, which placed him second behind reigning PRCA Steer Wrestling World Champion Tyler Waguespack (7.0 seconds).
"Getting this win feels great," Roche said. "I didn't have a very good Finals and then I went to Denver in January and I don't think I stopped the clock. My first one at Fort Worth (Texas) I was like 29 seconds, so this feels good to get something going. Ever since I came here (San Angelo), I kind of got a lick and then I won my set at San Antonio."
At San Antonio, in Bracket 2, Roche placed second in the first round, and won the third round to qualify for the semifinals. The San Antonio Stock Show and Rodeo concludes Feb. 26.
"The last couple of weeks, I've really been able to get things rolling," Roche said.
An added bonus for Roche this week is he was able to fly home to Tremonton, Utah, Tuesday and stay until Friday morning before catching a flight to San Angelo.
"I got to see my wife, Samantha and our little boy, Bex (15 months), and that was great," Roche said. "They are my biggest supporters."
Roche qualified for the Wrangler National Finals Rodeo presented by Polaris RANGER the last two years in a row. He placed ninth and 15th in the WEATHER GUARD® PRCA World Standings, respectively.
This past December, Roche arrived at the WNFR in 10th place and left in 15th after placing in just two rounds and winning $25,231 in Las Vegas.
"When I got to the (2016) Finals I don't think I was as mentally prepared as I needed to be," Roche said. "The first year I went to the Finals (in 2015) I went in blind and I was just excited."
Other winners at the $447,257 rodeo were bareback rider Chad Rutherford (176 points in two head), team ropers Travis Tryan/Chase Tryan (19.4 seconds on three head), saddle bronc rider Ryder Wright (162 points on two head), tie-down roper Cade Swor (23.7 seconds on three), barrel racer Kassie Mowry (44.17 seconds on three runs) and bull rider Trey Benton III (88.5 points on Pete Carr Pro Rodeo's Red Rocket)
For more coverage of the San Angelo (Texas) Stock Show and Rodeo, check out the March 3 issue of the ProRodeo Sports News.
Courtesy of PRCA