Rodeo Action Will Kick Off Washington State Fair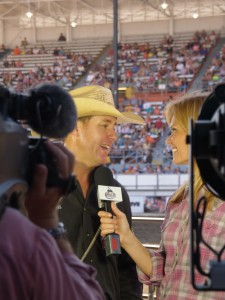 Photo – Last year's tie-down roping champion at the Justin Boots Playoffs at the Puyallup Pro Rodeo Trevor Brazile is interviewed Suzanne Alexander.
PUYALLUP, Wash. – Sept. 1, 2014 – When the Washington State Fair starts on Friday, Sept. 5, rodeo's biggest stars will be shining in Puyallup at the Justin Boots Playoffs.
Five action-packed performances will feature the best rodeo athletes from the Professional Rodeo Cowboys Association (PRCA) and Women's Professional Rodeo Association (WPRA). Rodeo's championship event, the Wrangler National Finals Rodeo (NFR) in Las Vegas in December is where world champions are crowned and for many of the contestants hoping to be in Vegas, Puyallup is a critical stop.
The top 48 in the PRCA and WPRA world standings will compete here in the first four performances. Those 48 will be narrowed down to 12 who qualify for the rodeo's finals here. At stake is over $300,000 in prize money and every dollar counts towards their world standings position. The regular season ends on Sept. 30 and the top 15 in the world standings will be making plans for the NFR.
There are two performances on Friday and Saturday, Sept. 5-6 at 1 and 6:30 p.m. Each of the 48 contestants in bareback riding, steer wrestling, team roping (header and heeler), saddle bronc riding, tie-down roping, bull riding and the women's barrel race will have one opportunity to compete during these four performances. Then the best 12 in each event will advance to the championship round Sept. 7 at 1 p.m.
As a premier event on the PRCA schedule the Puyallup Pro Rodeo championship round will be televised on CBS Sports. Showcasing the best two and four-legged athletes, the event will air on Sept. 21, 2014.
Last year's big money winner here were the team roping duo of Brandon Beers, from Powell Butte, Ore., and Jim Ross Cooper from Monument, N.M. They each added $17,742 in earnings to their season qualifying for the NFR. All of last year's champions were among the top 15 that qualified for the NFR with two of them going on to win world titles. Sherry Cervi from Marana, Ariz., won the barrel racing and went on to earn the world championship. J.W. Harris from Mullin, Texas, did the same in bull riding.
Other champions here last year were Jessy Davis, from Power, Mont., in bareback riding; Trevor Knowles from Mount Vernon, Ore., in steer wrestling; Wade Sundell from Boxholm, Iowa, in saddle bronc riding; and the 10-time all-around world champion Trevor Brazile in tie-down roping. All of last year's champions are expected to compete again this year.
Primary stock contractor at this year's rodeo is the Calgary Stampede from Alberta. There will also be livestock from eight other firms guaranteeing top bucking bulls and horses at every performance. Randy Corley, 13-time PRCA announcer of the year, and Hadley Barrett, four-time PRCA announcer of the year will be calling the action.
Tickets for the rodeo start at just $5 for the Friday Matinee. For all performances prices start at $15 to $30. Country superstar Clay Walker will entertain the crowd after Friday night's performance. Saturday evening's performance will be followed with a concert by Colt Ford. Tickets may be purchased online at www.thefair.com.