Rodeo World Remembers Harry Vold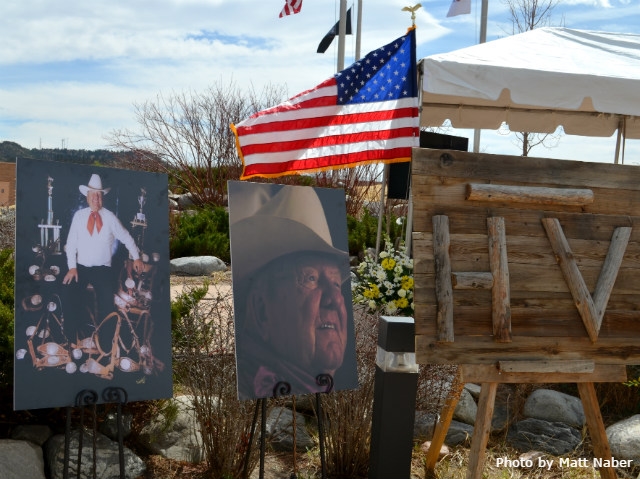 COLORADO SPRINGS, Colo. – The Duke of the Chutes was remembered in grand fashion Monday.
An estimated crowd of 600 people paid tribute to ProRodeo Hall of Fame stock contractor Harry Vold during an emotional memorial service at the ProRodeo Hall of Fame's courtyard. The memorial service was emceed by veteran ProRodeo announcer Boyd Polhamus.
Vold passed away March 13 at the age of 93 in his sleep at his home in Avondale, Colo.
"This was a great tribute to what a good person he was and that he was a great friend to other people," said Kirsten Vold, Harry's daughter, who will continue to run her father's rodeo company. "This was wonderful. I also think how great it is that all these people get to see each other who normally don't get to see each other for many years."
Harry Vold is one of only two stock contractors to provide animals for every National Finals Rodeo, which has been held annually since 1959.
Vold, while operating the Harry Vold Rodeo Company, was chosen PRCA Stock Contractor of the Year 11 times (1982, 1987-96), which is tied for the most selections with Stace Smith ProRodeos.
Jerry Nelson, who runs Frontier Rodeo Company and has been selected PRCA Stock Contractor of the Year the past two years, took a moment Monday to talk about Vold.
"I think we're all going to miss him," Nelson said. "We're going to miss his point of view and miss his tips and just miss talking to him. I loved calling him on the phone and saying, 'Hey, Harry, what do you think about this? Or what do you think about that?' I wouldn't be in the rodeo business if it wasn't for him selling me those mares like he did years ago; I would call him all the time and talk to him. I'm going to miss him, and there will not be another Harry Vold."
For more coverage on the life of Harry Vold check out the March 31 issue of the ProRodeo Sports News.
Courtesy of PRCA