Rookie Profile – Casey James Kirwan
When I Get Where I am Going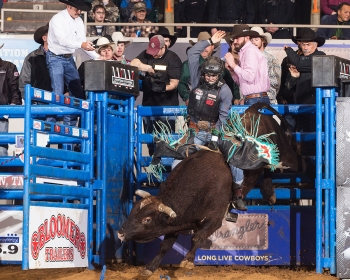 F.E.A.R has 2 meanings, Forget Everything and Run, or Face Everything And Rise…. the choice is yours, posted CBR rookie bull rider Casey James Kirwan on social media two years ago.
Kirwan, a twenty two year old rookie bull rider with Championship Bull Riding, has chosen the second acronym as inspiration as he gets on bulls this evening at the South Point Arena after attending his father's funeral just a few days before competing in first Tuff Hedeman Vegas Shoot Out at the South Point Hotel Casino and Spa Arena. Kirwan's father's was killed in California in a car accident.
Kirwan is excited to be riding close to home where he will be joined by his family in Las Vegas in support of his bull riding career choice.
"My dad was a cowboy and he would expect me to cowboy up and make the ride," said Kirwan on the way to the Las Vegas Motor Speedway to sign autographs in the South Point booth.
Kirwan grew up as a California kid enjoying surfing and sunshine in Graton, California while under the influence of his rodeo cowboy father who rode bucking horses and was a team roper, and made it clear he did not want his son to ride bulls.
"It was the one thing he told me he didn't want me to be so when I turned 18 I took off and decided to be a bull rider," laughed Kirwan.
Kirwan's path to the CBR is not the usual one of early entries on the mutton bustin circuits or a career in high school rodeo. He has been riding bulls for just a few year but feels it's an advantage. He has received instruction and spent a month with Gary Leflew and other bull riding experts along the way and tends to hang his hat wherever he can learn. He gets on as many as ten practice bulls a week and feels his rookie status a plus in his young career.
"Being new to the sport has an advantage, my body is fresh, no lifelong bad habits, and when I make mistakes it's easier to fix if it's not a habit, I am like a sponge, a student of the sport."
After receiving an offer for a rodeo scholarship in Stephenville, Texas at Ranger Jr. College, he decided to call the cowboy capitol of the World home. He currently resides in Stephenville where he works and lives with a bucking bull stock contractor to earn rent. Keeping true to his California roots, Kirwan also works as a stunt double in commercials and videos requiring bull riding action and has a few modeling credits as well.
It is not an accident Kirwan found the CBR, he set out with the goal of making the CBR World Finals last July when he entered the first Horizon Series qualifying event in Jackson, Wyoming. He continued to enter the Horizon Series and found himself in the top five which granted him an invite to the CBR's Road to Cheyenne tour in Window Rock, Arizona in September.
"I didn't make the most of those two invites, I was really nervous and felt in over my head, I had to learn to handle the pressure of the big events," continued Kirwan.
Kirwan continued riding both tours and had his best showing this season in round one of the Bucking on the Rio Grande event in Rio Rancho, New Mexico where he won the round with a 90.5 ride on Boomer and advanced to the final four shoot out round for the first time in his CBR career.
Kirwan is still in the hunt for his first event win but thrives on the three round tournament style format of the Road to Cheyenne.
"The opportunity to get on three bulls in one night is a big accomplishment when you ride and learning that consistency is what provides the "luck" in bull riding," said Kirwan.
Kirwan will be joining twenty four other dragon slayers including five time World Champion Sage Kimzey and ERA World Champion Chandler Bownds and multiple National Finals Rodeo qualifiers as they take the dirt at the South Point Arena Saturday night for the CBR Tuff Hedeman Vegas Shoot Out presented by Boot Barn and Discount Tire.
Tickets available Ticketing Link at the South Point box office and ticketmaster.com.
Kirwan will join Tuff Hedeman today at Boot Barn for a fan meet and greet and autograph session.
Saturday, March 11
Noon to 2 pm Tuff Hedeman and Bullfighter of the Year Brandon Loden at Boot Barn, 7625 W. Warm Springs, Las Vegas, Nevada 89119
6:30 pm – Doors Open at South Point Hotel, Casino and Spa Arena, 9777 South Las Vegas Boulevard, Las Vegas, NV
7:00 pm – Bullfighters signing on Concourse
Cody Jesus signing, Navajo Nation Parks and Recreation Booth on concourse
7:30 pm – CBR Tuff Hedeman Vegas Shoot Out
9:30 pm – Hedeman and riders Autograph Session on arena floor
Courtesy of CBR