Rorey Maier Takes Crown at Xtreme Bulls Finale
by Justin Shaw | Sep 04, 2016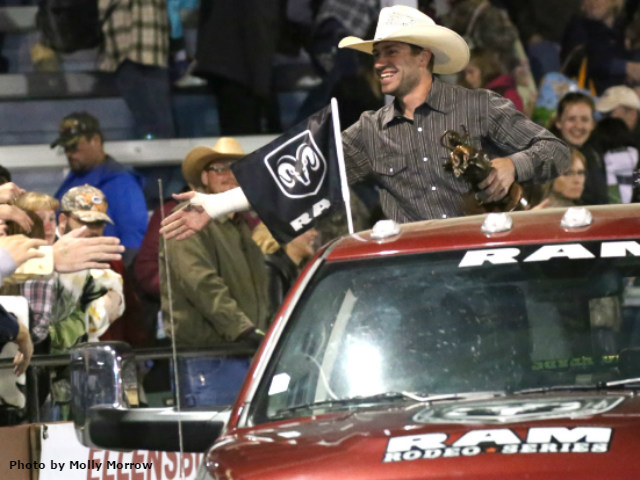 ELLENSBURG, Wash. – There was no wiping the smile off the face of Rorey Maier as he took his victory lap around the arena.
The ride in the back of the RAM truck was the culmination of the biggest night in the 28-year-old bull rider's career.
Maier, of Timber Lake, S.D., won the Xtreme Bulls Tour Finale with a two-head average score of 174.5 points. It was the first Division 1 Xtreme Bulls win of his career.
"I picked a good time to win my first one," he said. "I've been second and third a lot this year, so to win here in Ellensburg is the real deal. This is the one everybody wants to win. I've tried to not put pressure on myself, and stay relaxed and focused on the process of riding bulls, and I knew it would work out eventually."
He finished third in the long round with a score of 86 points on Corey & Lange Rodeo's Comatose, and then won the short go with an 88.5-point trip on Four Star Rodeo's The Bachelor – just edging out Jordan Spears, who had an 88 and finished a half-point behind Maier for the average title.
The $25,944 Maier earned vaulted him from 14th in the Xtreme Bulls season standings to the Xtreme Bulls year-end champion.
"It means a lot to me to be the year-end champion," Maier said. "I realized about halfway through this season that I was doing pretty well in the Xtreme Bulls standings, and I made it a priority to win at these."
More importantly, however, the huge haul should clinch Maier a spot in his first Wrangler National Finals Rodeo presented by Polaris RANGER this December. He entered the weekend 18th in the WEATHER GUARD® PRCA World Standings, and should shoot up into the top 10.
"It's the feeling I've wanted to have for a long time," he said. "But I'm not counting my chickens, because it's not over yet. I want to keep winning and moving up toward winning a world championship. That's what I've always wanted, and now I have a real chance to be in that position."
It was a monumental night for Maier, whose best previous finish of his nine-year PRCA career was 26th in 2013. He finished 85th in 2015.
Maier was one of four men to ride for eight seconds in the 12-man short round – a round which included four of the top five bull riders in the world.
"It's awesome, because I got to see my brother (Ardie) have a great ride before I went," Rorey said. "To win against the top guys is why we do this – to try to be the best. I knew I was capable of it, and tonight, it was great to prove it. It's been a long time coming"
Dallee Mason finished third, behind Rorey Maier and Spears in the average. Rorey's older brother, Ardie, finished fourth.
Spears entered the weekend 13th in the Aug. 29 world standings, and the $20,492 he earned should also assure him a spot at the WNFR. It will be his second appearance in Las Vegas, and first since 2014.
For more coverage of the Xtreme Bulls Tour Finale, check out the Sept. 23 issue of the ProRodeo Sports News.
Courtesy of PRCA