Ryder Wright Claims WCC Win in Santa Maria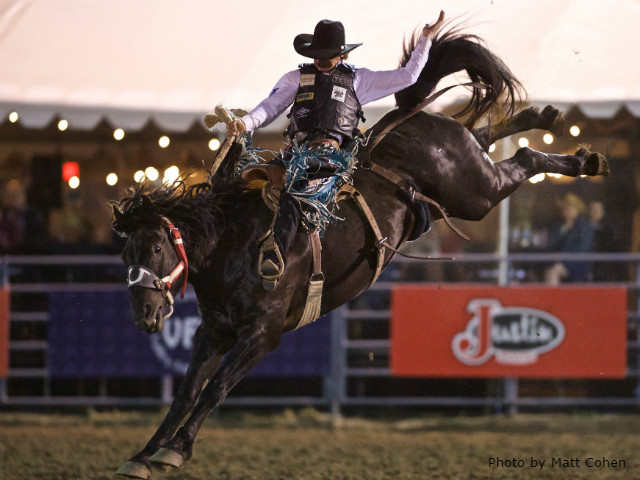 SANTA MARIA, Calif. – Twice this season, Rosser Rodeo's Colt 45 saddle bronc horse was too much for Ryder Wright to handle.
The third meeting was a different story.
Wright was ready for the challenge of Colt 45 – and he won the battle.
The Milford, Utah, cowboy had an 84.5-point ride on Rosser Rodeo's Colt 45 to win the Wrangler Champions Challenge presented by Justin Boots at the Elks Unocal Event Center.
"That horse just bucks and is difficult to ride," Wright said. "This time I gave the horse a little bit more rein so I could I stay back and lift better. The first time I got on (Colt 45) I sat on my feet and the second time I think my rein was a little too short. It's awesome to get this win, and get a good check."
This was the first career WCC event victory for Wright, 19, who was competing for Team RAM. He earned $3,944 for his performance. Ryder edged his father, Cody and Hardy Braden, who tied for second with 84-point rides. Ryder and his dad left Milford at 6 a.m. Thursday and made the 9½-hour trip to Santa Maria.
"I didn't know if my score would hold because there were a lot of good horses and good riders left to go after I made my ride," Ryder said. "You're always hoping for the best, but you never know. This win helps my confidence. It always helps when you can get on a good horse like that and win."
The WCC events began in 2013 and this was the 34th event held and the first at Santa Maria. This was the fourth WCC event this season – the others were Rapid City, S.D. (Feb. 1), Grand Island, Neb. (March 3), and Redding, Calif. (May 20). Ryder had earned $1,856 at WCC events this season and all that came at Redding.
Ryder was 11th in the May 30 WEATHER GUARD® PRCA World Standings with $27,440. He made a spectacular debut at the 2016 Wrangler National Finals Rodeo presented by Polaris RANGER, winning Rounds 1 through 4 and Round 9, and he left Vegas after earning $141,154. He finished fourth in the final world standings.
"I just want to keep my momentum going," Ryder said.
He's competing at the Santa Maria Elks Rodeo June 2 and then will try to make it two WCC event wins in a row when he rides at Spanish Fork, Utah, June 3.
Other winners at the $92,800 rodeo were bareback rider Evan Jayne of B&W Trailer Hitches (85.5 points on Rosser Rodeo's Flood Tide), steer wrestler Dakota Eldridge of B&W Trailer Hitches (5.2 seconds), team ropers Coleman Proctor/Billie Jack Saebens of Team RAM and Dustin Bird/Russell Cardoza of Team Coors (6.0 seconds each), tie-down roper Hunter Herrin of Boot Barn (7.6 seconds), barrel racer Lisa Lockhart of B&W Trailer Hitches (17.13 seconds) and bull rider Shane Proctor of Team Coors (88 points on Flying U Rodeo's Reindiction).
For more coverage of the Wrangler Champions Challenge presented by Justin Boots at Santa Maria, check out the June 23 issue of the ProRodeo Sports News.
Courtesy of PRCA