Sage Kimzey Wins Ellensburg, Wash., Xtreme Bulls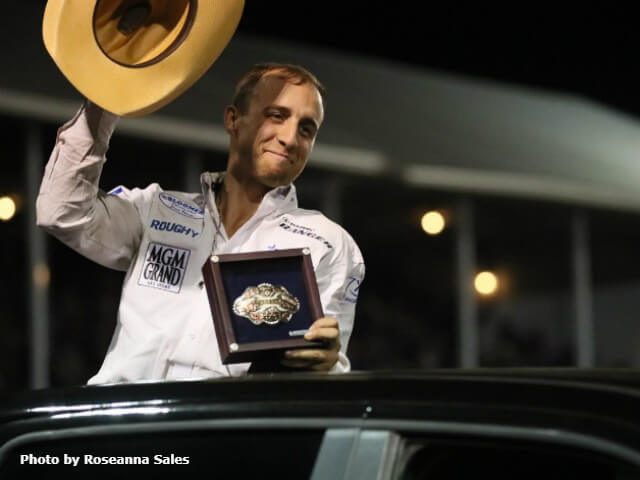 ELLENSBURG, Wash. – Sage Kimzey's 2018 PRCA season is nothing short of awesome. And that's saying something for the four-time defending world champion bull rider.
The 24-year-old from Strong City, Okla., is looking for his fifth consecutive world title, and Saturday night might have played a big part in that coming to fruition.
Kimzey won the Ellensburg (Wash.) Rodeo Xtreme Bulls Tour Finale Division 1 event Saturday night, as the only bull rider to cover two bulls. That helped him take home $33,323.
The win also gave Kimzey his third Xtreme Bulls title.
Kimzey finished with 166 points on two head.
His night started inauspiciously, as he tied for eighth with Dustin Boquet in the first round. That earned each of them $423. After that, the money flowed to Kimzey. His 87.5-point ride on Corey & Lange Rodeo's Double Down in the finals was worth $18,800, including ground money. Winning the average netted him another $14,400.
He entered the event leading the Xtreme Bulls standings with $46,473. His lead over second-place Parker Breding was slightly less than $8,000.
More important than that lead was his PRCA | RAM World Standings lead. Entering Saturday night, Kimzey had built his season earnings to $236,806. He led Breding, again his closest competitor, by more than $70,000.
The event in Ellensburg paid out a total of $94,000. Riker Carter and Elliot Jacoby split the first-round win with 86 points each. That earned them $7,473 for the round and another $9,400 apiece for tying for second in the average.
Courtesy of PRCA