Sailor's Dream Coming True at Texas Velocity Tour Event
By: Jimmy Rodgers
August 05, 2017
ALLEN, Texas – I remember my first Professional Bull Riding event I ever attended. It was 2012 in Philadelphia, and I was stationed in Norfolk, Virginia, fresh out of Navy boot camp.
My then girlfriend and now wife, Lindsey, had come to visit me and suggested we make a short weekend trip to Philly to meet her dad, stock contractor Shane George, who was hauling bulls to the Wells Fargo Center for a Built Ford Tough Series Event.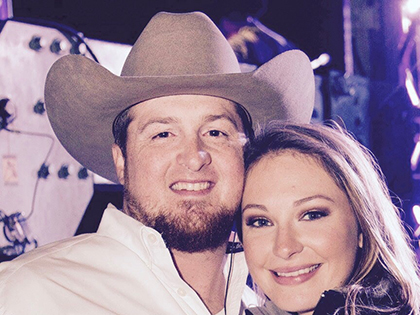 At the time, I had no clue about the sport, nor was I involved with the PBR.
After approval from my chain of command, I agreed to make the trip.
The night we rolled into Philly, we jumped into Lindsey's dad's dually truck with a 36-foot gooseneck trailer hooked to the back. The trailer was loaded with massive 1,500-plus pound bucking bulls.
We drove over to the Wells Fargo Center – home of the Philadelphia 76ers – and down under the arena to where the bulls were unloaded. After unloading the bulls, Lindsey's dad introduced me to a couple bull riders.
My lack of knowledge of the sport meant I didn't really understand who I was meeting at the time. I still remember the riders though, Ben Jones "The dancing Australian" and Austin Meier. Two very successful professional bull riders. These guys were rough around the edges and some tough son of a guns.
During the event, I spent some time behind the bucking chutes, but mostly I spent time in the stands watching.
I think what won my heart over was the competition. The adrenaline rush I got when the bucking chute gate opened, and it was man vs. beast. Also the fact that I was watching some world-class bucking bulls compete that were owned by my father-in-law made my first experience with the sport a night I'll never forget.
After Philly, I began following the Built Ford Tough Series every weekend. Whenever I could find time off from my military commitments, I made trips to meet Lindsey's dad at other BFTS events.
I met him twice in New York, and I have always been a big basketball fan. I played all through high school, even having the honor to be high school teammates with NBA All-Star Jimmy Butler. That made my trips to New York special because the PBR events were held at Madison Square Garden, a legendary sports arena that I had always wanted to visit.
I just never thought I would finally go to MSG because of the PBR.
In 2014, I drove to Nashville to meet Lindsey's dad again for another BFTS event – one that I would never forget. I got to go behind the chutes with her dad for the championship round where I watched Bushwacker –the greatest bucking bull of all time – and Southpaw, a bull my father-in-law was hauling for Missy Luzak-Smith, up close.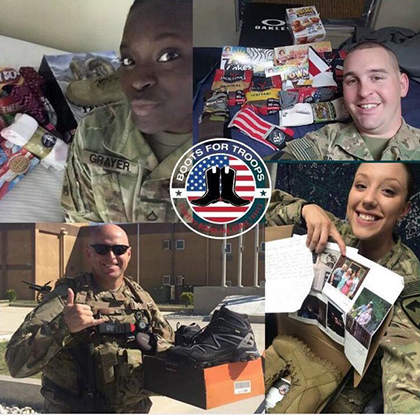 I had become so obsessed with the sport by this time that I began expressing interest in owning bulls myself, which I now do. One day I hope I can haul bulls to BFTS events myself.
A year later, I attended the BFTS season-opener in Baltimore where I was named the Cooper Tires Fan of the Night after hounding Flint Rasmussen, the PBR's official entertainer, on Twitter all week.
To this day, that belt buckle is hanging on my wall.
This was just two months before deploying to the Middle East onboard the aircraft carrier USS Theodore Roosevelt.
I started Boots For Troops toward the end of that deployment. Boots For Troops started as a GoFundMe page, but today it is a fully functioning non-profit organization that is recognized by the IRS as a tax-exempt organization.
Boots For Troops is a custom care package program for service members, each package also includes a new pair of boots. The program's popularity grew like wildfire amongst active duty deployed troops, and it made a significant impact around the world.
It was a dream of mine early on to have Boots For Troops attached to the PBR in some way. Being a new organization, it is hard to get the attention of any major corporate company. You must grind and fight for it.
Thankfully, that is what I do.
I have been lucky to meet a lot of awesome people throughout this journey building Boots For Troops, and although I'm the face of the organization, I know that Boots For Troops wouldn't be where it is today without so many generous Americans.
Back in January, I was in Fort Worth, Texas, with my father in-law. He had some bulls entered in the Cowtown Classic. Before the event, we strolled over to the White Elephant bar for a drink. As we were getting ready to leave, and literally signing our tab, a voice shouted across the bar – "What is Boots For Troops?"
It was the voice of my now partner in the Silvano Alves Challenge, Mr. Jon Goetz. Jon had recognized my Boots For Troops hat and shirt I was wearing.
I quickly explained to Jon and his partner, Casey Cox, what Boots For Troops was, and what we do to help our active duty service members. They had expressed to me they were looking for a charity to partner with in a recent adventure to host a PBR Real Time Pain Relief Velocity Tour event.
After we left the bar that night, I was skeptical if I would ever hear from Jon and Casey again, but they kept their word and sure enough we talked the next day and in the weeks after.
Jon and Casey eventually asked Boots For Troops to be the official charity partner for the Silvano Alves Challenge, which will be held this Sunday. It's an absolute dream come true and I can't thank Jon Goetz and Casey Cox enough for giving Boots For Troops the opportunity to be a part of the event.
Both guys have put their hearts into putting on a great event, which is going to be first-class. I think a lot of people will be surprised at the quality of the event.
I have come a long way since the night I rolled into Philadelphia for my first PBR event.  Although, I'm proud of the accomplishments and the success story, I'm not done.
I think the Boots For Troops mission and our concept aligns directly with the PBR and its Western lifestyle. Being the official charity of the Silvano Alves Challenge is for sure a dream come true for this veteran. However, the next dream would be to become an official charity partner with the PBR year around. For now, I'll enjoy my dream becoming a reality this weekend in Allen.
© 2017 PBR Inc. All rights reserved.