Salinas Sports Complex Implementing Clear Bag Policy for 2018 Events
The aim is to increase safety and efficiency at the complex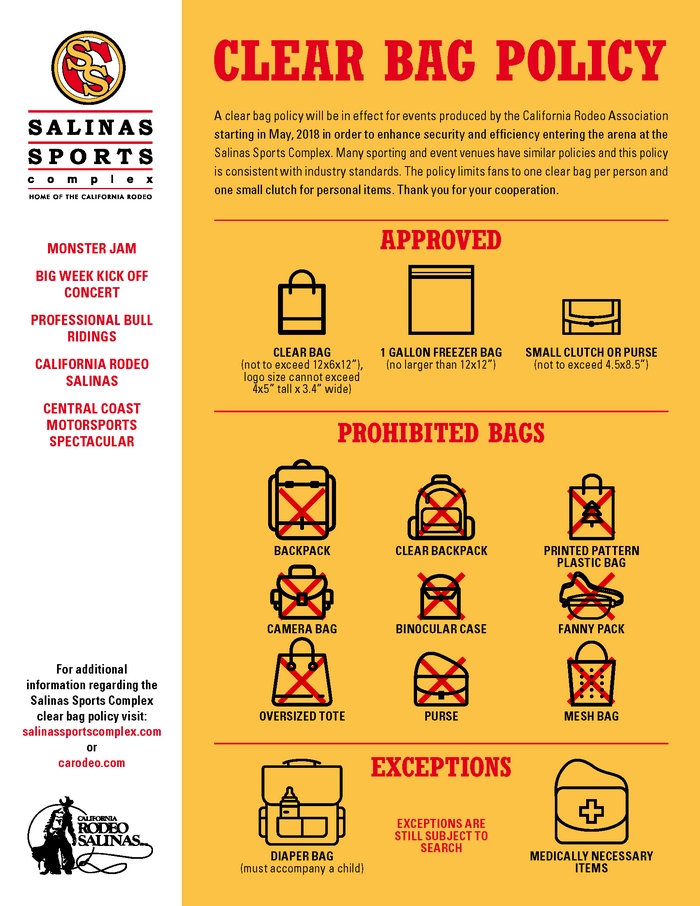 SALINAS, CA, March 15, 2018 – A clear bag policy will be in effect for events produced by the California Rodeo Association starting at Monster Jam on May 6, 2018 in order to enhance security and efficiency entering the arena at the Salinas Sports Complex. Many sporting and event venues have similar policies and this policy is consistent with industry standards. The policy limits fans to one clear bag per person and one small clutch for personal items.
Approved bags include a clear bag not to exceed 12x6x12 inches with any logos not to exceed 4×5 inches tall and 3.4 inches wide, a 1 gallon clear freezer bag not to exceed 12x 12 inches and a small clutch or purse not to exceed 4.5×8.5 inches. Prohibited bags include backpacks, clear backpacks, printed pattern plastic bags, camera bags, binocular cases, fanny packs, oversized totes, large purses and mesh bags. Exceptions include diaper bags (accompanying a child) and medically necessary items, which are still subject to search.
The events where this policy will be enforced for 2018 include Monster Jam on May 6th, the Rodeo Kick Off Concert on July 13th, Big Week Professional Bull Riding on July 18th, the California Rodeo Salinas July 19th through the 22nd, Bulls of Summer Professional Bull Riding on August 25th and the Central Coast Motorsports Spectacular on October 14th.
In order to get the word out and to mitigate any issues for fans at events, the policy will be mailed out with tickets, printed on print-at-home tickets, included in the confirmation email when tickets are purchased online, posted to websites and social media channels and there will be signs at parking entrances and gates. The goal is to continue to provide a safe venue for community events as we keep up with industry changes and standards.
About California Rodeo Salinas
The 108th California Rodeo Salinas will take place July 19th-22nd, 2018. The California Rodeo Association is a not-for-profit organization that strives to preserve and promote the traditions of the California Rodeo Salinas and the West. We support the community and other non-profit organizations through the staging of the annual California Rodeo Salinas and other year round operations of the Salinas Sports Complex. Through donation of our facility, vending and fundraising opportunities during Rodeo and other events, the California Rodeo Association returns over $400,000 annually to local non-profits. For more information about the California Rodeo Salinas, log on to www.CARodeo.com or call the California Rodeo Office at 831-775.3100. 'Like' the California Rodeo on Facebook at www.facebook.com/CARodeoSalinas or follow us on twitter @CaliforniaRodeo for updates, photos and more.