by Kendra Santos, PRCA Director of Communications | Mar 17, 2016
The stars at night, are big and bright, deep in the heart of Texas. And they're all gathered here in the Lone Star State for the richest rodeo of the Professional Rodeo Cowboys Association regular season, the San Antonio Stock Show & Rodeo.
I got to see some of the magic of the reigning and 11-time PRCA Large Indoor Rodeo of the Year for myself this year, and the event's domination is no mystery to anyone lucky enough to attend this extraordinary event in any capacity.
It's easy to brag on a $1.75 million rodeo—the only rodeo of the PRCA regular season that pays every contestant's entry fees. (The Wrangler National Finals Rodeo presented by Polaris RANGER and the RAM National Circuit Finals Rodeo also cover every cowboy and cowgirl's entry fees. And to be clear, $100,000 of that very grand total is paid out at the Xtreme Bulls event held in conjunction with the rodeo.)
San Antonio gets it done on the entry fees front by selling "star experience" seats for $200 a pop. Fans watch the rodeo from the stands after parking in a special spot and enjoying a steak dinner, then move down to chairs in the dirt to watch the musical star perform after the rodeo. The committee covers each contestant's $500 entry fee by selling 3,000 such seats. Brilliant.
It's hard to know where to start when trying to explain what lands the event that takes over the AT&T Center while the San Antonio Spurs are away on their annual rodeo road trip in a league of its own. Under the direction of Executive Director and CEO Keith Martin, who leads the charge using "integrity, caring and excellence" as the committee's three primary core values, more than 6,000 volunteers—many of whom spend their vacation time from work to serve on one of the event's 42 subcommittees—make it happen. They cook for the cowboys and rake before every barrel racer runs. Anything and everything to make running at the fortune that awaits the winners fun and fair.
The first San Antonio Stock Show & Rodeo was held in 1949, and more than 1.6 million people attend the popular event each year. Opening day at this year's Feb. 11-28 extravaganza was another record-setter based on the number of buzzing fans who barreled through the front gates. They were all welcomed with the open arms that are the very foundation of this committee's culture.
We'll cover this year's champs in the next issue when the rodeo's over. Meanwhile, what makes the San Antonio Stock Show & Rodeo so spectacularly special?
"The hospitality here is second to none, not to mention the rodeo side," said reigning World Champion Saddle Bronc Rider Jacobs Crawley, a native Texan who was headed to the San Antonio semifinals at press time. "I love the format and the money. We're guaranteed three good one-day rodeos when we get here, which makes it exciting. If tonight doesn't go great, there's always tomorrow. Everybody goes for it every time here in San Antonio, because there's no average. I rode last night, and tonight's a new day with a clean slate. It's great for the fans, and it's easier on the judges, too, because they don't have to try to compare my ride tonight to one a guy made two weeks ago. How can you expect anyone to do that?
"Everything about this rodeo is cowboy friendly. It's set up for us to go for first every night, and the fans get to see the winner every performance. One of us will take a victory lap and get paid tonight. It spreads the money around, too, to where more cowboys get paid. You've got shots at NFR horses every night. I've been on two of my first three horses here (in the early going of this year's rodeo) at the NFR. If there's a downside to how they do things here in San Antonio, I don't see it. From a cowboy's perspective, it all plays to our benefit."
Utah bull rider Joe Frost seconds that. "This is the best one we've got," said Frost, who's ridden at the last two NFRs. "My favorite things about it are the money, the format and the hospitality. More cowboys make more money at this rodeo than any other rodeo other than the NFR, because of the format."
In fact, 67 percent (302 of the 450 contestants entered) left town with money last year, including 14 who won more than $20,000 and 32 more who bagged between $10,000 and $20,000.
The format in San Antonio goes like this: There are 50 contestants in each event, based on the top 45 from 2015 and the top five in 2016. Those 50 are split into five groups of 10, and each set of 10 rides or runs three head. Four moneys are paid in each round of each bracket, and the four guys with the most combined earnings from each set advance to the semifinals. The semifinals contestants are split into two sets of 10, and they all run or ride two head. Four places are again paid each perf, and the money is double that from the first three rounds. The top five based on money won in all of those first five rounds then move on to the finals. The champ in each event is he or she who wins the most money throughout the run of the rodeo.
"We all love coming to a rodeo that makes you feel like they're glad you're here," Frost continued. "The atmosphere here is the main thing that sets it apart for me. It's warming. And they've got great green beans (Frost's lucky pre-ride meal there this year). Everything about this rodeo makes me want to come back."
San Antonio goes way out of its way to bring in the best stock, too, and that's as appreciated as anything by the cowboys in every event. Some 23 stock contractors bring their best buckers at the roughstock end of the arena and timed-event cattle that are hand-picked to keep the playing field as even as possible.
"They've always got fresh steers and calves here," said two-event Utah timed-eventer Rhen Richard. "They condition them just for San Antonio, so it's about as fair as you can get it. You don't draw something that takes you out of it at this rodeo."
"Everybody brings their best bulls to San Antonio," Frost added. "You know before you get here that you have something you can win money on every night. It's by no means a drawing contest. It's a riding contest in San Antonio. That's why San Antonio is my favorite rodeo of the regular season. This rodeo is a big deal. You just have to make sure you're ready when you show up."
Frost was 85 points on two of his first three bulls—he finished third, then first and first—to handily advance to the semifinals before this issue went to press. Two-time World Champion Bulldogger Dean Gorsuch also advanced to the semis in the early going of this year's event.
"I love this rodeo," said Nebraskan Gorsuch, who won gold buckles and WNFR average crowns in 2006 and 2010. "I like the one-headers. It's a clean slate every day. I like averages, too, but the barrier's short and you can run at it every night because there's no reason to play it safe at this one. This rodeo's got an NFR feel to it. It's a quick start, with a packed house of people over the top of you. The steers are really even. Ten steers were out tonight, and you could win the round on about all of them. Everything's a chance.
"This committee is outstanding. They spoil us. They think of everything, and are happy to do anything they can to help the cowboys. They remember us from year to year, and call us by name. They're a bunch of good, down-to-earth country people. Hospitality-wise, it doesn't get any better than how we're treated in San Antonio. They'll give you a ride to the airport, stock the freezer in your trailer with ice, they give us free stalls and shavings for our horses, there's a play area for the kids and no entry fees. I brought one of my kids with me a few years ago, and a committeeman babysat him for me while I went and ran a steer. I don't think a guy can beat this rodeo. It's unbelievable."
The way Gorsuch sees it, San Antonio is a labor of love for the committee people and that feeling is contagious. "These volunteers are all happy," he said. "They're smiling when you drive in the gate, and smiling when they wave goodbye on your way out. It's obvious they love it. All it costs a cowboy to come to this rodeo is your fuel to get here. They're good to cowboys in San Antonio. They treat us like kings, and we appreciate it."
Five-time WNFR bull rider Kanin Asay took his young family to San Antonio this year, and son Kasen, 4, took his first buckle back to Wyoming by way of 87 big ones in the mutton busting. He won it all in style, with a painted face that mirrored the make-up artist and longtime San Antonio barrelman Leon Coffee.
"I love San Antonio," Asay said. "It's always been one of my favorites. It's like we've created a family between the cowboys and the committee here over the years. I've gotten to know everyone from the gatemen to the security guards and the kid who runs the cord for the cameraman behind the bucking chutes. The hospitality here goes way beyond them serving us home-cooked meals, which we appreciate so much. They'll watch your kids, and they'll help fix your vehicle if you're broke down and need a hand.
"The money here is nice, but it's definitely not the first thing I think of when I think about coming to San Antonio. We look forward to coming to see our big family here. The people who put this rodeo on are special."
Montana steer wrestler Ty Erickson was in town early to push steers and cheer on traveling partners Clayton Hass and Stan Branco, who were up in a bracket before him. Like the rest of the cowboy herd, Erickson could be found between perfs in the Rodeo Contestant Hospitality Room, playing cribbage on his phone in a leather recliner after enjoying a home-cooked meal.
"The money's great, but we have a lot of great rodeos," said Erickson, who's bulldogged at the last two WNFRs. "What makes San Antonio stand out for me is the hospitality. The committee is friendly when you show up, and we can come in here and eat, relax and hang out with our friends.
"I like the tournament-style format, and just competing against the guys in your performance. It makes it more fair, because you've got 10 guys and 10 steers, and it's a lot easier to come up with 10 steers that are even than 100. This is a phenomenal rodeo—definitely one of the best we get to go to all year."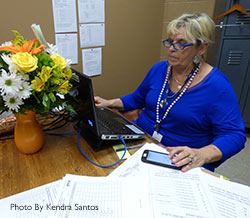 Rodeo secretary extraordinaire Sunni Deb Backstrom is a staple at the WNFR, and the same can be said for San Antonio, which serves as one of her second homes. She's worked San Antonio 36 straight years, first as a timer and since 1988 as the rodeo secretary. Sunni Deb's mom, Ellen, was San Antonio's secretary for a decade before passing the torch to her dear and dedicated daughter. The rodeo family lost Ellen to a rare form of leukemia in 1988.
"This is my favorite rodeo," Sunni Deb said. "They've advanced ahead of everyone else, but they still hold a lot of tradition here. They treat everyone so nice at this rodeo, and being treated nicely goes a long way with cowboy people. Keith has built this event into a lot of people's favorite rodeo. This rodeo is the best, and they never settle. They improve it every year. They continue to do more, and do it better. San Antonio maintains their status because they're never satisfied."
That's a fact. The status quo does not fly in San Antonio.
"The way it usually works is the bigger the rodeo, the higher the entry fees," said two-time World Champion Team Roper Matt Sherwood, who won the world in 2006 and '08. "This rodeo has the highest added money of the regular season, and therefore the highest entry fees. And this committee pays our entry fees for us. To just show up here and get to rope three nights in a row at all this money without paying entry fees is a big deal for us.
"I love the fact that you get to compete in three perfs in a row. It saves us so much on travel. The first time I came here, about 20 years ago, I had to make three trips to work this rodeo. I swore I'd never come back. But they fixed that. The list of things they've done to improve this rodeo over the years is long. They make you feel like they're glad you're here."
The San Antonio Stock Show & Rodeo is bullish on educating the next generation, and awarded $12.2 million in scholarships to Texas youth in 2015—$160.1 million to date. A lot of cowboys have kids, too—Matt and Kim Sherwood have seven of them.
"The bigger the payoff gets, the more in the cowboys' kids' scholarship funds, too," Sherwood said. "Every bit helps when you're out here rodeoing for a living. At so many rodeos it's frustrating to have to pay $100 just to put your horses up, then you go sleep in a horse trailer. All the things they do for us here in San Antonio are sure appreciated."
WNFR pickup man Gary Rempel has picked up at San Antonio the last 10 or 12 years, and he, too, appreciates San Antonio's first-class way of doing business.
"They've got a bunch of stock contractors who bring their best stock," Rempel said. "Everything they do here in San Antonio is top notch. I like going places where horses buck, and they buck here, which makes it fun for all of us. The facility where they keep all the stock is as good as anything going. There's all kinds of room, and great big pens where the bucking horses, bulls, calves and steers get to lay around, relax, eat green grass and enjoy the sunshine and good weather. They treat the livestock as good as they treat the cowboys in San Antonio."
Amen. Let's Rodeo San Antonio!
Courtesy of PRCA