Schmidt Rallies for Top Spot
Courtesy of Wrangler Network contributor Ted Stovin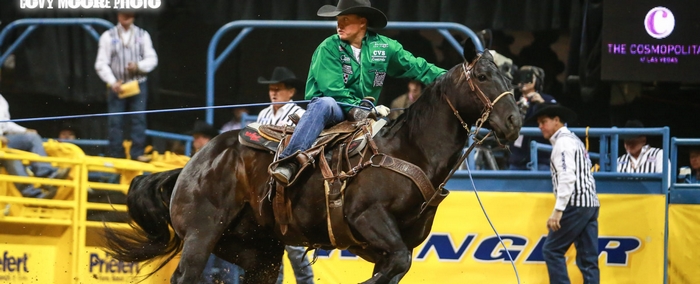 LAS VEGAS, Nevada — In the second last round of the 2016 Wrangler National Finals Rodeo, every Canadian has now cashed a check.
Things were looking pretty bleak for Kolton Schmidt and Shay Carroll through the first eight rounds however a win in Round 9 with the fastest time of the week changed things.
"We had a great steer who ran straight, my horse Badger (the 2016 PRCA/AQHA Head Horse of the Year) tried hard and didn't make any mistakes, and we made the fastest run of the week," Schmidt, of Barrhead, AB said.
"It felt easy. The steer turned right in front of me and made a hop. It's the run we make every day when we practiced to come here," heeler, Shay Carroll echoed.
For their time of 3.6 seconds, the pair earned $26,231 a man to hang out in the number nine positions in the world in both the heading and heeling. Only the final day remains and Canada has 16 go-round buckles to the nation.
"All we have left is to try and win first in the last go-round. I'll try to score good, throw my rope as fast as I can and handle the steer good," Schmidt said. "We realize every night that we are at the best rodeo of the year, and I want to give my heeler the best chance I can give him. So I try harder every time."
"I'll keep preparing like I have all week," Carroll said. "I'll rope the Heel-O-Matic tomorrow morning and make sure my horse is prepared. It's important to stay ready because I know my partner will a chance to win. It's not hard to stay optimistic if you know that when the rope goes on the horns, it will be for first."
Canada's first team of team ropers to qualify for the WNFR still have a chance at a pair of gold buckles on Saturday night.
Levi Simpson (Ponoka, AB) and Jeremy Buhler (Arrowwood, AB) placed fourth in Round 9 with a time of 4.6 seconds for $11,000 a man. With one steer to go, Simpson and Buhler team ranks second in the aggregate after a no-time from former aggregate leaders and current world leaders Luke Brown and Jake Long. Simpson is seventh of all headers, $53,553 behind Brown and Buhler is sixth of the heelers, $41,030 behind Long. Second in the aggregate pays $54,577 but Brown and Long are fifth which still pays $22,846. Clay Smith and Paul Eaves lead the aggregate and are sixth and seventh in the world standings respectively. Ultimately, it all comes down to one last steer.
In the bareback riding, Orin Larsen of Inglis, MB earned another $15,654 for third in Round 9 bringing up his week to be worth $72,192 and put him third in the world. A spot back in the world but third in the aggregate is Ponoka's Jake Vold. Vold was fourth in Round 9 for $11,000 after an 86 point ride on Ladies Man making his week worth $112,243 to date. Tim O'Connell has all but wrapped up the gold buckle but there haven't been two Canadian bareback riders to finish in the top five in the world maybe ever.
Canada's bronc riding team was blanked in Round 9 as both Clay Elliott (Nanton, AB) and Jake Watson (Hudson's Hope, BC) were bucked off. Despite the no-score, Watson remains in the lead of the aggregate by one point over world leader Jacobs Crawley. Zeke Thurston (Big Valley, AB) got an important score, even though it was only 77.5 points. He's third in that aggregate only a half point behind Crawley. That title is nearly locked up by Crawley but there's still a ton of money left on the line tomorrow.
Another $24,962 was won on Canadian bucking stock in Round 9 bringing that number up to $344,246 on the week. Ty Breuer rode Wayne Vold's True Grit for an 83.5 and $4,231 and Jesse Wright took home $20,731 on Tokyo Bubbles from the Calgary Stampede.
For more, visit ProRodeo.com
Canadian Contestant earnings through Round 9: $623,231 (including $80,000 in appearance fees)
Earnings on Canadian bucking stock through Round 9: $344,246
Go round buckles to date: 16 – Cowboys (10) and Stock (6)
Levi Simpson and Jeremy Buhler – Round 1
Get Smart – Northcott/Macza – Round 2
Cooper's Comet – Vold Rodeo – Round 2
Virgil – C5 Rodeo – Round 3
Jake Vold – Round 4
Wranglers Extreme – Calgary Stampede – Round 4
Jake Vold – Round 5
Levi Simpson and Jeremy Buhler – Round 5
Jake Vold – Round 6
Zeke Thurston – Round 6
Black Hills – C5 Rodeo – Round 6
Orin Larsen – Round 8
Cooper's Comet – Vold Rodeo – Round 8
Kolton Schmidt/Shay Carroll – Round 9
Coverage of the 2016 Wrangler NFR on Everything Cowboy is brought to you by 3D Bull Riding Inc. Click or tap the logo below for new styles of hats, on sale today!