Schmidt Strikes Gold at 138th Silver Spurs Rodeo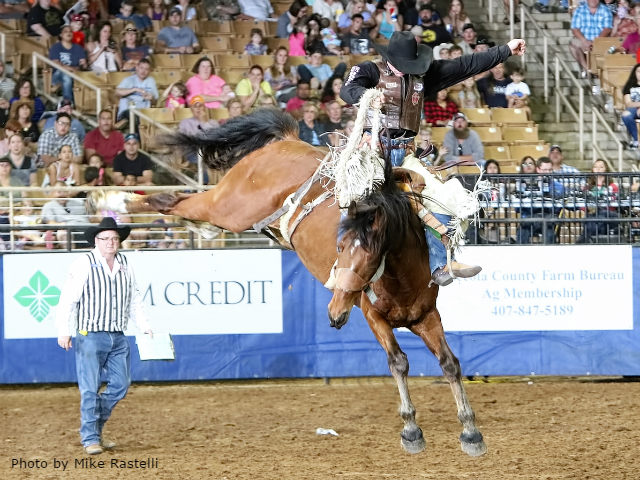 KISSIMMEE, Fla. – Chuck Schmidt is back in the chutes and riding with more confidence after winning the 138th annual Silver Spurs Rodeo.
"It's pretty cool, everyone wants to enter down here because of the money – but getting to do good is a bonus, and it's fun to come down here for a bit and go somewhere new," Schmidt said. "It sure does give me a boost of confidence. It helped me feel like a bronc rider and good about myself – just a boost of confidence for the rest of the season."
Schmidt was ranked No. 26 in the WEATHER GUARD® PRCA World Standings with $6,907 prior to his win in Florida. The Silver Spurs Rodeo added an extra $4,907 to his season earnings, bumping his total up to $11,814 for the 2017 season.
"It will keep me in the hunt," Schmidt said. "There's so much money, and lots of people are doing good, so it's not going to take me far ahead – but it will keep me with the pack and not lag behind.
"It was definitely worth the trip. I made more than what the fees and the plane tickets cost and everything helps. As long as you can do what you want to do and pay for bills in the meantime, it helps."
Schmidt was already in the southern region to compete in San Antonio, Texas, so he only had to get from there to Florida instead of from his home in North Dakota. But, unlike most three-day rodeos, contestants at the Silver Spurs Rodeo only get one chance to win it all or go home empty handed.
"It adds a little pressure because it cost a bit more to get down there and plane tickets aren't cheap," Schmidt said. "Getting round-trips and all that hassle adds some pressure to it, but I try not to think about that."
Luck was on Schmidt's side as he drew Silver Spur Club's Best Hope – a bronc he was familiar with and knew would provide plenty of buck.
"I first saw him a few years ago, and he's a good bucker," Schmidt said. "I don't see him often, but when I saw I drew him, I knew I'd have a good ride and sure enough he's still pretty good."
Schmidt's 85.5-point ride on Best Hope turned out to be the best ride in Kissimmee, beating out fellow 2016 Wrangler NFR qualifier Allen Boore by a one point.
Schmidt ranked No. 15 in the 2016 world standings and had a rough go at the Wrangler National Finals Rodeo presented by Polaris RANGER where he only placed in one round.
"I'm riding a heck of a lot better than I did in Vegas," Schmidt said. "Things are just going right. I rode good when I rode in Vegas, but I bucked off more there. I guess I didn't have any confidence in anything, but I took a few weeks off and went home and had some fun with the family and came back refreshed."
Schmidt's on his way back home for another breather before hitting to rodeo road again.
Other winners at the $123,112 rodeo were all-around cowboy Marcus Theriot ($5,189 in tie-down roping, steer wrestling and team roping), bareback rider Bill Tutor (84 points on Silver Spur Club's Patty), steer wrestler Marcus Theriot (3.9 seconds), team ropers Cory Clark/Clint Summers (4.9 seconds), saddle bronc rider Chuck Schmidt (85.5 points Silver Spurs Club's Best Hope), barrel racer Wendy Culberson (15.51 seconds) and bull rider Shane Semien (87 points on Silver Spurs Club's Chug).
For more coverage of the Silver Spurs Rodeo, check out the March 3 issue of the ProRodeo Sports News.
Courtesy of PRCA