Schmidt/Carroll Snare Ponoka Victory
by Tracy Renck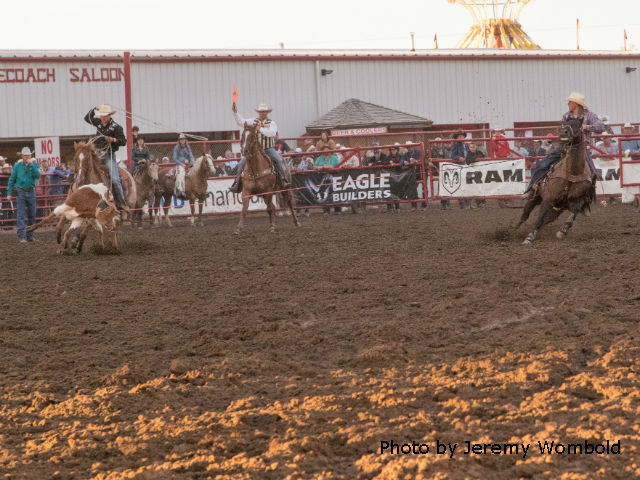 PONOKA, Alberta – Cowboy Christmas wasn't handing out many gifts for team ropers Kolton Schmidt and Shay Carroll.
That changed in a big way on July 3.
The duo stopped the clock in 5.3 seconds to win the four-team finals at the 80th Ponoka Stampede (June 27-July 3).
"We had a slow Fourth of July, so this was a sigh of relief to get this victory," Schmidt said.
Carroll concurred with his partner.
"I had never been there before, and it's one I think everyone has on their bucket list," Carroll said. "We didn't have the best week, but we were able to turn everything around with this big win."
Although Carroll was making his inaugural appearance at Ponoka, Schmidt was in familiar territory.
A year earlier, the Barrhead, Alberta, native won the Ponoka Stampede with heeler Dustin Searcy with a 6.0-second time in the finals.
"This is the first time I've run a rodeo back-to-back," Schmidt said. "The Ponoka Stampede also is a very prestigious rodeo anywhere in North America. It's huge here in Canada."
Schmidt and Carroll punched their ticket into the four-team finals with a time of 19.6 seconds to finish second in the average.
In the showdown, the second team out – Kyle Smith and Riley Wilson – clocked a 6.4-second time to take the lead and set the stage for Schmidt and Carroll.
"We just wanted to make our run, that's what we've been working on all year," Carroll said. "I was real excited when the team before us (Smith and Wilson) caught because that just takes all the guessing out of everything. Kolton did a great job, and I just caught him."
Schmidt and Carroll left town with $15,280 – or $7,640 each.
That total will help Schmidt and Carroll stay high up in the standings. Schmidt was first in the June 27 WEATHER GUARD® PRCA World Standings with $49,574, while Carroll was fifth in the heeling standings with $36,096.
"We had a great steer in the finals and did our job," said Schmidt, who was riding Badger, 12.
Carroll was riding Salt, 14, at Ponoka, and the horse delivered.
"He's old faithful," Carroll said. "I never practice on him. I ride him for big money, and he came through."
Carroll, who made his lone Wrangler National Finals Rodeo appearance in 2014, finishing 12th in the heeler world standings ($100,815), has high expectations for he and Schmidt, who are roping together for the first time this season.
"That money from Ponoka sure helps, but we have our eyes on finishing first in the regular season standings, not sneaking into the finals in the 15th spot," Carroll said.
Schmidt knows he can't take anything for granted despite his he and Carroll's success.
"I try not to get too excited about anything, yet," Schmidt said. "We still have a lot of work to do before we can celebrate anything. I'm sure grateful for the year we're having, and excited to see what we can do."
Other winners at Ponoka were bareback rider Caleb Bennett (89 points on C5 Rodeo's Virgil), steer wrestler Stephen Culling (13.9 seconds), saddle bronc rider Jacobs Crawley (87 points on C5 Rodeo's Black Hills), tie-down roper Shane Hanchey (7.5 seconds), barrel racer Rene Leclercq (17.796 seconds) and bull rider Cody Teel (167.5 points on two head).
For more coverage of the Ponoka Stampede, check out the July 15 issue of the ProRodeo Sports News.
Courtesy of PRCA