Second Time Around #16 Colton Jesse and D4 Cattle advance to CBR World Finals
#16 Colton Jesse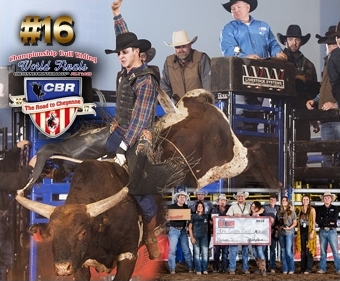 Colton Jesse, a left handed bull rider from Konawa, Oklahoma, qualifies for his second CBR World Finals in the number 16 position after a disappointing season due to injury on the 2017 Road to Cheyenne.
Riding in only four CBR tour stops since his Cheyenne debut in 2016, Colton Jesse was injured at the Hobbs event after riding one and bucking off another at the whistle.
"I heard my hip pop and knew something was not right," said the bull rider who was just released from his doctor last week.
Making the most of his late start, Jesse qualified for the final four in two of the four events (Conroe, Enid) and received a qualified ride score on six of the nine bulls he attempted or 75 percent.
He rode three of three for 267.5 points in Conroe to finish second behind Jeff Askey by just 1 point which was disappointing after leading the event going into the final four Shoot Out round.
His second event was Enid where he was two of three, winning the Semifinal round with his highest score of the year, 90 points on 36 Pogo. He left Enid with a second place finish behind Kimzey and a top five ranking in the CBR World Finals race.
Jesse hit a snag in Jackson and came down in the first round on bucking bull of the year nominee Jack Tar (JQH), but advanced to the second round in Hobbs one week later, but falling short on Jeff Harris's Big Baby.
In Hobbs he drew Swamp Dog and rode him. It was on the second bull he felt his hip pop and knew he had aggravated an old injury. A trip to the doctor revealed a labral tear in his hip. He had surgery in late February and has been on the mend ever since. A hip labral tear involves the ring of cartilage (labrum) that follows the outside rim of the socket of your hip joint. In addition to cushioning the hip joint, the labrum acts like a rubber seal or gasket to help hold the ball at the top of your thighbone securely within your hip socket.
"I plan on making my comeback in Cheyenne, I will take it slow and get on some practice bulls at Chad Ramer's," said the young gun who began leatherwork during his off time and has stayed around the ranch helping with ropings and the cattle.
"Last year I had an aggravated hip also and let it get in my head but this year I am more mature and will go in to Cheyenne more relaxed and just focus on doing my job," added Jesse.
Jesse started riding like many bull riders thru the encouragement of his father Todd who rode bulls and now team ropes and produces team ropings. He rode in the Oklahoma's Junior and High School Rodeo Associations and is the 2013 Youth Bull Riders Open World Champion.
"That boy has so much natural talent it's amazing, he rode Lil Moody when he was 14 years old for 90 points at the Fire and Ice event – after bucking off in the Junior division he entered the open, he won that and got on Moody for the bounty bull; Rode the heck out of him for 90 points," said stock contractor Chad Ramer.
Jesse then began his CBR career by jumping in the truck with 2015 CBR World Finals Champion Brennon Eldred in early 2016 and entered the CBR tour halfway thru the regular season riding 50 percent of his draws in CBR competition and entered his first CBR World Finals at #11.
"It's always what I wanted to do and when I got old enough Dad started to let me go with some of the other guys like Brennon Eldred who I learned a lot from, then Joseph McConnell stopped by the house one day and started going together to bull ridings…just kind of happened like that," said Jesse.
D4 Cattle Company
The D4 Cattle Company CBR Bull Team franchise, owned by Bubba Storey, qualified for Cheyenne in the #16 position with 24 points. The franchise began their Road to Cheyenne winning the Mercedes Bull Team Competition in October of 2016.
Rhon Brown, who is part owner of the bulls he hauls, feeds, trains, and conditions, selected 210 Alien, 12 Slingin Cash and the anchor of the team for the season, CBR Bucking Bull of the Year nominee, 1086 Big Lew as the winning trio of buckers for their first outing.
"We are very blessed to qualify for the finals our first two years in the CBR," said Rhon Brown.
Campbell rode 210 for 87 points followed by Corey Bailey's 87 points on Slingin Cash. As most, Radley bucked off of 1086 but his 90 point bull score was enough to name him Bull of the Event and put the total score at 283.51 for the team's first event win.
In January the team's second event was in Rio Rancho where they mixed up their bull power with 108 War Tiger and 831 Restraining Order. With 1086 Big Lew in the Semifinal round, the team pitched a no hitter and finished in 8th place.
Del Rio was the team's last out and chance to earn qualifying points for the World Finals bull team competition. Rhon Brown selected 108 War Tiger who was an 86.5 qualified ride for Joseph McConnel. Worden bucked off 831 Restraining Order and in the Semifinal round, and Joe Frost lasted only 2.43 seconds on 1086, but the 90.5 bull score was the second highest of the night and boosted the team score to 276.25 and a sixth place which gathered D4 enough points to land an invitation to the CBR World Finals where all points are dropped and teams compete for a prize package of $300,000.
Courtesy of CBR