Selfless Cooper Davis Builds Special Bond with Fan
By: Justin Felisko
December 15, 2016
PUEBLO, Colo. – Ann Wetherington woke up around 1 a.m. to use the bathroom when she noticed her cell phone was blinking and that she had a Facebook message.
Wetherington groggily clicked on the screen and saw the message was from Kaitlyn Davis, the wife of 2016 World Champion Cooper Davis.
"Please send me the name of the wheelchair company and their phone number because Cooper wants to make a payment for Phillip's seat elevator," Wetherington recalled reading.
It was the day after Cooper had won the PBR world title and its $1 million champion bonus, and Wetherington was shocked the Davis' wanted to purchase a seat elevator for her son's wheelchair.
Philip, 20, was diagnosed with cerebral palsy shortly after birth, and the family's insurance company had denied their request for a wheelchair with an elevator lift to help them move Phillip in and out of his wheelchair.
"I was like, 'What?" a confused Ann remembered thinking. "I thought, 'Am I dreaming? How in the world?' I sent them the information the next day and the following day the wheelchair company called me and said the elevator had been paid for and it had been ordered."
Ann's husband, Nelson, was nervous at first about accepting the offer. The Wetherington's had loved how much Cooper had developed a close friendship with their son in the past year and didn't want to let anything get in the way of that.
Still, Ann, reassured him it would be OK.
"I said, 'I know that is Phillip's friend, but if they really want to bless Phillip, and do that for Philip, how can you tell them no and hurt their feelings and deny the blessing you are trying to give Philip?'
"It really is a blessing to the whole family and everyone who picks him up and out of his wheelchair. It was an awfully kind gesture for them to do."
Phillip said, "Oh, man. This is awesome. I told him, 'Thank you.'
Cooper explained to Phillip that he wanted to "pay it forward."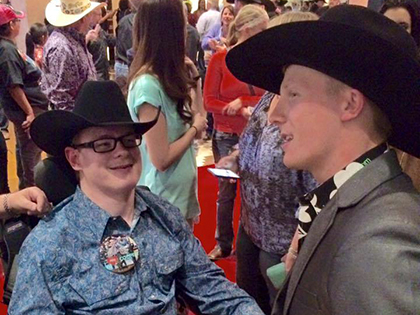 "You have been cheering for me ever since I was a rookie and you stuck behind me ever since," Cooper said. "I couldn't have done it without you bud."
PHILLIP CELEBRATES COOPER'S CHAMPIONSHIP & RECIEVES AN IMPORTANT GIFT
A day earlier, Philip woke up nervous about Championship Sunday at the PBR Built Ford Tough World Finals.
Philip was uneasy about Davis being almost 300 points behind world leader Kaique Pacheco, but Ann looked at Philip and said, 'Cooper is going to ride for 90 points today. I just know it.'
Phillip knew Davis had ridden Catfish John for 88 points before, so he knew maybe, just maybe Davis could do it again.
"Sometimes you worry, but you have to stay positive," Phillip said.
Sure enough, Davis rode Catfish John for 91 points to win the world title.
"I was pretty darn happy," Phillip said. "I almost fell out of my wheelchair and started walking! I felt like I won the lottery when he won the world title."
"He was more excited than I was," Cooper, who called Philip after the Finals, said with a laugh. "He is my biggest fan, and I am probably one of his biggest fans. That guy hasn't been dealt the cards, but every single day he has a smile on his face and that is what a lot of people need to take in.
"Everybody needs to make the best of what they got."
Cooper and Kaitlyn were talking about Phillip later that night in Las Vegas after seeing Ann's Facebook post about the family's struggle with their insurance company.
The couple felt the right thing to do was to purchase the seat lift for Phillip.
They wanted to show Phillip their appreciation for him being in Cooper's corner since his rookie season.
"Right when we were leaving Vegas, I told Kaitlyn, 'Let's make a call and see what we can do,'" Cooper said. "It turns out we were able to help them out. That is what we are put here to do, to help each other. You can't take money to your grave. You might as well try and make somebody else happy.
"You are not going to make everyone happy, but it puts a smile on my face being able to help someone out."
THE BEGINNING OF A SPECIAL FRIENDSHIP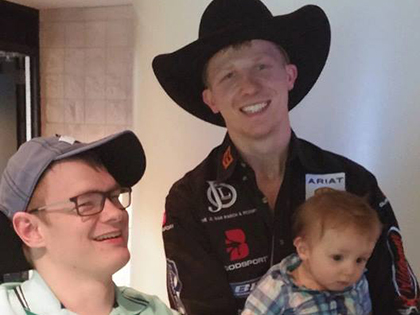 While the elevator lift donation made waves across social media last week when Kaitlyn posted about it, Cooper's kindness began a year earlier.
Phillip was in the hospital on his 19th birthday when he had his mom send Cooper a message on his public Facebook fan page.
Phillip, who was born only 1 pound 10 ounces, has undergone over 30 surgeries in his lifetime and has watched many PBR events from his hospital bed.
The bull riding aficionado quickly became a fan of Davis during the Jasper, Texas, cowboy's rookie year.
"He was one of my favorite riders, and I said, 'I would like to get his autograph.' So my mom did, and we started communicating through his Fan Page."
Thanks to Dreams Come True – a nonprofit organization in Jacksonville that grants wishes to children battling life-threatening illnesses in Northeast Florida and Southeast Georgia – Phillip and his family attended the 2015 World Finals later that year.
Phillip then finally got to meet his favorite bull rider face-to-face.
"I went and introduced myself at the meet and greet, and he said, 'Yeah, I know who you are.' We started talking and we have been good friends ever since," Phillip explained.
After Davis won the World Finals as a rookie, he autographed a World Finals t-shirt for Phillip and his grandmother gave Phillip a custom Cooper Davis pin.
"We kind of just hit it off as good friends," Cooper said. "That is the thing about bull riding. We have a much better relationship with our fans then most other sports. Some of our fans are friends we talk to day to day. I talk to Philip probably every other week or so. Whether it is him calling to say, 'Hey, I am thinking about you' or whatever."
Ann says you can't put any monetary value on Cooper's friendship. As a mother, all she wants for her son is to find happiness and acceptance in this world.
Cooper has given Phillip that and more.
"It is really nice for Phillip to have his own friends that see his heart and see past his chair," Ann said. "Cooper always does. He talks to him like a normal 20-year-old man. He doesn't seen him in a chair.
"Having a grateful heart like that is not something you learn overnight. That is something that has been instilled in him forever."
AN UNEXPECTED PHONE CALL & A KIND GESTURE
Last December, Phillip had to undergo foot surgery that involved 15 pins being inserted into his foot.
The surgery also involved a contraption that Ann would have to later turn four times a day to make Phillip's foot gradually turn straight.
The surgery was painful, but Phillip was cowboy tough.
Just in case, though, Davis decided to give his pal a phone call and some words of encouragement.
Ann was flabbergasted.
"I don't know any other athlete in any other sport that met somebody that was their fan and gave them their personal cell phone number and would call and check on them and tell them to call them whenever they want. I have never heard of that. Have you? I have never heard of that."
Phillip added, "When Cooper contacts me, it makes my day a little better. When I came out of foot surgery, man, it was hurting."
Three months later, Phillip asked Davis to wear a green bandana during the Duluth, Georgia, BFTS event in honor of cerebral palsy awareness month.
Cooper did so without hesitation.
"I look at him more as a friend than a fan," Davis said. "When I get a chance to call and check on him, it is a chance to see what is good. If it makes his day, then that makes my day. Really, when I call him it is nothing more than the genuine feeling that he could use a little comfort."
ANOTHER LATE NIGHT MESSAGE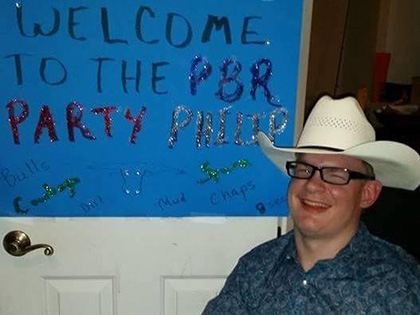 Phillip has also done his part to leave Davis flabbergasted at times.
On Aug. 17, Phillip tagged Davis in a Facebook post saying that all he wanted for his birthday was for Davis to win the Music City Knockout in Nashville.
Two days later and Phillip's cell phone began to buzz and light up close to midnight.
"Hello?"
"Hey man. We got it done," Davis replied before pausing to compose himself.
Ann said, "Cooper was crying. He was very emotional and touched that he only wished for that and he won."
Davis had never won regular-season Built Ford Tough Series event, and the Nashville victory would prove to be the ultimate turning point in Davis' eventual march to the 2016 world title.
"For someone to have a birthday wish like that, and for it to be about someone else being successful or making someone else happy, says a lot about Phillip," Davis said. "That can pretty much jerk a tear from you there, being able to call him up and say we did."
THE IMPORTANCE OF PAYING IT FORWARD
Davis' relationship with Phillip, or his other acts of kindness – he bought a necklace for a PBR fan at the 2016 World Finals and gave one of his sponsored riding shirts off his back at a restaurant once – are not done for popularity or fame.
It is just who he is.
"I don't want anybody to see it that way," Davis said. "Sometimes people just deserve to have a little break. That is the way I see it. Christmas is coming around and for a lot of people money is tight. I am not saying their situation is. It is just that time of year where money can be tight and you have to buy gifts for everybody and I had a little extra spare, especially after the Finals this year.
"If I can help out, it makes me happy to be able to."
Kaitlyn said her husband has always been this way.
She remembers one time when Cooper asked a taxi cab driver for change for a $100 and then said, 'Actually, just keep it.' Or the time when Cooper paid for another fan's meal at the Rainforest Café in Anaheim.
"It is not for the publicity. It is not for the photos," she said at the Finals. "He wanted to do it in secret because he is really shy. I think (being a World Champion) has opened him up.
"People have told us Cooper is such a classy, humble guy. There are so many times that people don't post on Facebook about the good deeds. Even before he even won any of the money, he has always been that way."
For some people, added celebrity, fame and money can change them.
Cooper doesn't expect or want his first world title to change who he is.
His heart is still the same even if he lost close to 30 pounds and is no longer the chubby-faced bull rider that first showed up at PBR events two years ago.
"That is something I put a lot of pride into," Davis said. "Not ever sacrificing who I am. I couldn't do it without my wife there or my little boy, and the rest of my family. That is what is most important at the end of the day. You can spend money all you want. You can die with it. You can do all you want with it. If you are not good to the people you are around with at the time, it won't matter what kind of money you earn.
"It is about the type of person you are."
Follow Justin Felisko on Twitter @jfelisko
© 2016 PBR Inc. All rights reserved.