Sellers and Sanderson Take CBR Lufkin Bull Bash Honors
Big Tex Agriplex 2017 Lufkin CBR Bull Bash presented by Mahindra Tractors and Gravely Zero Turn Mowers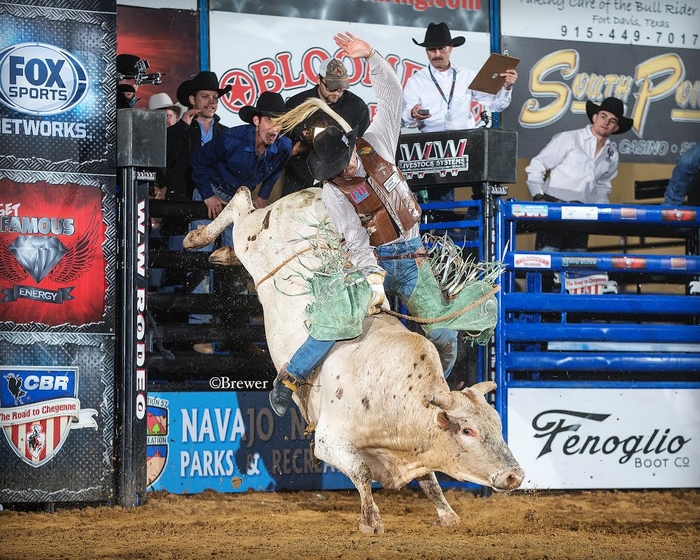 LUFKIN, Texas (February 25, 2017) – An appreciative and patient packed house inside the George Henderson Expo Center witnessed only eleven qualified rides from forty attempts as the bulls took complete control of the dirt and denied the four man Shoot Out round riders a score at the 28th Big Tex Agriplex 2017 Lufkin CBR Bull Bash presented by Mahindra Tractors and Gravely Zero Turn Mowers.
Florida native and Wrangler National Finals Rodeo qualifier Caleb Sanderson earned the average title and prize package for the second longest running stand-alone bull riding in the country. CBR rules state with zero riders covering in the final four man Shoot Out round, the bulk of the Lufkin prize money will remain in the CBR bank and be added to the purse of the CBR Tuff Hedeman Las Vegas Shoot Out to be held in two weeks in Las Vegas at the South Point Hotel and Casino and now worth over $48,000 in prize money.
"It is not the big check you came for tonight," said four time World Champion and Pro Rodeo Hall of Famer Tuff Hedeman to Sanderson as he awarded the prize package to the twenty seven year bull rider from Hallettsville, Texas, "but in two weeks you will have the opportunity to ride for over $40,000 in Vegas."
Absent from the Shoot out round this week was eighteen year old Boudreaux Campbell, a two time Texas High School Bull Riding Champion and high school senior at Lovelady High School who is ranked No. 3 in the CBR's 2017 World Standings of the professional Road to Cheyenne bull riding tour. This year's rookie sensation won his first event last month in Hobbs, New Mexico and has qualified for seven shoot out rounds in his first year on the Road to Cheyenne. Campbell, the hometown crowd's favorite, failed to advance when bucked off his first bull in round one.
Sanctioned by CBR, the Lufkin Bull Bash was the twelfth stop on the CBR's Road to Cheyenne's twelve-month televised tour where the tour's top bull riders test their skills against dynamic four-legged animal athletes in a three round tournament style event featuring a twenty-four man field of riders.
Four time world champion bull rider and pro rodeo hall of famer, and former Bull Bash champion Tuff Hedeman, who in recent years has made a name for himself in the production of great bull riding events, served as "chute boss" and television commentator from the dirt in front of the Lufkin audience.
Round One
The long standing Lufkin tradition started out with the cowboys in complete control of the first section. Louisiana bull rider Jeffery Ramagos took the first lead with 80 points on 276 Midnight Tequila (Flip'em Off/Knapp). Eli Vastbinder excited the crowd with his 88 points on 004 Sports Page (Williams) followed by Caleb Sanderson taking the lead with his 89 points on 411 Pat's Pride (Williams).
"I don't study bulls at all so I just try to ride what they run underneath me and this one was a good one into my hand," said Sanderson of his first score.
Casey Huckabee would light up section two with 88 points on 277 Dirty Little Secret (Harris) but would be carried out of the arena by the medical staff with a severe knee injury leaving him unable to advance in the competition due to injury. The next five riders would buck off before John Pitts went 87.5 on L32 Ugly (Ray).
Navajo Nation bull rider Cody Jesus, Sawmill, Arizona would bring the crowd to life when he took the event lead posting 89.6 points on 99×2 Comanche Moon (Cude).
Semifinal Round
Seven bull riders would draw back to the semifinal round on time ridden with Jesus in the lead after round one. Atwell would bring the crowd to their feet to witness 91.5 points on Cowtown Cartel, the CBR's reigning Bucking Bull of the Year.
Jared Long made the most of 626 Karaoke with 88.5 points on the bull from Jerilyn Harmon's Elite team. Corey Bailey continued to excite the crowd when seemed to easily handle Harris's Big Baby for a big score of 91.5 points.
The next three would buck off leaving the door open for Eli Vastbinder to be the first to cover two and he delivered spurring 816 Drunken Chicken (Williams) for 84 points.
Sanderson would answer the challenge with 89.5 points on veteran bull 9100 Kojack from local stock contractor Mike Rawson of Martinsville. Sanderson would take the lead from Vastbinder with 178.5 on two.
Jesus did not speak the same language as Mike Seller's Communicator, but he would advance to the Shoot Out with his 91.5 score from round one.
Shoot Out Round
Bailey and Jesus would advance on their top scores from round one and two with Vastbinder and Sanderson covering two and taking the top two spots in the Shoot Out Round.
Not knowing any of the bulls except one, Sanderson selected an unknown, 116 Back Up from Billy Jones.Vastbinder would take the only bull known to the riders, 210 Chaos Ghost, from Melton Bull Company leaving Atwell with Bandit (Jones) and Bailey with Smash Mouth (Jones).
Bailey was bucked off with no visible mistakes. Atwell would get beat out of the gate by his ride. Vastbinder, the only rider to be partnered with a known bull, would get rocked back and off at 4.18 seconds.
"I just got behind the bull," a defeated Sanderson would tell Tuff Hedeman and the crowd as he accepted the custom engraved Hyo Silver buckle, custom Fenoglio boots, western hat from American Hat Co. and the average win of the Lufkin Bull Bash.
World Title Race
Eli Vastbinder gained two bulls on an absent Sage Kimzey. Vastbinder remains in the number two position with only 446.5 points, five bull scores, separating him from the number one bull rider in the world. Consistency in the first half of the season keeps rookie bull rider Boudreaux Campbell in the number three position, but Vastbinder gained two scores as Campbell bucked off in round one and did not advance in Lufkin.
Askey and Rostockyj were absent from the roster but remained in first fourth and fifth place. Cory Atwell made up the most ground moving inside the top ten as he jumped from eleventh to seventh place in the CBR World Standings. Navajo nation bull rider Cody Jesus escalated inside the top ten with his round one win.
Bull Team Challenge
Winning with the closest margin on the 2017 Road to Cheyenne and on a night of twenty nine buck offs, it was no surprise the bull team winner earned the Lufkin Bull Bash Bull Team championship from a combination of rank bull scores. Veteran bull team owner Mike Sellers, Duncan, Okla., bucked two veteran bulls and one unknown in Lufkin to win his first event championship of the year with 283.44 points, .23 points ahead of Jeff Harris's Long Creek Outfitters second place team.
Sellers, competing in his second event on the highly competitive bucking bull tour, was pleasantly surprised as he collected the $20,000 check, custom buckle and boots, and a new cowboy hat from the Lufkin Bull Bash.
"We picked our bulls by ride-ability with a lot of kick and the ability to earn a score," said Sellers from behind the chutes.
"None of the guys had been on any of my bulls tonight, and it just worked out, you can never predict these wins with the roster and draw coming down to the last minute," continued Sellers.
Anchoring Sellers's rank team while collecting the Bull of the Event honors with the rankest score of the night, 92 points from a four judge system, was a young bull named by Seller's wife, 193 The Communicator.
"I bought 193 as a weanling and we competed with him on the competitive circuits as a young bull. He keeps getting stronger and likes to buck. As far as the rider goes he is the perfect bull to get on – stands perfectly still in the chutes and does his job," added Sellers.
Lufkin's Champion Bull Honors were a tie between Cowtown Cartel (William Barnett) and Jeff Harris's Big Baby. Both earned 91.5 scores with Cory Atwell and Corey Bailey. CBR has four regular season events left on the schedule before the five rounds at the CBR World Finals at Cheyenne Frontier Days in July.
Shoot Out Results
Zero qualified rides in the Shoot Out Round
Average Results with total earnings on three bulls
1, Caleb Sanderson, Hallettsville, Texas, 178.5, $2,250. Eli Vastbinder, Statesville, NC, 172, $2,250. 3, Corey Atwell, 91.5, $1,750. 4, Corey Bailey 91.5, $1,750.
Bull Team Challenge Results
1, Sellers Bucking Bulls, 283.44 points, $20,000. 2, Long Creek Outfitters-Harris, 283.21, $12,000. 3, Jerilyn Harmon's Elite, 280.08, $8,000. 4, Championship Pro Rodeo-Cude, 278.34, $5,000.
Round by Round scoring available on cbrbull.com. For more information, tour schedule, and media credentials please contact Leigh Ann Schroeder, 940.902.1112 or leighann@theshortround.com.
Courtesy of CBR