Shade Etbauer Powers through at Dodge City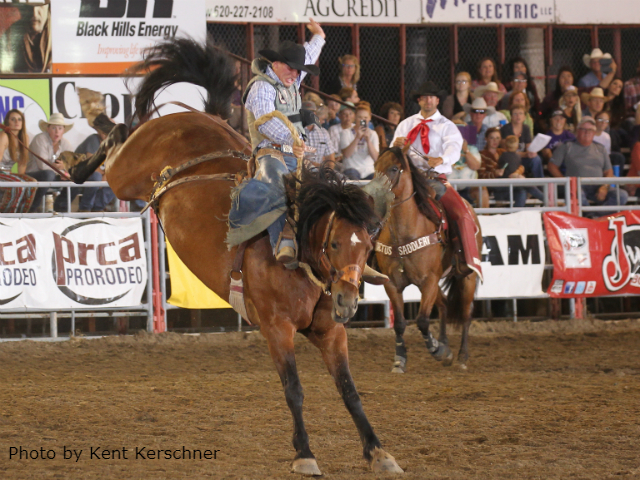 DODGE CITY, Kan. – For the Etbauer's, there's a bright light budding underneath the cover of the family tree.
Saddle bronc rider Shade Etbauer managed to stay hot on the rodeo trail, as his 170-point two-head score netted the 23-year-old $4,926 in winnings. Settling into his groove as the rodeo progressed, Etbauer narrowly edged away from second-place bronc riders Wade Sundell and Jacobs Crawley by a single point. For the young Oklahoman, walking away from the Dodge City Roundup as champion was special.
"I'm just really excited to be able to win," Etbauer said. "This is a rodeo I've always tried to win. My dad won it, and my uncles always did really good at it. I'm just glad to check it off the list."
The 41st running of the Dodge City Roundup provided Etbauer a chance to digest the raucous southwestern Kansas atmosphere.
"It was awesome," Etbauer said. "The crowd was amazing. Making it back to the short round and being there with all of the top guys in the world – and being able to compete against them – gets your adrenaline going."
Sunday's final performance in Dodge City was comprised of a total of 34 Wrangler National Finals Rodeo presented by Polaris RANGER qualifiers. Undeterred by the star power in the field, Etbauer channeled the energy in Dodge City Roundup Rodeo Arena into a pair of solid rides.
"The horse I got on in the first round was really nice," he said. "Just a real nice horse from Harry Vold, got lucky enough and made it back to the short round."
"Then I got on Medicine Woman of Frontier Rodeo, and that was the first time I've ever been on her and she's been Horse of the Year I don't know how many times. Just to be able to get on that caliber of horse is amazing. It's really fun to be able to compete on her and do good."
Knowing the reputation that a horse like Medicine Woman brings, Etbauer did all he could to remain calm and collected with the four-time PRCA Saddle Bronc Horse of the Year drawn in the final round.
"The horse was really strong," Etbauer explained. "I knew I just had to keep gassing her and keep going at it. I was just trying to do my best and it worked out for me."
Ranked 26th in the WEATHER GUARD® PRCA World Standings as of August 1, Etbauer is confident this win can compound good fortune down the final stretch of his first PRCA season.
"It helps me out a lot," Etbauer said. "I'm trying to win Rookie of the Year, and I'm hopefully trying to get to the Finals. But just to be able to go there and win that rodeo and that much money helps me out a lot.
"It makes me want to keep pushing on."
Other winners at the $329,794 rodeo were all-around cowboy Josh Peek ($3,529 in tie-down roping and steer wrestling), bareback rider Tilden Hooper (173 points on two head), steer wrestler Tom Lewis (12.2 seconds on three head), team ropers Colby Lovell/James Arnold (15.5 seconds on three head), tie-down roper Timber Moore (28.2 seconds on three head), barrel racer Sidney Forrest (52.32 seconds on three runs), steer roper Vin Fisher Jr. (36.7 seconds on three head) and bull rider Shane Proctor (168.5 points on two head).
For more coverage of the Dodge City Roundup, check out the August 18 issue of the ProRodeo Sports News.
Courtesy of PRCA