Shane Hanchey Wins Kennewick in Final Round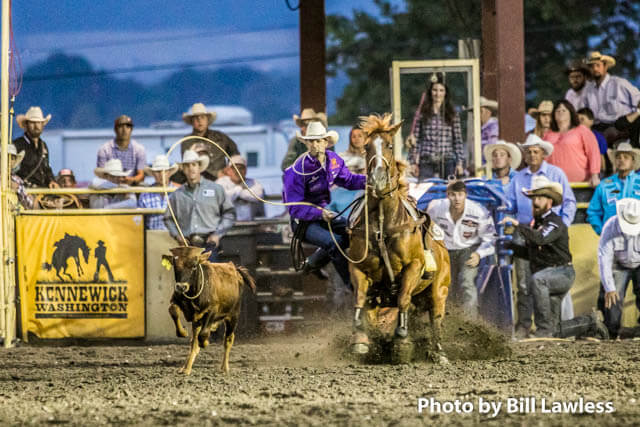 KENNEWICK, Wash. – Pulling through in the final round to win a big rodeo has been the theme for tie-down roper Shane Hanchey's 2018 season.
The Louisiana cowboy was the fifth callback for the Horse Heaven / Kennewick (Wash.) Round-Up's final round, but he won the average on Aug. 26, just like he did earlier this season at Cheyenne (Wyo.) Frontier Days, and the Southwestern Exposition and Livestock Show in Fort Worth, Texas.
"I was seventh callback in Cheyenne and Fort Worth, and the last thing I told myself is, 'It's the short round, so go make a run and see how it plays out,'" Hanchey said. "I've always had good luck when the lights are on and my back's against the wall. So, I guess that's a good trait to have."
Hanchey placed fourth in the first round at Kennewick with an 8.0-second run and clocked in with a 9.2 run in the second round, leaving him with a lot of ground to make up in the final round.
"I had a good push from Tyler Waguespack and I don't know how I got out of the barrier, but he pushes hard, and I guess it's a Louisiana thing," Hanchey said. "I knew if I could be any kind of 7 (seconds), I had a chance."
Hanchey competed on Pam, the 13-year-old American Quarter Horse full sister to Bam Bam, the horse he rode at the 2017 Wrangler National Finals Rodeo. The 2013 world champion tie-down roper added Pam to the mix this fall, and she's improved greatly this season.
"Her only hole was in performances with loud music and loud announcing, it gets her gears going, but the last few weeks she's come around and done well," Hanchey said.
Before winning Kennewick, Hanchey was third in the PRCA | RAM World Standings with $91,921, only $11,433 short of claiming the top spot.
"It's been a neck-and-neck race between me and Tuf (Cooper) and Tyson (Durfey) all summer," Hanchey said. "Hopefully it keeps going how it's been going."
His Kennewick win was worth $6,630 and provided a healthy boost to his position in the PRCA | Wrangler ProRodeo Tour Standings. Before Kennewick, Hanchey was fifth in the Tour with 655 points.
"Winning a rodeo like that is very good for the confidence, especially this time of the year," Hanchey said. "I'm really excited to do it on a fairly new horse I got in the fall. It's cool to win a rodeo that big on her."
Now he's focused on the upcoming Justin Finale to seal the deal on his ninth consecutive qualification to the Wrangler NFR.
"Puyallup is going to be a game-changer this year, and someone can walk away with $20,000," Hanchey said. "I'm excited to go there in a couple weeks. These points are what a guy needs."
Kennewick is the 21st rodeo on the Wrangler Tour, and cowboys brought their best to the arena as they worked toward not only the Kennewick prize money, but also a qualification to the half-million-dollar Justin Finale. With only one Wrangler ProRodeo Tour event remaining at the Ellensburg (Wash.) Rodeo, Aug. 31 through Sept. 3, Hanchey is looking forward to winning big at the Justin Finale in Puyallup, Wash., Sept. 6-9.
"I never thought I would win coming in from fifth callback," Hanchey said. "It's a good start for the fall season, or the fourth quarter, as I like to call it."
Other winners of the $295,071 rodeo were all-around cowboy Rhen Richard ($5,268, tie-down roping and team roping); bareback rider Tim O'Connell (167.5 points on two head); steer wrestler Sean Santucci (13.8 seconds on three head); team ropers Dustin Egusquiza/Kory Koontz (14.0 seconds on three head); Ryder Wright (169.5 points on two head); barrel racer Carley Richardson (34.56 seconds on two head); and bull rider Stetson Wright (170.5 points on two head).
For more coverage of the Wrangler ProRodeo Tour's Horse Heaven / Kennewick Round-Up, check out the Sept. 7 edition of ProRodeo Sports News.
Courtesy of PRCA