By: Jordan Johnson
March 31, 2016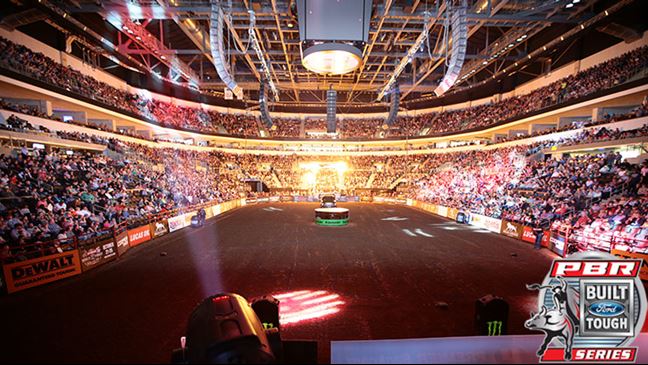 THE EVENT:
DON'T GO CHASING SIOUX FALLS – For the second year in a row, the PBR's Built Ford Tough Series (BFTS) will stop in Sioux Falls, South Dakota, with the First PREMIER Bank/PREMIER Bankcard Invitational at the Denny Sanford PREMIER Center, April 1-3. The event will take place at 8 p.m. MT on Friday, April 1; 6:50 p.m. MT on Saturday, April 2; and 2 p.m. MT on Sunday, April 3.
INTERNATIONAL FLAIR:   For the first time in PBR history, riders from six countries – Australia, Brazil, Canada, Mexico, New Zealand and the U.S. – will be competing in a Built Ford Tough Series event this weekend.
ON TAP – Next week the PBR heads to Arkansas with a stop in Northern Little Rock for the first time in 13 years (2003), as the Verizon Arena hosts the Bad Boy Mowdown, April 9-10. Competition will begin at 7 p.m. CT on Saturday, April 9 and at 2 p.m. CT on Sunday, April 10.
PAST SIOUX FALLS EVENT WINNERS – 2004 PBR World Champion Mike Lee won the inaugural First PREMIER Bank/PREMIER Bankcard Invitational last year, his first BFTS win of the 2015 season. Lee went 2-for-3 on the weekend, placing third in Round 1 for 30 world standings points, first in Round 2 for 100 world standings points and collecting 400 additional points for placing first in the aggregate, for a total of 530 points towards the PBR world standings.
FORMAT – This weekend, the Top 35 bull riders on the BFTS will compete in Round 1 on Friday night, Round 2 on Saturday night and Round 3 on Sunday afternoon, facing one bull in each round. The riders with the Top 15 scores after three rounds will advance to the Built Ford Tough Championship Round on Sunday for an additional ride and a chance at the $30,000 event title.
POSSIBLE POINTS – There are 900 possible points available this weekend in Sioux Falls, as the winner of the event will receive 500 points and each of the four round wins is worth 100 points.
PBR 15/15 BUCKING BATTLE – The fifth PBR 15/15 Bucking Battle of the 2016 season will be held immediately following Round 2 on Saturday. The 15/15 Bucking Battle features the Top 15 riders in the world competing against the 15 highest-ranked bulls at the event for an additional purse of $21,000. The bulls are randomly assigned a position from 1-15, then the riders are matched with their bulls based upon their own current rankings in the BFTS standings. BFTS bonus points will be up for grabs and counted toward the BFTS standings, but DO NOT count toward determining the event winner in Sioux Falls. If a rider fails to make a qualified ride, he does not receive any points or money.
15/15 BUCKING BATTLE MATCHUPS FOR SIOUX FALLS
Ben Jones vs. Cooper Tires Semper Fi (Dakota Rodeo/Julie Rosen/Clay Struve/Chad Berger)
Kaique Pacheco vs. Lane's Magic Train (Jared Allen's Pro Bull Team)
Derek Kolbaba vs. Slinger Jr. (Rockin' I Rodeo Co.)
Lachlan Richardson vs. Cochise (J.A.R.S. Bucking Bulls/Gene Owen)
Cooper Davis vs. Wicked (J.A.R.S. Bucking Bulls/Gene Owen)
Mason Lowe vs. Little Red Jacket (J.A.R.S. Bucking Bulls/Gene Owen)
Robson Palermo vs. Big Tex Walk Off (Jeff Robinson Bucking Bulls)
Eduardo Aparecido vs. Stanley FatMax (Jeff Robinson Bucking Bulls)
Mike Lee vs. Air Time (Jared Allen's Pro Bull Team)
Wallace de Oliveira vs. Crossfire (Dakota Rodeo/Chad Berger/Clay Struve/H&C Bucking Bulls)
Fabiano Vieira vs. Seven Dust (J.A.R.S. Bucking Bulls/Gene Owen)
Joao Ricardo Vieira vs.  Beaver Creek Beau (Chad Berger/Clay Struve/Jonathan Fine)
Shane Proctor vs. Boot Jack (Dakota Rodeo/Chad Berger/Jerry Brown)
Paulo Lima vs. I'm A Gangster Too (Jeff Robinson/TNT Bucking Bulls)
J.B. Mauney vs. Pearl Harbor (Bar D Cattle Co./Boyd-Floyd)
© 2016 PBR Inc. All rights reserved.