Sisters Surprised with Reno Rodeo Wish
Local Family to Receive $10,000 and VIP Reno Rodeo Experience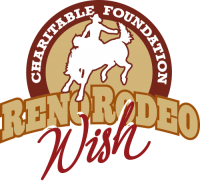 RENO, Nev., — The Reno Rodeo Foundation awarded $10,000 to a local family as part of the organization's Reno Rodeo Wish program, which supports the Foundation's mission to assist young people in Northern Nevada with extraordinary needs. The Capurro Family Foundation and Garlock Printing & Converting also made generous financial contributions to the Reno Rodeo Wish funded program.
The recipients, nominated by Renown Children's Hospital, are Hypatia and Rosaleigh Cottle. The young sisters see numerous specialists at Renown Children's Hospital as well as Stanford and UCSF to help treat their rare insulin and overgrowth issues. The $10,000 contribution, approved by the Reno Rodeo Foundation Board of Trustees, will go to help purchase specialized car seats and strollers/wheelchairs to help the family get to and from appointments.
"We are so honored to be considered for this donation. We appreciate all the help that Renown Children's Hospital has provided us with the girls' unique medical needs," said Sean Cottle, Hypatia and Rosaleigh's father. "We have a number of doctors' appointments each week and greatly appreciate knowing our daughters will be able to travel more safely thanks to the generosity of the Reno Rodeo Foundation."
The Cottle sisters and the other Reno Rodeo Wish recipients will also receive tickets and a VIP experience to the 2018 Reno Rodeo that include riding in a float in the Reno Rodeo Parade on Saturday, June 16, participating in the Reno Rodeo Kids Day on Saturday, June 17 and recognition during the Reno Rodeo evening performance on Tuesday, June 19.
Social service and medical professionals have indicated this type of unique experience can enhance the quality of life for the child.
"We couldn't do this without all of our incredible community partners as well as everyone who supports the Foundation and the work we do by attending the Reno Rodeo each year," said Clara Andriola, Reno Rodeo Foundation executive director.
About the Reno Rodeo Foundation
The Reno Rodeo Foundation was incorporated in 1986 and is a non-profit 501(c)3. In addition to the annual Denim Drive that helps clothe neglected and abused foster children 365 days a year, the organization provides scholarships to eligible Northern Nevada high school graduates, supports community grants, funds a Reno Rodeo Wish for a child, underwrites the Reno Rodeo Association's Reading Roundup literacy program helping thousands of at-risk first graders, provides new books to comfort children who must attend family court proceedings, builds community partnerships and serves as the anchor for large capital projects to improve the lives of children. Like Reno Rodeo Foundation on Facebook, follow us on Twitter or for more information, please visit RenoRodeoFoundation.org.
About the Reno Rodeo
The Reno Rodeo is a Professional Rodeo Cowboys Association (PRCA) sanctioned sporting event, and one of the top five rodeos in North America. Reno Rodeo is a non-profit organization made up of over 1000 volunteers. This year's Reno Rodeo is scheduled for June 14-23, 2018. Competition includes bareback, team roping, saddle bronc, tie-down roping, steer wrestling, women's barrel racing and bull riding. Like Reno Rodeo on Facebook, follow us on Twitter, or for more information on the Reno Rodeo, visit www.renorodeo.com.