So Many Ways to Save Money on California Rodeo Tickets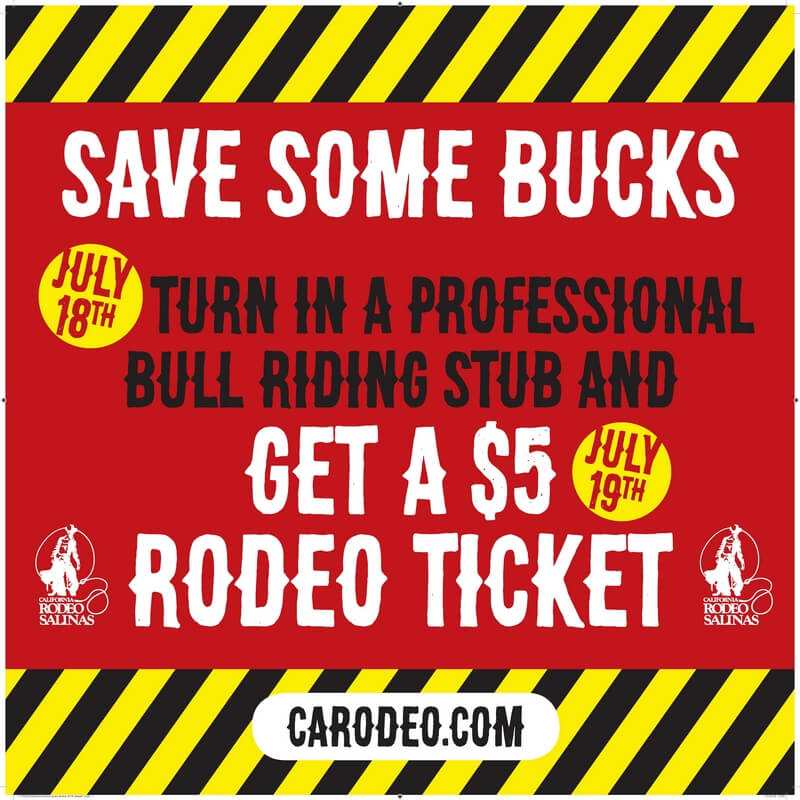 SALINAS, CA, July 10, 2018 – The California Rodeo Salinas starts Thursday, July 19th, and runs through Sunday July 22nd. General admission ticket prices are just $7 for kids (ages 2-12) and $15 for adults. Reserved tickets start at $20 for adults. One ticket can provide hours of entertainment as gates open over two hours before the Rodeo starts with evening performances starting at 6:00pm on Thursday, July 19th and Friday, July 20th and daytime performances starting at 1:15pm on Saturday, July 21st and Sunday, July 22nd. Fans can arrive early to enjoy food, shopping, the McDonald's Kids Corral, the Coors Banquet Bull Xing, Pendleton Whisky Saloon and the newly added Shortbranch Saloon. After taking their seats, fans can enjoy non-stop rodeo action in the arena and on the track.
In addition to the affordable ticket prices, there are several ways to save on your entry into the California Rodeo Salinas thanks to partnerships with our sponsors and other promotions.
Wrangler is offering free vouchers valid all four days of the Rodeo July 19th-22nd if you buy $50 worth of Wrangler products at participating local retailers (while supplies last). This is a $15 savings.
Tickets are available for $19.99 for two General Admission tickets valid all four days of the California Rodeo at participating Costco locations in Salinas, Sand City or Gilroy. The ticket value is $30.00.
Coca Cola is offering $5.00 General Admission on Thursday July 19th if you bring a 12 ounce can or bottle (20 ounces) of select Coca Cola products to the Salinas Sports Complex (SSC) Box Office on Thursday, July 19th only; offer valid after 4pm on the day of the show.
Save Some Bucks! Save your Professional Bull Riding ticket stub from July 18th for $5.00 entry to the Rodeo on Thursday, July 19th. This is a savings of $10.00 brought to you by Mission Linen and Uniform Supply.
Salute to Military Day is Saturday July 21st and Active Military and Veterans gain free entry into the Rodeo, a $15.00 value, when they show their identification cards at the Salinas Sports Complex Box Office.
Learn more about all of the events surrounding the California Rodeo Salinas by visiting www.carodeo.com. The Salinas Sports Complex Box Office is now open daily from 10am to 6pm until July 18th when the office will close approximately 45 minutes before the performances end at the Professional Bull Riding July 18th and the California Rodeo Salinas July 19th-22nd.
About California Rodeo Salinas
The 108th California Rodeo Salinas will take place July 19th-22nd, 2018. The California Rodeo Association is a not-for-profit organization that strives to preserve and promote the traditions of the California Rodeo Salinas and the West. We support the community and other non-profit organizations through the staging of the annual California Rodeo Salinas and other year round operations of the Salinas Sports Complex. Through donation of our facility, vending and fundraising opportunities during Rodeo and other events, the California Rodeo Association returns over $400,000 annually to local non-profits. For more information about the California Rodeo Salinas, log on to www.CARodeo.com or call the California Rodeo Office at 831-775.3100. 'Like' the California Rodeo on Facebook at www.facebook.com/CARodeoSalinas or follow us on twitter @CaliforniaRodeo for updates, photos and more.