Spears Claims Crown and $40K at Xtreme Bulls Finale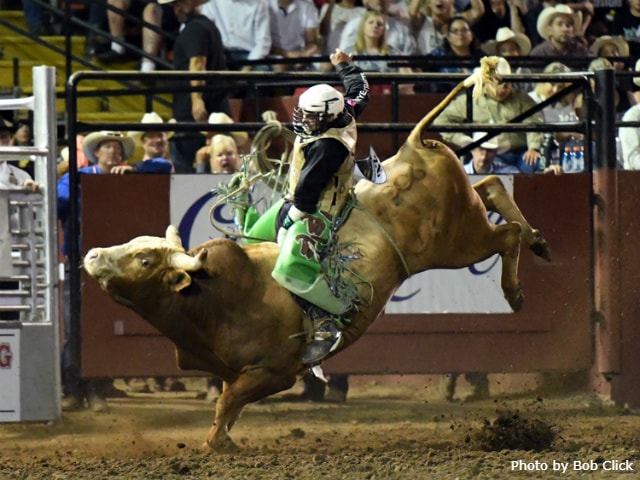 ELLENSBURG, Wash. – Jordan Spears won nearly $40,000 while claiming his first Xtreme Bulls Tour Finale victory. The Californian cowboy's 87-point ride on Korkow Rodeos' Bad Romance in the final round had a happy ending as it was the only qualified ride for that round, doubling his payout for that round.
"It's not about the money or the fame," Spears, 25, said. "I'm talented enough and have the passion to ride bulls at a high level and it feels great to perform to the best of my ability. I don't try to make the stage bigger – I just stay on my bull and let the judges figure out where I end up."
The judges had given Spears the option for a re-ride after he nailed his 87-point ride, the second-highest score of the night. At that time, it was the only qualified ride in the final round with only one rider left to go. Tristan Mize had landed a 90-point ride in the first round, but was unable to repeat his performance, granting Spears the top spot and top prize with 175.5 points on two head.
"Honestly, in my eyes, it's another bull riding to go to and a crucial rodeo to go to because it pays so well and has good stock, and luckily, I came out on top and it was a great night," Spears said.
With ground money factored in, 87 points on Bad Medicine was worth $18,800 – so Spears walked away with a grand total of $39,386. Prior to winning the Xtreme Bulls Tour Finale, Spears was 11th in the WEATHER GUARD® PRCA World Standings with $84,267.
There's still a few weeks left in the 2017 season, but that boost has basically guaranteed Spears will qualify for his third trip to the Wrangler National Finals Rodeo presented by Polaris RANGER in Las Vegas in December.
"That's what every guy who buys his card strives for – it's the Super Bowl of rodeo," Spears said. "It's a great feeling to know I'm qualifying for my third NFR and it's another stepping stone to winning the world title."
Spears' epic payout was earned the hard way as he and the other cowboys duked it out against the rankest bulls in ProRodeo – many of which have bested cowboys at the WNFR, as well as the San Antonio (Texas) Stock Show and Rodeo, and Cheyenne (Wyo.) Frontier Days.
"It was just a good night, and I happened to draw the right bulls and ride to the ability that I know that I can," Spears said.
Spears didn't let the dust settle on the Ellensburg arena for long as he was off to compete at Walla Walla (Wash.) Frontier Days, which ends Sunday, Sept. 3.
For more coverage of the Xtreme Bulls Tour Finale, check out the Sept. 15 issue of ProRodeo Sports News.
PAST PRCA XTREME BULLS CHAMPIONS
• Rorey Maier (2016)
• Sage Kimzey (2015)
• J.W. Harris (2014)
• Tyler Smith (2013)
• Kanin Asay (2012)
• Shane Proctor (2011)
• Wesley Silcox (2010)
• Cody Hancock (2009)
• Chance Smart (2008)
• Kanin Asay (2007)
• Zeb Lanham (2006)
• Matt Austin (2005)
• B.J. Schumacher (2004)
• Mike Moore (2003)
Courtesy of PRCA