Steer Wrestler Anderson gets First Career Win in Dodge City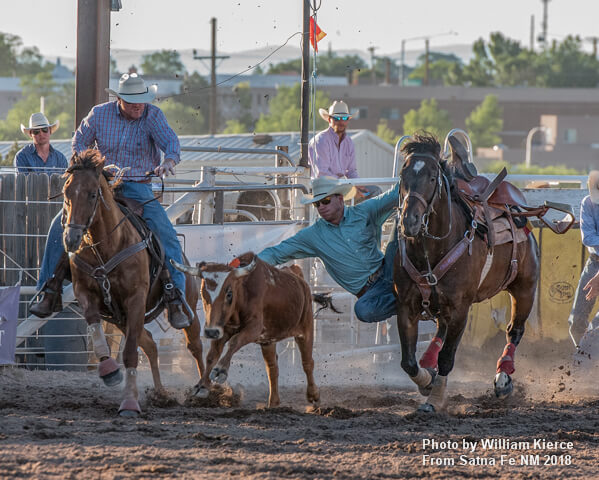 DODGE CITY, Kan. – For Bridger Anderson, Aug. 5, 2018, is a day he will never forget.
The 19-year-old cowboy snared his first PRCA rodeo win at the Wrangler ProRodeo Tour's Dodge City (Kan.) Roundup Rodeo.
With a time of 12.3 seconds, Anderson captured the steer wrestling three-head average at the Dodge City Roundup Arena.
"This is far bigger than any high school or amateur win I've ever had," Anderson said. "I was going quite a bit this year, but didn't have any luck, so this is great."
Anderson bought his PRCA card on Feb. 13, 2017, and he earned $2,198 that season. This year, he's had some tough times, but not at Dodge City, as he earned $5,297.
Anderson acknowledged he's figuring out how to fit in his PRCA schedule with his college commitment. He attends Northwestern Oklahoma State University in Alva and competes on the school's rodeo team.
"I started college last fall, and this summer I was just going to mostly (Prairie) Circuit rodeos and a few of the good ones with my coach Stockton Graves," Anderson said. "It's pretty cool to be going with coach. He's a cool guy and cool to travel with, and he knows a lot, so it is fun to learn from him."
Graves is a seven-time qualifier for the Wrangler National Finals Rodeo – 2004-09, 2011.
Anderson was solid in the first two rounds, clocking 4.2 and 4.3 seconds. He saved his best run of the rodeo for the finals, stopping the clock in 3.8 seconds as the final contestant in the event. Jule Hazen was his hazer.
"I was riding my horse, Whiskers, he's 9 years old," said the 6-foot-2, 200-pound Anderson. "I bought him last spring. My horse made a good run (in the finals). I wasn't sure if I broke the barrier or not, but then I heard everybody screaming for me about halfway through and it felt good."
Anderson qualified for the College National Finals Rodeo earlier this summer, and he plans on competing in college for three more years while continuing to pursue his dream in the PRCA.
"My plan is to steer wrestle for a living," Anderson said.
It was a plan he initially put into motion when he was 3 years old.
"My dad (Glenn) was a team roper, and my mom (Robin) was a breakaway roper and a team roper," Anderson said. "We grew up on a ranch in Carrington, N.D. When I was 3, my mom asked me what I wanted to do, and I was watching the NFR and I told I her I wanted to be a professional steer wrestler and a paleontologist. I gave up on the dinosaurs, but we're still steer wrestling."
Anderson not only won $5,297 toward his spot in the world standings, but also earned first-place points in the Wrangler Tour standings. The Wrangler Tour consists of 22 of the PRCA's biggest rodeos and culminates with the Justin Finale in Puyallup, Wash., Sept. 6-9. The top 24 competitors in the Tour standings in each event will earn a spot at the Justin Finale, as cowboys make a final push toward the all-important Top 15 in the world standings.
Other winners at the $333,008 rodeo were all-around cowboy Paul David Tierney ($9,236, tie-down roping and team roping); bareback rider Seth Hardwick (174 points on two head); team ropers Jr. Dees/Cody Cowden (16.8 seconds on three head); saddle bronc rider Bradley Harter (172 points on two head); tie-down roper Caleb Smidt (28.1 seconds on three head); barrel racer Shali Lord (51.76 on three runs); steer roper Roger Branch (35.1 seconds on three head); and bull rider Jesse Petri (174 points on two head).
Hardwick, with his 174-point total, tied the two-head rodeo record which was set first by Jason Jeter in 2004.
For more coverage of the Dodge City (Kan.) Roundup Rodeo check out the Aug. 10 ProRodeo Sports News.
Courtesy of PRCA