Steer Wrestler Jesse Brown Wins RAM Columbia River Circuit Finals Rodeo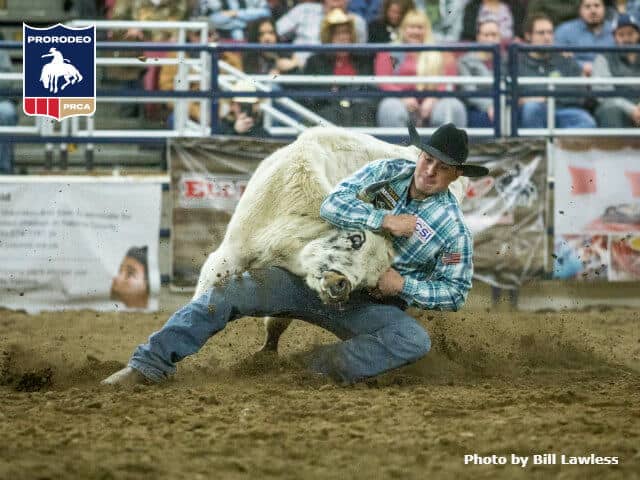 YAKIMA, Wash. – Steer wrestler Jesse Brown entered the RAM Columbia River Circuit Finals Rodeo with less than a $500 lead in the circuit standings over second-place Blake Knowles, one of Brown's traveling partners.
Adding to the drama, was Brown riding Knowles' horse Smoke and Knowles' cousin Trevor hazing.
That didn't add pressure, it just made it more fun.
In his third professional season of ProRodeo, Brown went out and won his first circuit year-end title and first circuit finals rodeo average crown with a time of 13.9 seconds on three head on Sunday.
"It was exciting," said the 26-year-old from Baker City, Ore. "That was the goal at the beginning of the year."
With the year-end title, Brown booked passage to the RAM National Circuit Finals Rodeo in Kissimmee, Fla., in March.
"I've never been to Florida," Brown said. "I'm excited. I can't wait."
Brown took second in the first round with a time of 4.2 seconds. He followed that with a 4.6-second run in round two, good for fourth. His final run, which he made Sunday as the last man out, was a "businessman's run" as he called it. After seeing Blake Knowles finish in 4.9 seconds, Brown knew he had some time to work with. He finished in 5.1 seconds.
Battling with Blake Knowles made the experience exciting, since the Knowles helped teach him the sport.
"We traveled all year together," Brown said of Blake and Trevor. "I ride his (Blake's) horse, he hazes for me. They (the Knowles) picked us up at the airport. Our family has been friends forever, my dad and his dad traveled back in the day and rode broncs. They're great people. We're great friends.
"The first steer I ever jumped, four or five years ago, I went to Blake's house. Blake and Trevor helped me learn how to bulldog and learn how to win."
Over the course of the three-day rodeo, Brown made $3,980, punctuated by winning $2,388 in the average. He credited Smoke with being key to the win.
"Smoke is good in the box, super honest and gives you the same go every time," said Brown, who entered the circuit finals rodeo with $15,682 won in the circuit. "He's super consistent. Overall, he's a really good horse."
Brown's ProRodeo stock has risen quickly. The former Washington State football player has transitioned to steer wrestling rapidly. Though his dad, Jim, used to ride saddle broncs, Brown didn't get into steer wrestling until late.
Brown was the 2017 PRCA | Resistol Steer Wrestling Rookie of the Year with $15,501. Last season, he finished 33rd in the PRCA | RAM World Standings with $44,153. That steady climb has helped encourage him to set his sights on qualifying for the Wrangler National Finals Rodeo this season.
"It's good, especially since it counts for the NFR – that's my goal for next year," Brown said. "It's a good start to the winter. Hopefully, I keep it rolling with these winter rodeos."
Other winners at the $144,790 rodeo were bareback rider Austin Foss (241 points on three head); team ropers Brooks Dahozy/Quade Patzke (15.6 seconds on three head); saddle bronc rider Sam Harper (237.5 points on three head); tie-down roper Bo Pickett (26.1 seconds on three head); barrel racer Cheyenne Allan (41.70 seconds on three runs); and bull rider Levi Gray (167 points on two head).
For more coverage of the RAM Columbia River Circuit Finals Rodeo, check out the Jan. 25 digital edition of ProRodeo Sports News.
Courtesy of PRCA