Steer Wrestler McIntyre Sets RNCFR Pace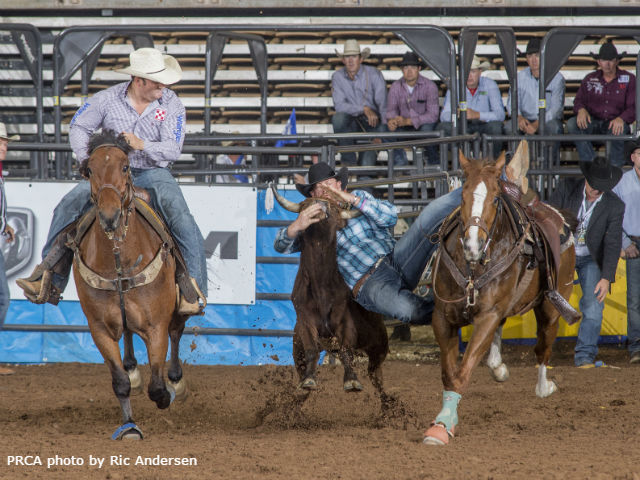 KISSIMMEE, Fla. – Steer wrestler Dean McIntyre is a veteran of the rodeo game. The 39-year-old native of Cloncurry, Queensland, Australia, hasn't lost a step yet.
McIntyre looked better than ever Thursday, taking the lead in the first round of the RAM National Circuit Finals Rodeo with a 4.1-second run before a crowd of about 5,000 at the Silver Spurs Arena.
"This feels amazing to make this run," said the 6-foot-4, 250-pound McIntyre, who is representing the Turquoise Circuit. "The circuit system has just gotten better and better, and it fits a guy like me who doesn't get to rodeo a whole lot."
McIntyre will have to wait and see if his time will stand up through the completion of the first round Friday night.
This is McIntyre's fifth trip to the RNCFR, as he also competed at this prestigious rodeo in 2008-2011. He qualified for the 2017 RNCFR by winning the average title at the RAM Turquoise Circuit Finals Rodeo in Las Cruces, N.M., in October.
"I'm kind of toward the end of my deal (career), but things are going pretty good for me right now because I have a good horse," McIntyre said.
The horse McIntyre is riding is Kid Rock, 14.
"I've had him about five years, but last year was kind of the first year I really rodeoed on him all year long," McIntyre said.
McIntyre couldn't stop smiling Thursday because his family was in the stands – his father, Cliff, and mother, Bonny McIntyre, came to Kissimmee from Australia. They were joined by Dean's wife, Jamie, and their six-year-old daughter, Kashlyn.
When the clock stopped for McIntyre, cheers rang out in the arena from the 4,000 sixth-grade students from area schools, who were attending the rodeo.
"It was really cool to have my family here," he said. "On Wednesday, we all went to Disney World and had a good time, and then I was able to have a run like this. Hopefully, I can win some more money here. That was my game plan when I came here."
The RNCFR money is more important than ever this year. All money won at the 12 circuit finals rodeos, All American ProRodeo Finals and the RNCFR – per new PRCA bylaws – count toward the 2017 WEATHER GUARD® PRCA World Standings.
"With the money counting in the world standings, a big win here might help me go out there and rodeo some more this year, for sure," McIntyre said.
McIntyre began his American rodeo journey when he arrived to compete for Northwest Community College in Powell, Wyo., in 1994.
"My goal was to come here and compete in rodeo, and I'm happy that's been able to happen," McIntyre said.
In addition to McIntyre, other first-round leaders Thursday were bareback riders R.C. Landingham (82 points on Big Rafter Rodeo's Minnie Pearl), Frank Morton (82 points on Brookman Rodeo's Hard Luck) and Wyatt Bloom (82 points on Barnes PRCA Rodeo's Hawley Falls), team ropers Hayes Smith/Russell Cardoza (4.7 seconds), saddle bronc rider Cameron Messier (79.5 points on Silver Spurs' Best Hope), tie-down roper J.R. Myers (7.7 seconds), barrel racer Emily Miller (15.46 seconds) and bull rider Josh Frost (85 points on Pete Carr Pro Rodeo's Son of Sam).
A tournament-style RNCFR format determines the national circuit champions in each event. All 24 qualifiers from the 12 circuits compete in the two preliminary rounds of the rodeo. The top eight contestants from each event advance to the semifinal, with all previous scores and times thrown out. The top four move on to the final round, a sudden-death competition that determines the national circuit champion in each event.
The Wrangler Network will be live streaming all the action from the RNCFR. The coverage begins at 7:30 p.m. (ET) April 7; 1:30 p.m. and 7:30 p.m. April 8; and 2:30 p.m. on April 9. Log on to www.wranglernetwork.com to watch.
Courtesy of PRCA