Steer Wrestler Talley Gets Big Win at Lewiston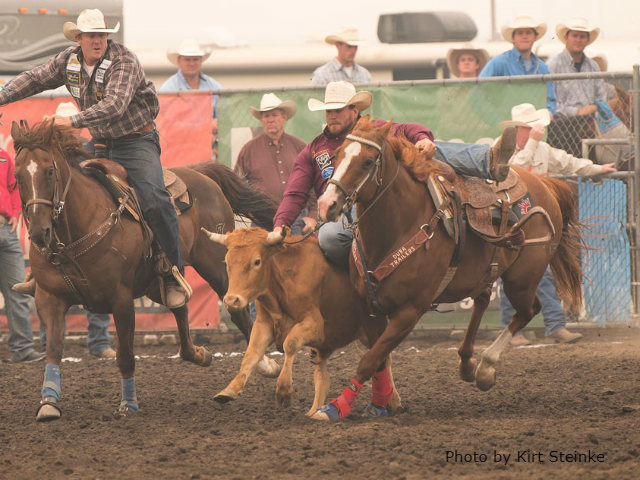 LEWISTON, Idaho – Living on the bubble this time of the ProRodeo season is stressful.
Well, that's where steer wrestler Jacob Talley finds himself. The Keatchie, La., cowboy was 17th in the Sept. 5 WEATHER GUARD® PRCA World Standings with $61,071, and he trailed No. 15 Rowdy Parrott by $1,794.
"I just try not to even look at the standings," said Talley, 26. "I'm just trying to take it one steer at a time and see what happens. God has really blessed me to be where I am so whatever happens, I'm all right with. I'm just going to do my best and make one run at a time and see where we end up."
The PRCA regular season ends Sept. 30 and the top 15 finishers in each event qualify for the Wrangler National Finals Rodeo presented by Polaris RANGER, Dec. 7-16 in Las Vegas.
Talley gave himself a much-needed boost when he won the Lewiston (Idaho) Roundup with a 3.7-second time in a rodeo that concluded Sept. 9.
"I knew I had a pretty decent steer," said Talley, who made his run in the slack Sept. 6. "I had talked to some guys who had run him the week before in Filer (Idaho). He was a good steer to have drawn there. In the position I'm in right now (in the standings), I wasn't going to back off because I didn't want to make mental errors. Playing it safe is not really my style, so I just went after it."
Talley's performance at Lewiston is somewhat surprising since in his other two appearances at the rodeo – 2014 and 2016 – he won no money.
"This is a big win for me," the 6-foot, 235-pound Talley said. "When I saw the clock stop at 3.7 seconds, I was pretty pumped. The first thing I did was turn around and make sure I didn't break out. It was exciting to make that run, especially knowing where I am in the standings."
Talley earned $3,456 for his victory, which should give him a chance to edge closer to the coveted No. 15 spot. As clutch as Talley's win was, Parrott placed second with a 4.0-second time and earned $3,092, which leaves Talley still chasing the 15th spot.
A year ago, Talley made his Wrangler NFR debut, finishing 14th in the final world standings with $96,686.
"This year has been a little bit more stressful, but it hasn't been too bad," he said. "I've had some up and downs this season, but I can't really complain."
Talley acknowledged the key to giving him a chance to make a return trip to the WNFR is his primary horse, Viper, 18.
"He's easy," Talley said. "I can turn around and back him in the corner and he's not going to give me a fit in the box. I can see what I want to see and he's going to give me a chance to get my hands on him every time."
As for the remainder of the season, Talley isn't letting off the gas pedal as he aims to earn a bid to Vegas.
"I still have plenty of rodeos to go to," Talley said. "I'm going to try and get my rodeo count to 100. I was in Puyallup (Wash.) and then I will be in Pendleton (Ore.) next week."
Other winners at the $134,637 rodeo were all-around cowboy Tuf Cooper ($3,851, tie-down roping and steer roping), bareback rider Jessy Davis (86.5 points Sankey Pro Rodeo & Robinson Bulls' Sozo), team ropers Shay Carroll/Nano Garza (4.4 seconds), saddle bronc rider Zeke Thurston (86 points on Sankey Pro Rodeo & Robinson Bulls' Robin Hood), tie-down roper Hunter Herrin (7.8 seconds), barrel racer Jessi Fish (17.15 seconds), steer roper J. Tom Fisher (21.1 second on two head) and bull rider Ednei Caminhas (90 points on Sankey Pro Rodeo & Robinson Bulls' Mr. Mustachio).
Courtesy of PRCA