Sterling Crawley Continues Resurgence in Spanish Fork
by Justin Shaw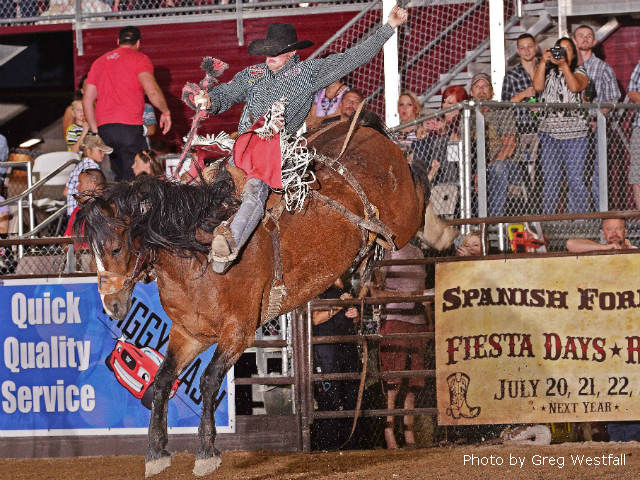 SPANISH FORK, Utah – What a difference a year makes.
One year ago, Sterling Crawley suffered an injury that essentially ended his 2015 season. July 25, he captured the biggest win of his 2016 campaign by taking the saddle bronc riding title at the Spanish Fork Fiesta Days Rodeo.
"Last year, this was the weekend before I got hurt," he said. "I tore my groin and was out for 4-5 weeks, and when I came back I wasn't quite the same. I was 14th in the world then, so it was the exact same spot as this year. It feels really good to be healthy and riding the way I want to."
Crawley sat 14th in the July 25 WEATHER GUARD® PRCA World Standings before the results were final in Spanish Fork.
His ride from July 22 – an 88.5-point trip on Frontier Rodeo's Delta Force – held up over the final two performances, earning him $5,612, and pushing him closer to the top 10 in the world.
That horse is really awesome," Crawley said. "She was a great bareback horse, but since they moved her over to bronc riding, she's been just as good. I saw her in Corpus Christi (Texas), and I felt like if a guy does his job, he should be good. It's always great to put up a score that big, and you have to credit that to being able to get on a great Frontier horse."
The 25-year-old cowboy finished 25th in the world last season after his injury, and was 17th in 2014, which has left a two-year gap since he qualified for back-to-back Wrangler National Finals Rodeos in 2012-13.
He got off to a slow start in the 2016 season, but with a little hard work and help from his brother – reigning Saddle Bronc Riding World Champion Jacobs Crawley – Sterling is back on track.
"The beginning of the year was rough, and I was fighting my head and my equipment, just trying to figure out what was going wrong," Crawley said. "But my brother and I broke it down and got back to the fundamentals. I'm excited things are going the way they are now."
Crawley's ride was a half-point off the arena record shared by James Sursa (2006) and Ryan Gray (2009). He says putting up one of the best rides in the history of a rodeo like Spanish Fork means a lot. The rodeo had its 44th-consecutive sellout performance July 25, and broke the record for the biggest purse ever for the event with a total payout of $251,870.
"That arena is made for rodeo, and they put a lot of work into that facility," he said. "The committee takes great care of us during the (Wrangler) Champions Challenge (in June) and the rodeo. It's hard to beat. The crowd gets completely into it, and it's a neat deal all-around."
Just because he took a big step toward joining his older brother at the WNFR this December, Sterling isn't losing focus. He credits Jacobs – who is currently first in the world – for much of his success.
"My brother has pushed me to ride even better this year, and being in the rig with him has been great," Crawley said. "I can't imagine anything better. You would never know he won the world last year, because he has the same mindset, and spends a lot of time to make sure my head is right. He's a great brother and traveling partner."
Other winners at the Spanish Fork Fairgrounds Arena were all-around cowboy Marcus Theriot ($1,542 in team roping and tie-down roping), bareback rider R.C. Landingham (88 points on Frontier Rodeo's Full Baggage), steer wrestler Tyler Waguespack (7.5 seconds on two head), team ropers Kaleb Driggers and Junior Nogueira (9.3 seconds on two head), tie-down roper Shane Hanchey (15.1 seconds on two head), barrel racer Cayla Melby (16.70 seconds) and bull rider Bayle Worden (89.5 points on Frontier Rodeo's Show Off).
For more coverage of Spanish Fork, check out the Aug. 12 issue of the ProRodeo Sports News.
Courtesy of PRCA