Sterling Lambert Lands First Pendleton Win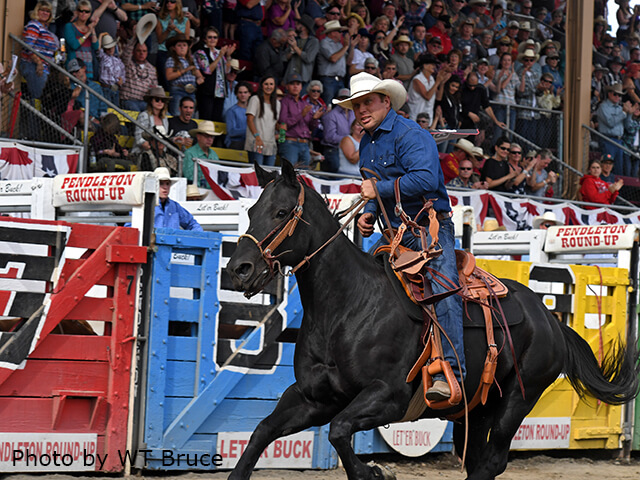 PENDLETON, Ore. – After more than a decade of working at it, steer wrestler Sterling Lambert won his first Pendleton (Ore.) Round-Up buckle Sept. 15.
"I got back to the trailer and said, 'I'm putting this on,'" Lambert laughed shortly after making his victory lap. "I've been coming here since 2007 or so, and it's one of the most prestigious rodeos there is. I couldn't be happier to win it. Anyone who is a cowboy dreams of winning it."
The 32-year-old, Nevada cowboy placed second in the first two rounds with a 5.6-second run and a 5.1-second run. Lambert made another 5.6-second run in the finals to win the average by 1.8 seconds with 16.3 seconds on three head.
"A lot of it was just drawing good steers," Lambert said.
Lambert was also quick to credit his hazer, Clayton Morrison, and the horse he was riding, Tom Cat, owned by fellow steer wrestler Billy Bugenig.
"He (Morrison) hazed for the Pendleton champ the last two years," Lambert said.
As for Tom Cat, he was a better fit for Pendleton's iconic grass arena than Lambert's usual ride, Buzz.
"Buzz doesn't work too good on the grass," Lambert said. "Billy got Tom Cat earlier this year from Tommy Cook. He's a real fast horse and quick-footed and reacts good to the steers."
Lambert's Pendleton efforts were worth $12,615, making it one of the biggest wins of his career.
"It's amazing," Lambert said. "I told everyone that it heals up all the wounds of spending so much money with the truck, trailer and horses. I had a good summer, but this really helps and makes everything a little easier."
Lambert estimated it's going to take at least $70,000 in regular-season earnings to qualify for the Wrangler National Finals Rodeo this year.
"Billy is good with the numbers," Lambert said. "We looked at it, and I knew I was out of it, so I didn't enter the rest of the rodeos for the end of the year."
Before winning Pendleton, Lambert was 30th in the PRCA | RAM World Standings with $43,168, which was about $24,717 short of breaking into the Top 15. Although he missed his shot at qualifying for the 2018 Wrangler NFR, he's not letting that discourage him since his mind's already on the 2019 season.
"I'm going to head home and let the horses rest, and then I'll be at the California Circuit Finals the first week of October," Lambert said. "I'll be ready to go for that one."
Other winners at the $523,688 rodeo were all-around cowboy Trevor Brazile ($13,705, tie-down roping, team roping and steer roping); bareback rider Orin Larsen (168 points on two head); team ropers Chad Masters and Tyler Worley (18.1 seconds on three head); saddle bronc rider Jesse Wright (168 points on two head); tie-down roper J.C. Malone (31.3 seconds on three head); barrel racer Cheyenne Allan (57.38 seconds on two head); steer roper Chris Glover (47.5 seconds on three head); and bull rider Jordan Spears (166 points on two head).
For more coverage of the Pendleton Round-Up, check out the Sept. 21 edition of ProRodeo Sports News.
Courtesy of PRCA