Straws Milan Wins Nearly $10K with 2.9-Second Run at Edmonton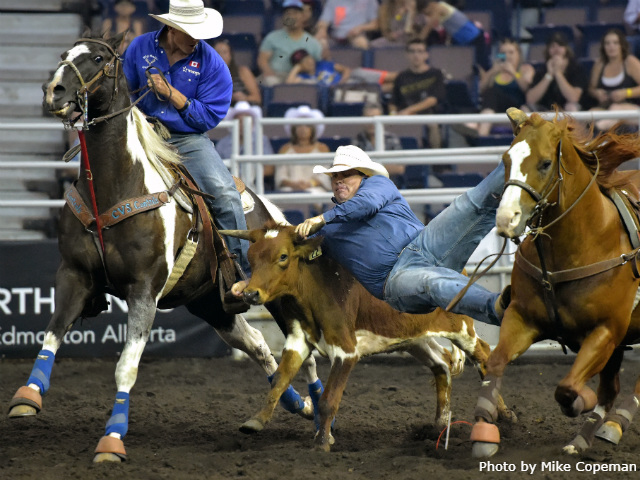 Steer wrestler Straws Milan made two record books while earning nearly $10,000 with his 2.9-second run at the K-Days Rode in Edmonton, Alberta, on July 23.
With nearly half a million dollars on the line in total payout at this newly minted rodeo, competition was tight. Milan found himself having to top Chance Butterfield's 3.3-second time if he wanted to place first.
"I honestly knew I could be close to it. Cody Cassidy was hazing for me, and he told me this steer is slow and I said if I get a safe start I could throw fast enough for second or third (place) to get a check," Milan said. "But, I had a better start than I planned on, and a better run than I thought. I knew I had 3.3 beat, but didn't know I was 2. They had the clock up and I could see it, and you never see a timed event guy throw his hat – but I jumped up and threw my hat and was excited. I never dreamt I would throw one in 2, so it was exciting."
Milan joins the ranks of David Gibson (1994), Darby Roy (1988) and Ralph Nelson (1981) for making the fastest steer wrestling time within the Canadian Pro Rodeo Association. Meanwhile, Milan's time in Edmonton also made the top of the PRCA's 2017 leaderboard alongside Damian Padilla who clocked in at 2.9 seconds at the Avi River Stampede PRCA Rodeo in Fort Mohave, Ariz., on March 12.
The PRCA's record for fastest steer wrestling time is a bit tricky. The record for fastest time without a barrier is 2.2 seconds, set by Oral Zumwalt at Palm Springs, Calif., in 1939. Meanwhile, the record for fastest time with a barrier is 2.4 seconds – shared by Jim Bynum and Todd Whatley at Marietta, Okla., in 1955; Gene Melton at Pecatonia, Ill., in 1976; and Carl Deaton at Tulsa, Okla., in 1976.
Milan's been trotting along this season, picking up $1,000 to $2,000 checks at Great Falls, Mont., on Jan. 15, Coleman, Alberta, on April 30, and Teepee Creek, Alberta, on July 16 – but he's not quite where he was during his best year to date when he placed 15th in the WEATHER GUARD® PRCA World Standings in 2013 with $61,013.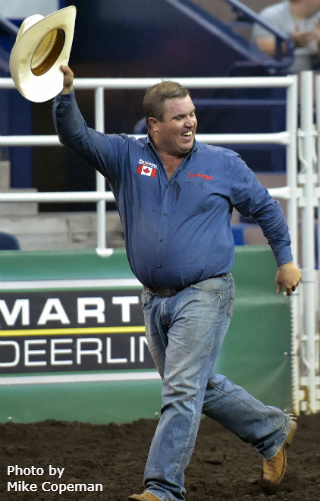 Milan, who is celebrating his 31st birthday on Tuesday, July 25, hadn't competed in the U.S. since the Reno (Nev.) Rodeo at the end of June.
"This has been the slowest I've went," Milan said. "I turned out everything over the Fourth of July because I didn't have much money won, so I stayed home and worried about Canadian rodeos. But after Edmonton, I'm going to start entering again. … For a cowboy, everyone knows we don't usually make a lot of money rodeoing and this was the right time. I was needing to win some money, or it would have been the end of my season."
Although Milan's run was worth $9,983 – which bumped him up into the Top 50 – the real value is in getting his name in the record books.
"It was amazing when it happened – I've been having a bad year on both sides of the border and I knew how the rodeo would pay and it was a game-changer," Milan said. "I was more excited about the pay; and they said that's in the history books and that can't be taken away from you, so it means quite a bit."
Prior to Edmonton, Milan's personal best time was 3.2 seconds.
Milan saw his steer the night before his record-setting run and knew he'd be able to make a good run.
"He didn't run as hard at the rest, but I didn't think I would throw him that fast," Milan said.
Milan was riding Smoke, a 17-year-old horse that he and his brother, Tanner, bought from Eldon Day. Tanner Milan rode Smoke at the Wrangler National Finals Rodeo presented by Polaris RANGER.
"Ever since we got him, he's been a big difference – there's a lot of credit to that horse," Milan said.
Now Milan is back in the game.
"I'm excited to enter a bunch more and keep going," Milan said, adding that he's aiming for the Canadian Finals Rodeo and wants to qualify to compete in some of next year's big rodeos.
Courtesy of PRCA