Sumpter Grabs Statement Win in Odessa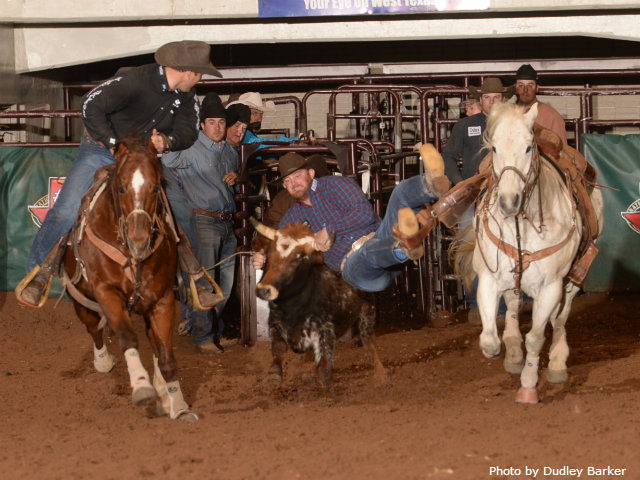 ODESSA, Texas – Wade Sumpter won the first big rodeo of the 2016 winter season, and with it announced that he's back and ready to be a force in the steer wrestling once again.
The six-time Wrangler National Finals Rodeo qualifier posted a two-head average time of 8.3 seconds to win the Sandhills Stock Show & Rodeo.
It was Sumpter's first win since the 2014 rodeo season. After making it to the WNFR in 2012 and 2013 – where he finished fourth and 11th in the world, respectively – the 34-year-old had been rodeoing less the past two years after he and wife Linsay welcomed their son, Weston, into the world in December 2013.
"I've stayed home quite a bit the last two years to spend more time with my family," Sumpter said. "It's been a slight change, but I created more stuff at home to do to help us make a living as a family, like running cows. The spring and fall are a busy time of year for me, but I've still been rodeoing here and there."
Sumpter placed second in the first round in Odessa with a time of 4.0 seconds, then tied for fourth in the second round. His average time held off his friend Billy Bugenig's 8.6-second total by three-tenths of a second.
Sumpter rode his talented horse, Two Guns, and Bugenig rode a different horse that the two men co-own. It was a good start to 2016 for both, as Sumpter earned a total of $4,925 and Bugenig wasn't far behind with $3,597.
"There wasn't any trick to winning, it was the same old stuff, but I did it better than in the past," Sumpter said. "I got good starts and good steers, and had some luck. I hadn't won something in so long, I was due to win."
The past two seasons, Sumpter has gone to less rodeos, and finished just inside the top 50 of the world standings both times.
He says a big win like the one he wrestled in Odessa is exactly what he needed to jump start his 2016 season, but he knows it won't be this easy at every rodeo.
"This gives you confidence and makes you think it's easy again, even though it isn't," the Fowler, Colo., cowboy said. "This was the first rodeo I've been to other than the Denver Qualifier. I'm not good at math, but that's pretty good. You can't do any better than 1-for-1."
Sumpter says his plan includes hitting the big winter rodeos, then taking the spring off and hitting the road full time, starting in Reno, Nev., at the end of June.
He says the key to staying fresh at the age of 34 is to not run too many practice steers.
"We ran 25 fresh steers today, but I don't run many of them because I'm old and get sore," he said. "I haze for other guys, and I like to watch. You can learn a lot from watching someone else, and it doesn't always have to be you practicing to get better."
Other winners at the $255,017 rodeo were all-around cowboy Trevor Brazile ($5,181 in tie-down roping, team roping and steer roping), bareback rider Teddy Athan (82 points on Beutler & Son Rodeo's Little Jet), team ropers Tyler Wade and Kinney Harrell (8.6 seconds on two head), saddle bronc rider Jacobs Crawley (85 points on Beutler & Son Rodeo's Dumbbell), tie-down roper Tuf Cooper (7.4 seconds), steer roper Shane Suggs (46.0 seconds on four head), barrel racer Jana Bean (14.76 seconds) and bull rider Cody Johansen (87.5 points on Powder River Rodeo's High Tensile).
For complete coverage of the Sandhills Stock Show & Rodeo, be sure to check out the Jan. 29 issue of the ProRodeo Sports News.
Courtesy of PRCA