Sunday Performance Wraps Up the 108th California Rodeo Salinas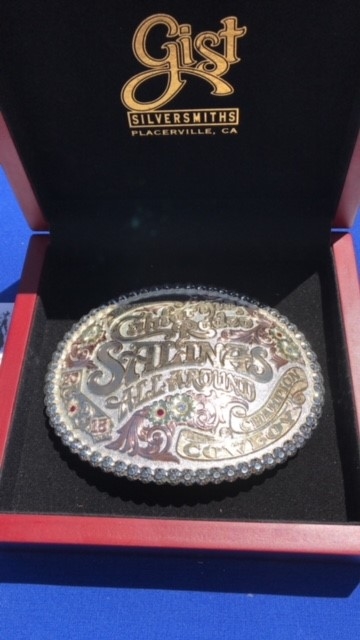 SALINAS, CA, July 21, 2018 – The Pendleton Whisky Day of Champions closed out the 108th California Rodeo Salinas with contestants receiving the coveted 'Salinas' buckles. The champions in each event are:
Bareback Riding –Tim O'Connell (Zwingle, IA)
Steer Wrestling – Will Lummus (West Point, MS)
Bull Riding – Chase Dougherty (Canby, OR)
Team Roping – Pat Boyle (Shandon, CA) & Jared Hixon (Bakersfield, CA)
Tie Down Roping – Monty Lewis (Hereford, TX)
WPRA Barrel Race – Brittany Pozzi Tonozzi, Victoria, TX
Saddle Bronc Riding – Ryder Wright (Milford, UT)
All Around Champion – CJ DeForest Jr. (Wheatland, CA)
The All Around Champion received a saddle in addition to the All Around buckle. Scott Thomas Custom Saddles and Darrick Hoskins of MY Cars teamed up to sponsor the 2018 All Around Cowboy saddle for the California Salinas Rodeo.
Full PRCA and WPRA event results can be found here.
Track results and the results from previous performances can be found here.
Over 15,000 people attended the show on Sunday; overall attendance numbers will be published in the next week after counting vouchers that were redeemed. In addition to being called our Day of Champions, Sunday was also Man Up Crusade day; fans were encouraged to wear purple to generate awareness for domestic violence. The Rodeo's partner in the Man Up Crusade is the YWCA of Monterey County. They were selling tickets on the midway for a drawing to win a Man Up Crusade buckle and to generate funds for their programs.
The action was streamed live on the Wrangler Network, www.WranglerNetwork.com, and will be archived for future viewing.
Save the dates for the 109th California Rodeo Salinas, July 18th-21st, 2019.
'Like' the California Rodeo on Facebook at www.facebook.com/CARodeoSalinas to receive alerts. Follow the Rodeo on Instagram (@carodeosalinas) and Twitter (@CaliforniaRodeo) for year round updates, photos and more.
About California Rodeo Salinas
The 108th California Rodeo Salinas will take place July 19th-22nd, 2018. The California Rodeo Association is a not-for-profit organization that strives to preserve and promote the traditions of the California Rodeo Salinas and the West. We support the community and other non-profit organizations through the staging of the annual California Rodeo Salinas and other year round operations of the Salinas Sports Complex. Through donation of our facility, vending and fundraising opportunities during Rodeo and other events, the California Rodeo Association returns over $400,000 annually to local non-profits. For more information about the California Rodeo Salinas, log on to www.CARodeo.com or call the California Rodeo Office at 831-775.3100. 'Like' the California Rodeo on Facebook at www.facebook.com/CARodeoSalinas or follow us on Twitter @CaliforniaRodeo for updates, photos and more.