Swor Captures Guymon Title
by Tracy Renck | May 08, 2016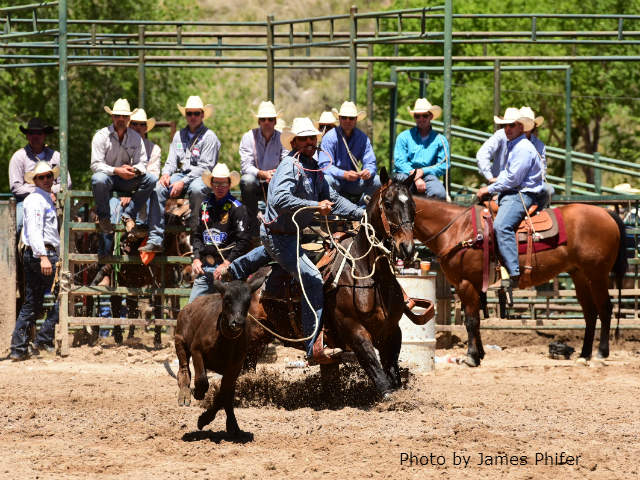 GUYMON, Okla. – Rest definitely didn't lead to rust for Cade Swor's primary horse Floyd Money.
The tie-down roper rode Floyd Money for the first time since March 28, and Swor left the Guymon (Okla.) Pioneer Days Rodeo (May 6-8) a champion with a time of 25.2 seconds in the three-head average.
"I gave him (Floyd Money) some time off and I had a kid named Logan Harkey exercising him for me," Swor said. "I didn't rope a practice calf, I didn't do anything with Floyd Money. I just picked him up and went straight to Guymon. That horse is something else, he's special, and it was really cool for me to win with him."
Swor is no stranger to success in Guymon as he also won here in 2013 with a time of 25.7 seconds in the three-head average.
"That rodeo has been good to me, and I really enjoy it, and it feels good to win here again," said Swor, 33.
Floyd Money, who is 14, immediately showed off his skills in Guymon as he helped Swor win the first round with a 7.6-second time. Swor followed that up with a 8.0-second run, which was good for second place in round two.
"The first calf we ran, I tied him in 7.6 and I think the fastest they tied that calf after that was like 9.4," Swor said. "That was probably the best run I've made all spring and I came back in the second round with a calf that was not good at all. He really ran hard and I took a chance at the barrier and reached and got by and tied him in 8 flat."
Swor then clinched the title with a solid 9.6-second effort in the third round. Swor left town with $6,557 in winnings.
"I knew if I just made a no mistakes run in the third round, I would be in the top three in the average and I was able to win it," said Swor, a five-time Wrangler National Finals Rodeo (2004-2006, 2014-15) qualifier.
When Swor isn't riding Floyd Money, he rides Grizzly, 14, and Rango, 8.
"I have a couple of new horses and I wanted to take them out to California and give them a chance to win and give Floyd some time off," Swor said. "There was absolutely nothing wrong with Floyd, I just wanted to give him some time off. California was really slow. My other horses worked good, but I just didn't draw that good. I was kind of needing a win and Floyd dominated."
Swor has a simple plan for Floyd Money this season.
"My approach this year is to try and save as many miles on Floyd as I can," Swor said. "I want to ride him where I know he works good and the next rodeo I will ride him at will probably be Reno (Nev.) (June 16-25). Come June, I want him to be as fresh as he can be."
Other winners at the $264,008 rodeo were all-around cowboy Josh Peek ($6,620, tie-down roping and steer wrestling), bareback rider Jake Brown (89 points on Pete Carr Pro Rodeo's No. 104), steer wrestler Tyler Waguespack (12.1 seconds on three head), team ropers Adam Rose/Walt Woodard (21.5 seconds on three head), saddle bronc riders, co-champions Ryder Wright (83.5 points on Pete Carr Pro Rodeo's Cool Runnings), and Allen Boore (83.5 points on Pete Carr's Classic Pro Rodeo's Gold Coast), barrel racer Michele McLeod (34.71 seconds on two runs), steer roper JoJo LeMond (54.4 seconds on four head), and bull rider Scottie Knapp (87 points on Pete Carr's Classic Pro Rodeo's Rattler).
For more coverage of the Guymon (Okla.) Pioneer Days Rodeo, check out the May 20 issue of the ProRodeo Sports News.
Courtesy of PRCA