Tanner Aus Sets Arena Record and Wins Hamel Rodeo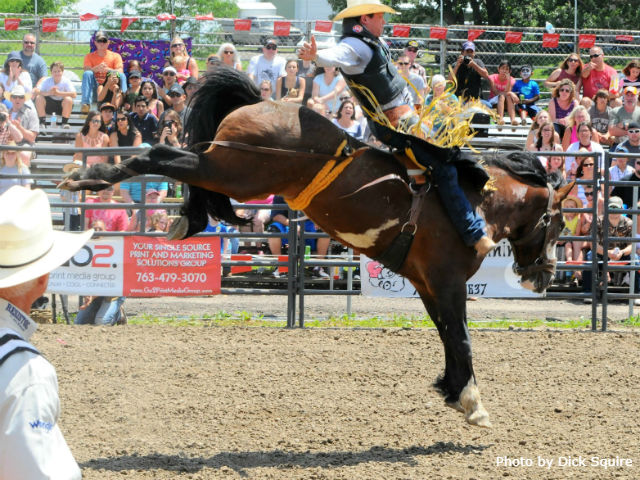 HAMEL, MINN. – It was a homecoming of sorts for Tanner Aus at the 2017 Hamel (Minn.) Rodeo.
Aus, who was ranked No. 2 in the WEATHER GUARD® PRCA World Standings as of July 6, set an arena record with his first-place 89-point ride on J Bar J Rodeo's Straight Jacket.
It was all at an arena that he came to as a kid.
When his dad, John Aus, was riding bareback horses, he brought his son to the Hamel Rodeo. And his dad is an old rodeo friend of Sparky Dreesen, the owner of J Bar J Rodeo.
Aus loved the chance to get on Straight Jacket, "It was great," he said. "That horse is strong, and bucks hard, and some guys have trouble with him, and some guys are a lot of points on him. I felt him out, and he's everything that a bareback rider dreams about. I was able to open up and he was a really fun horse to ride."
Aus, who grew up in Granite Falls, Minn., but now lives with his wife Lonissa near Pennock, Minn., is having the best year of his ProRodeo career. He's qualified for the Wrangler National Finals Rodeo presented by Polaris RANGER twice (2015-16), and is headed for his third.
The rodeo season ends on Sept. 30, so it's a marathon between now and then, to stay in the Top 15 in the world standings.
"There's a big push for the Fourth of July (run), but the truth is, you can go to as many rodeos in August as in July," Aus said. "We've just got to stay focused and stay healthy and keep chopping away."
His eight-second trip aboard Straight Jacket, a two-time WNFR bucking horse, was one for the record books and the memories, especially at a home-state rodeo.
"That's a rodeo near and dear to my heart," he said. "To have a world class bucking horse in your back yard, it's a pretty cool thing."
The previous bareback riding record was 87 points, set by Joe Gunderson in 2007, and matched by Kyle Brennecke in 2013, and Casey Breuer in 2016.
Another Minnesotan took home a Hamel Rodeo title. Shakopee's Jody Green won the tie-down roping with a time of 8.7 seconds.
The Oklahoma native moved to Minnesota six years ago, when he met his wife, Kassie, a barrel racer who also competed in Hamel.
Green won the Hamel Rodeo title in 2013 and second place in 2014.
The 2017 bull riding title went to Oklahoma cowboy Guthrie Murray.
Murray, of Miami, Okla., scored 88.5 points on the J Bar J Rodeo bull Maverick, with a ride that went by in a flash. The ride "just happened," Green said. "The bull went to the left, and I lost track of (his movements), about halfway through there. I felt like he had me bucked off that whole ride. He was a good bull. He was so good, I never felt like I had a good seat or a good hold of him."
The 25-year-old cowboy is ranked 17th in the world standings – two spots away from qualifying for the WNFR – and being on the cusp can be stressful.
"It's kind of nerve wracking, to be on the edge," Murray said. "Normally this year, I'm way down low (in the standings), trying to catch up."
He'll compete at as many rodeos as he can, between now and the end of the rodeo year.
"I don't want to miss (the WNFR) by lack of not going. As many rodeos as I can get in there, and stay healthy, I'm going to try and keep going," Murray said.
Murray's grandpa, Gale Bachman, his mother Latisha Henderson's dad, rode bulls in the 1960s and '70s, and one of Murray's first phone calls home, after his wife Tess, is to his granddad.
"He's all excited," Murray said.
Murray and his wife are expecting their first child in January.
The Hamel Rodeo is a fundraiser for five area non-profit organizations, and in its 37 years, has raised $1.8 million for those groups. The 2018 rodeo will be July 5-8. For more information, go to HamelRodeo.org.
Other winners at the $103,916 rodeo are all-around cowboy Trell Etbauer ($1,334 in tie down roping and steer wrestling), team ropers Erich Rogers/Cory Petska (8.8 seconds on two head), steer wrestler Ben Kilburg (3.7 seconds), saddle bronc riders Wyatt Casper (86 points on J Bar J Rodeo's Shady Fox) and Leon Fountain (86 points on J Bar J Rodeo's Sweatin' Bullets), and barrel racer Laura Kennedy (15.59 seconds). The permit bull riding champion is Jack Landgraf (75 points on J Bar J Rodeo's Pickled Poison).
Courtesy of PRCA