Tanner Baldwin/Myles John take Second-Round Lead in Team Roping
By Tracy Renck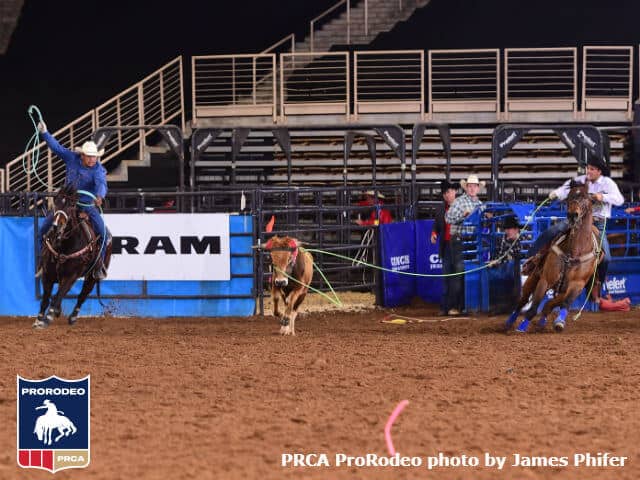 KISSIMMEE, Fla. – Experience wasn't on the sides of team ropers Tanner Baldwin and Myles John.
That didn't matter for the Arizona cowboys.
Baldwin and John, making only their second run together, took the lead in the second round of the RAM National Circuit Finals Rodeo with a 5.2-second run Friday afternoon at the Silver Spurs Arena.
"It was a pretty good run," said Baldwin, 24. "I tried to go at him good and keep him on his feet. He still kind of fell down a little bit, but we made the best out of it."
John agreed with his partner.
"We had no fear and just went at it and made the best out of that steer," John said. "The steer kind of fell down and when he got up, I was able to heel him, and we were able to get a good time."
Baldwin and John each finished second in the Turquoise Circuit standings – roping with different partners. They paired together and headed to Kissimmee because the team of header Chris Francis and heeler Cade Passig won the year-end title and the average at the RAM Turquoise Circuit Finals Rodeo.
Baldwin's partner in the Turquoise Circuit season was Seth Hall, while John roped with Edward Hawley Jr. Hall and Hawley each finished third in their respective year-end standings.
Baldwin and John made their first career run together in the first round of the RAM NCFR Thursday, but they failed to record a time.
"I wasn't really thinking about the fact that we had not roped together," said John, 24. "Tanner is a good header, and it is an honor to be here. We made the best of it."
Like John, Baldwin wasn't stressed about their pairing.
"I know Myles is good," Baldwin said. "I knew he would do his job and I just had to do mine."
Grabbing the second-round lead seemed improbable for Baldwin and John since John borrowed Passig's horse to compete at the RAM NCFR.
"The horse I was supposed to bring (Chief) got hurt last Friday (March 15), and I called Cade to see if I could ride Cade's horse and he said sure," John said. "I had never been on Cade's horse, but he worked well."
Baldwin was aboard his 15-year-old horse, Playboy.
"I've had the horse for two years, and he's been working great," Baldwin said. "I would really like to rope with Myles again based on what were able to do here."
The second round concludes with performance four at 1 p.m. Saturday. The RAM NCFR finishes at 1 p.m. Sunday with a semifinal and championship round.
Florida cowboy Alcazar Jr. shines in steer wrestling
In steer wrestling, Juan Alcazar Jr. started the second round in grand fashion, taking the lead with a 3.3-second run.
The run was especially sweet for Alcazar because he lives 90 miles south of Kissimmee in Okeechobee and his wife, Bobbie Jo, was in the stands.
Alcazar's time was just off the RAM NCFR steer wrestling record of 3.2 seconds, set by Ethen Thouvenell in 2013 at Norick Arena in Oklahoma City, Okla.
"This is pretty amazing," said Alcazar, 33. "This is my fourth time coming to the (RAM NCFR) and this is the first year I feel like I have a chance of making it back. I was going to max out the barrier. Nick Guy had that steer (Thursday), and he was 3.9 (seconds) on him. He told me to go have fun and that's what I tried to do."
After two rounds, Alcazar has a two-head average time of 9.9 seconds. The top eight finishers in the two-head average advance to Sunday's semifinals.
Alcazar, who was the year-end champ of the Southeastern Circuit, is riding a horse that he and his father-in-law own, Little Jack, 13.
"This the best I've ever done at the RAM NCFR," Alcazar said.
Other second-round leaders were bareback rider Steven Peebles (87 points on Brookman Rodeo's Famous Dex), tie-down roper Scott Kormos (7.5 seconds), barrel racer Lisa Lockhart (15.36 seconds) and bull rider Garrett Smith (87 points on 4L & Diamond S Rodeo's Rough Ride).
Other leaders from the second round weighed in on their success.
Bareback rider Steven Peebles
"That was an awesome horse. I had never been on him and never heard of him. I knew he was going to be really good and have some moves, and he was. It was just one of the best feeling horses you can get on when they get that high in the air and they let a guy have fun. I'm just glad it worked out like it did."
Saddle bronc rider Joey Sonnier III
"It (the ride) felt good. The last few weeks, last month or so, I haven't been drawing really good and I've been fighting a (partially) torn groin. It's nice to come down here and get on a few good horses. …
"I love it (coming to Kissimmee). I've been blessed. I've drawn good horses here, last year in the first and second round. Then, I didn't do so well in the short round, but hopefully that'll change. I'm pretty sure I'll make it back, the way it's looking right now. We'll see how Sunday shakes out. This would be as big an accomplishment as making the NFR."
Tie-down roper Scott Kormos
"That felt great. I've been needing that. Winter has been slow. I've been needing to make a good run and finally it happened.
"The position I was in, being 10th the first night, I needed to come back and tie one in seven (seconds) today. I had a good calf. I got off my horse and rode a horse (El Gato) that a good friend of mine rides – Justin Moss – and Bart Hutton owns. Ty Harris rode him yesterday (and won the round in 7.0 seconds). He worked great."
Bull rider Garrett Smith
"That felt awesome. It (Rough Ride) was a little bull that I knew nothing about. They said it was little and wild, so I guess it fit my style. …
"Yesterday's bull wasn't very fun at all. To get on one that was actually kind of fun to ride was pretty good. Hopefully it keeps the week going."
Courtesy of PRCA