NFR Cowboy, Tater Decker, Passed Away March 31
Long time rodeo cowboy Tater Decker died March 31, 2017 from natural causes in his home in Talihina, Okla. Decker competed in steer wrestling at the 1959 and 1961 National Finals Rodeos ended both years ranked 13th and eight in the world standings, respectively.
Tater's rodeo career started in the early 1940s and the rodeo way of life was always in his heart. He is a lifetime gold card member of the PRCA and has the distinction of being card member No. 6.
Tater has won most every major rodeo at one time or another from Madison Square Garden to Fort Worth and Houston, Denver and Cheyenne. Competing in all events, his favorites were the steer wrestling and saddle bronc riding. Pictured at left is Decker competing in saddle bronc in 1962 on a bronc named Rocky Road.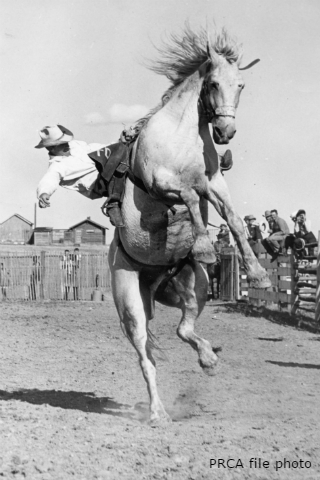 Tater is survived by his son, a PRCA calf roper, steer wrestler and team roper, Dirk Decker; as well as his daughter-in-law, Misty, and granddaughter Harley. He was preceded in death by his wife of 60 years Jo Decker. He was a good dad and a good friend.
There will be no public services for Tater and in lieu of flowers, Tater wanted his friends to support his favorite charity: "Rodeo Cowboy Alumni Scholarship Fund – Attn: Steve Harrington 6064 Appleton Rd. SW, Albuquerque, NM 87105"
Courtesy of PRCA