Texas' Lageschaar Crowned Miss Rodeo America
by Matt Naber | Dec 04, 2016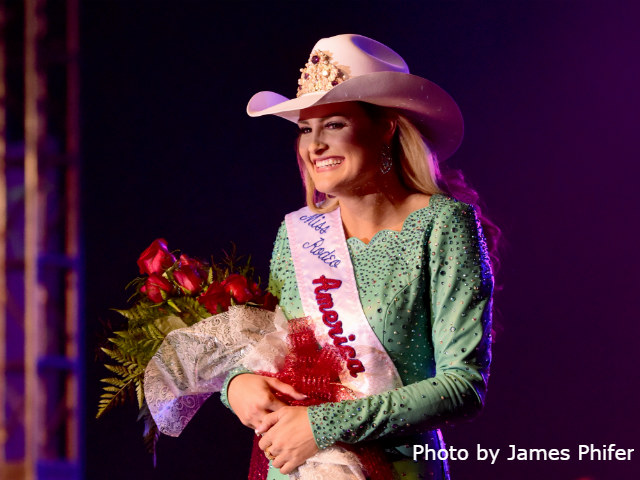 Lisa Lageschaar had education on her mind as she was crowned Miss Rodeo America during the Wrangler National Finals Rodeo festivities in Las Vegas on Dec. 4. This Texan rodeo queen is seeking to educate the public about the sport of ProRodeo and then pursue her doctorate degree in education.
"Education is huge," Lageschaar said. "I realize a four-year degree isn't for everyone, but to be successful you need to learn a trade. We have to work toward it, and I like to promote that if you want something you have to work hard for it."
Lageschaar earned her bachelor's degree in agriculture education from Tarleton State University and her master's degree in secondary education from Stephen F. Austin State University. Prior to vying for Miss Rodeo Texas, she was an ag science teacher and her students encouraged her to pursue her dreams of rodeo pageantry.
"I wanted to give back to the industry that made me who I am today," Lageschaar said. "I love being in the classroom and want to be a teacher educator to help others give to the youth of the future."
As a first-generation American, Lageschaar's first language wasn't English – it was Dutch. Her parents moved to Pickton, Texas, and purchased a dairy farm in 1990.
"I went to daycare to learn English," Lageschaar said. "I was afraid to speak in front of people, but FFA (Future Farmers of America) and rodeo queen contests brought out my speaking ability, and I wouldn't be where I am today without these organizations."
Her ability to overcome challenges came in handy. While vying for the crown, Lageschaar's grandmother wasn't doing well so her mother had to fly out. Her grandmother passed away while Lageschaar was competing in the horsemanship competition.
"That was the most challenging part," Lageschaar said. "I knew it was going to happen and I am at peace about it now. But, it was a whirlwind of emotions getting ready for this."
As Miss Rodeo America, Lageschaar will serve as an ambassador for the PRCA and will spend 2017 promoting the sport of rodeo. Her plan is two-fold – using social media to reach a wide audience and then making personal connections with each person she meets while traveling to rodeos across the country.
"It is my goal to show everyone I care about them as an individual and show them the Western way of life and draw them in to be involved in the industry," Lageschaar said. "I want to get everyone involved and will start one person at a time."
Lageschaar also will utilize her experience as a teacher to educate others about the scholarship opportunities that are available to make post-secondary education affordable.
"If it wasn't for my students and the good lord above, I wouldn't be in front of you today," Lageschaar said at a press conference following her crowning. "I always told them if you have faith and work hard you can achieve anything."
Courtesy of PRCA