By: Heather Croze
September 01, 2016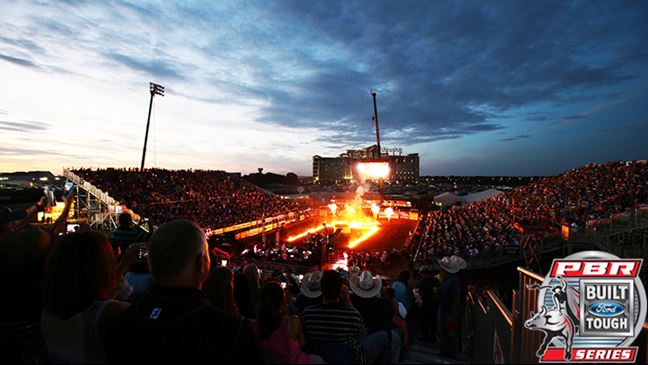 THACKERVILLE ON TAP – With just eight events left for the world's best bull riders to rack up the points before a World Champion is crowned in November, points are at a premium. Thackerville is the next event on the schedule for the toughest bull riders and rankest bulls in the world. The WinStar World Casino and Resort Invitational in Thackerville, Oklahoma, will be the 19th event of the 2016 PBR Built Ford Tough Series schedule. The WinStar World Casino and Resort will host the Top 35 bull riders in the world on Saturday, September 3 at 7 PM CT and Sunday, September 4 at 6:50 PM CT.
RED-HOT DAVIS – In just his second year on the Built Ford Tough Series, Cooper Davis has won back-to-back events to kick off the second half of the season. He took home the win at the Music City Knockout in Nashville before going 3-for-3 and earning the victory in Tulsa last week. With his win in Tulsa he moved to 2nd in the PBR world standings, the highest ranking of his career yet.
DOMINATING TOP RIDERS – Less than 1,000 points separate the Top-5 in the PBR world standings. Joao Ricardo Vieira is currently No. 5 in the standings with 2,485 points, just 780.33 points behind No. 1 Kaique Pacheco. With 700 possible points on the line, Thackerville could have major world championship implications.
WINNING WAYS – There have been 12 different event winners through 19 events already this season. Fabiano Vieira, Shane Proctor, Tanner Byrne, Ryan Dirteater, Kaique Pacheco and Cooper Davis are the only ones to have won multiple events. With only eight events left until a world champion is crowned at the PBR Built Ford Tough World Finals in Las Vegas on November 2-6, riders will be giving it all in Thackerville.
PAST THACKERVILLE EVENT WINNERS – Eduardo Aparecido went 3-for-3 last year at the Winstar World Casino & Resort Invitational in Thackerville to claim his second event win in 2015 and the 8th victory of his career. Other winners in Thackerville include:
2015 Eduardo Aparecido
2014 Mike Lee
2013 J.B. Mauney
2012 Harve Stewart
2011 Jordan Hupp
2016 15/15 BUCKING BATTLE SCHEDULE AND RESULTS – Each 15/15 Bucking Battle features the Top 15 riders in the world competing against the 15 highest-ranked bulls at the event for extra bonus points and an additional purse of $21,000.
Jan. 15 in New York City: J.W. Harris won with an 88.75-point ride on Like A Boss
Jan. 30 in Anaheim, California: Derek Kolbaba won with an 89.25-point ride on DaNutSo
Feb. 13 in St. Louis, Missouri: J.B. Mauney won with a 90.25-point ride on Sheep Creek
Feb. 20 in Kansas City, Missouri: J.B. Mauney won with an 89-point ride on Wicked
April 2 in Sioux Falls, South Dakota: J.B. Mauney won with a 94.25-point ride on Pearl Harbor
April 16 in Billings, Montana: No qualified rides
Aug. 27 in Tulsa, Oklahoma: Joao Ricardo Vieira won with an 81.25-point ride on No Regrets
Sept. 3 in Thackerville, Oklahoma, will air on CBS Sept. 4 at 3 p.m. ET
Sept. 10 in Springfield, Missouri, will air on CBS Sept. 11 at 5 p.m. ET
Oct. 1 in Eugene, Oregon, will air on CBS Oct. 2 at 5 p.m. ET
Oct. 15 in San Jose, California, will are on CBS Oct. 16 at 6 p.m. ET
FORMAT – This weekend, the riders will face one bull each in Round 1 and Round 2. Immediately following Round 2 on Sunday, the riders' individual scores will be totaled and the Top 15 will advance to the Built Ford Tough Championship Round for one more ride and a chance at the $30,000 event title.
TELEVISION BROADCAST – This week the 15/15 Bucking Battle will be broadcast on CBS Sports on Sunday September 4 at 3:00 PM ET while Round 2 and the championship round of the Winstar World Casino and Resort Invitational will be broadcast live on CBS Sports Network on Sunday beginning at 8:00 PM ET.
PBR LIVE will also stream the entire event in real time starting on Saturday at 7:30 PM ET and Sunday at 7:30 PM ET. PBR LIVE is now available at no charge to all fans and media. Visit www.PBR.com/live to view. Fans can also watch all of the action live via the PBR LIVE app, available for download now on Google Play and iTunes.
© 2016 PBR Inc. All rights reserved.