The BlueDEF Tour Kicks Off Race to Las Vegas
By: Heather Croze
August 30, 2016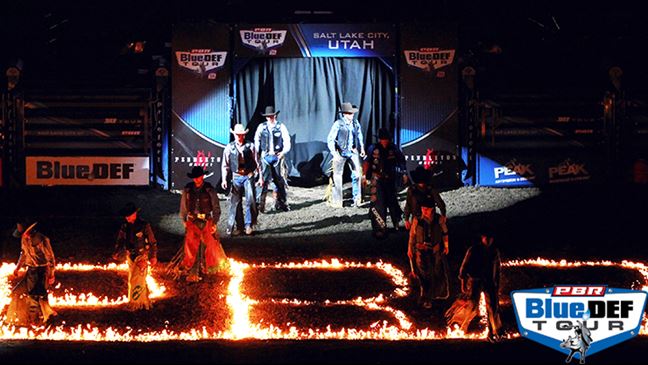 PUEBLO, Colo. — As its event attendance soars this season, the PBR's (Professional Bull Riders) BlueDEF Tour (BDT), presented by Real Time Pain Relief, will buck off the second half of the season on September 10 at Blue Cross Arena in Rochester, New York.
The tour, which officially kicked off on Nov. 14 of last year, has traveled to 18 different states through the first half of the 2016 season. Through 16 events this season, BlueDEF Tour attendance is up +29% versus last year.
In the second half of the season, PBR's premier expansion tour will visit Rochester, New York for the Rochester BDT event presented by Frontier Communications; Pendleton, Oregon; Allentown, Pennsylvania; Memphis, Tennessee; Albany, New York; Trenton, New Jersey and Portland, Maine.
The tour will culminate at Las Vegas' South Point Arena for the 2016 BlueDEF Finals Oct. 28-30. The BTD's best will compete for five PBR Wild Card spots leading into the PBR's 2016 Built Ford Tough World Finals Nov. 2-6 at the brand new state-of-the-art T-Mobile Arena just down the road.
The five spots will go to the 2016 BlueDEF Tour Champion, the winner of the BlueDEF Finals, the second and third place finishers and the highest finishing international athlete. Each will qualify to compete at the PBR World Finals the following week.
The BlueDEF Tour will bring the bull riding talent that fans have come to expect, along with the excitement and hard-hitting competition of the toughest sport on dirt to cities across the U.S., including:
Sept. 10: Rochester, N.Y. (Blue Cross Arena)
Sept. 12-13: Pendleton, Ore. (Pendleton Roundup Arena)
Sept. 16-17: Allentown, Pa. (PPL Center)
Sept. 27: Memphis, Tenn (Private Event)
Oct. 1: Albany, N.Y. (Times Union Center)
Oct. 8: Trenton, N.J. (Sun National Bank Center)
Oct. 21-22: Corpus Christi, Texas (American Bank Center)
Oct. 29-31: Las Vegas (South Point Arena – BlueDEF Finals)
Live streams and event highlights of the 2016 BlueDEF Tour presented by Real Time Pain Relief, can be found on PBR's live streaming channel PBR LIVE at www.pbr.com/live.
PBR LIVE is available at no charge to all fans and media. Fans can also watch all of the action via the PBR LIVE app, available for download now on Google Play and iTunes.
For more event details and ticket information, visit www.pbr.com.
© 2016 PBR Inc. All rights reserved.